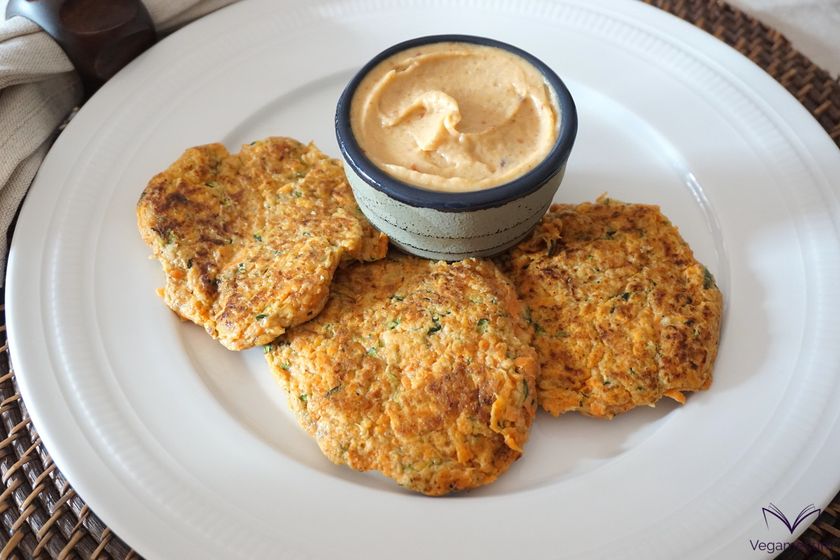 These zucchini, sweet potato and walnut fritters are a starter with a tender, juicy texture and a delicious slightly sweet flavor, especially ideal to enjoy during the fall and winter months.
This healthy salty treat is very easy to prepare, since once the ingredients are ready, you just have to mix and go through the pan, without any additional complications. This, together with its delicious, smooth and comforting flavor, makes them even more palatable and pleasant.
Nutritionally, this recipe is rich in beta-carotene, fiber, flavonoids, allicin, alliin, protein, lecithin, polyphenols, carbohydrates, omega 3, omega 6 and omega 9 fatty acids ; terpenoids (antioxidant), tocopherol (keeps skin healthy and protects vision health); vitamins A, C, E and group B (B1, B2, B3, B6 and B9 or folic acid); sulfur, boron, calcium, copper, phosphorus, iron, magnesium, potassium, sodium, iodine and, to a lesser extent, manganese and selenium.
Below you can see what ingredients you need and the steps to follow to be able to make healthy fritters with spectacular flavor.
| | | |
| --- | --- | --- |
| Difficulty level | Preparation time | Rations |
| Easy | 45 m. | For 9 units |
Plus 30 minutes of rest
400 gr. zucchini
350 gr. sweet potato
1/2 onion
40 gr. walnut (peeled)
1 teaspoon salt
1 teaspoon nutmeg
1/2 teaspoon pepper (ground)
2 tablespoons flax seeds (ground)
6 tablespoons water
70 gr. rice flour
15 gr. potato starch
2 tablespoons extra virgin olive oil
Instructions
Wash, peel and grate the zucchini and the sweet potato, put them in a strainer, squeeze well with the hands to remove the water and let them sit for 30 minutes in the strainer to eliminate the water they still may contain.
In a bowl, hydrate the ground flax seeds with the water for 10 minutes.
When the zucchini and sweet potato have eliminated all the water, transfer them to a large bowl and add all the ingredients, except the mixture of flax seeds and water. Stir to mix everything evenly and then add the mixture of flax seed and water, stir well again and form the fritters, taking tablespoons of dough and giving them a round/oval and flattened shape.
Put to heat a non-stick frying pan over medium heat, grease it with a little oil with a pastry brush and, when it is hot, add the fritters in batches and let them cook for 1 minute on each side, until are lightly browned on both sides..
When they are cooked, transfer them to a plate covered with absorbent paper to eliminate excess oil. Once the excess oil is removed, serve with the sauce of our choice.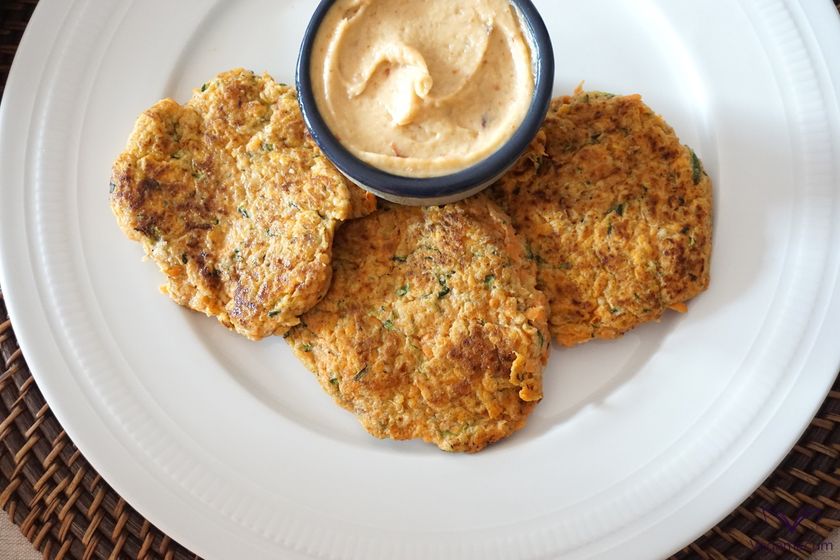 Notes
If you want, you can leave some zucchini skin unpeeled to improve the nutrition value of the dish.
It is very important that the ingredients are well drained before forming the fritters to achieve an ideal consistency.
Remember to add a little oil with the kitchen brush every time you make a new batch of fritters.
We recommend serving these fritters with a mild sauce, such as delicate quince aioli.
If you have any questions, you can leave it to us in the comments. And if you dare and want to show your creations to the world, do not hesitate to label us, we will love to see them through the networks!
Do you join us on social networks? You will find us on Facebook, Twitter, Instagram and Pinterest!