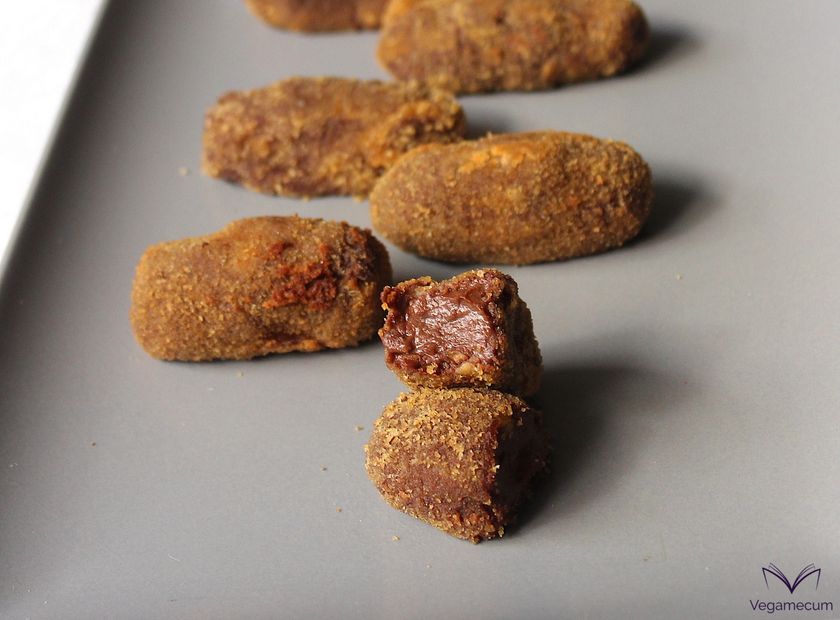 These chocolate croquettes are different and original croquettes that always surprise and fascinate those with a sweet tooth and those who love to try new things.
Croquettes were born in France in the seventeenth century, and, after some particular modifications, they came to occupy one of the top positions in the Spanish cookbook of the nineteenth century, becoming one of the most traditional and popular 'tapas'. Its success soon began to cross borders, spreading its consumption to different countries of the world. Such was its impact on world gastronomy, that today it has its own day, the International Croquette Day, which takes place on January 16.
Its name comes from the French verb 'croquer' , which means 'to crunch', since it is what is produced when you take a bite out of this exquisite small delicacy. From ' croquer ', it became 'croquette' , and it is from this last term that in Spain it derived in 'croquette'.
Despite the great and widespread fame and popularity of salty croquettes (such as Vegan cheese and caramelized leek croquettes, Seitan and pine nuts croquettes, Mushrooms and nuts vegan croquettes and Pumpkin, leek and tofu croquettes ) These, due to their unexpected and delicious characteristics, are an atypical dessert; crispy and toasty on the outside and irresistibly creamy and sweet on the inside.
Below you can see what ingredients you need and the steps to follow to make these impressive croquettes with a delicate chocolate flavor.
| | | |
| --- | --- | --- |
| Difficulty level | Preparation time | Rations |
| Medium | 1 h. | For 24 units |
Plus 13 hours of rest
Ingredients
25 gr. non-hydrogenated margarine
50 gr. whole cane sugar
1 teaspoon ground cinnamon
500 ml. soy milk
60 gr. rice flour (more for coating)
125 gr. dark chocolate fondant
30 gr. cornstarch
60 ml. of water
100 gr. organic vegan cookies
extra virgin olive oil smooth flavour (to fry)
Instructions
Put the margarine to heat in a saucepan over medium heat. When it melts, add the flour and sugar and mix well, stirring for a couple of minutes so they don't burn.
After this time, add the soy milk little by little, stirring continuously to prevent lumps from forming. When all the soy milk is integrated, add the chopped chocolate and cinnamon and continue stirring so that the chocolate melts and mixes well with the rest of the ingredients. When a homogeneous mixture is obtained, remove from the heat.
Let the dough cool down to room temperature and, when it has cooled, transfer it to a bowl, cover it with a lid and place it in the fridge for a minimum of 12 hours.
After this time, take the dough out of the fridge and prepare the ingredients to coat the croquettes. To do this, grind the cookies in the grinder, put them on a plate and, in another separate plate, mix the cornstarch with the warm water, whisking with a whisk.
With the help of a small spoon, take portions of the dough, shape them into croquettes and coat them, first in flour, then in the mixture of starch and water and, finally, in the ground cookie. When all the croquettes are formed and coated, put them in a tray so that they are separated from each other and put them in the freezer for 1 hour.
After this time, put to heat enough oil to fry over high heat (so that the oil covers the croquettes) in a pan and, when it is hot, fry the croquettes in batches, letting them cook for 10 seconds. When they are golden brown, remove from the heat and transfer them to a plate with absorbent paper to eliminate the excess oil. When all the croquettes are cooked, serve them.
Notes
The longer you keep the dough in the fridge, the more consistency it will take.
If you have any questions, you can leave it to us in the comments. And if you dare and want to show your creations to the world, do not hesitate to label us, we will love to see them through the networks!
Do you join us on social networks? You will find us on Facebook, Twitter, Instagram and Pinterest!