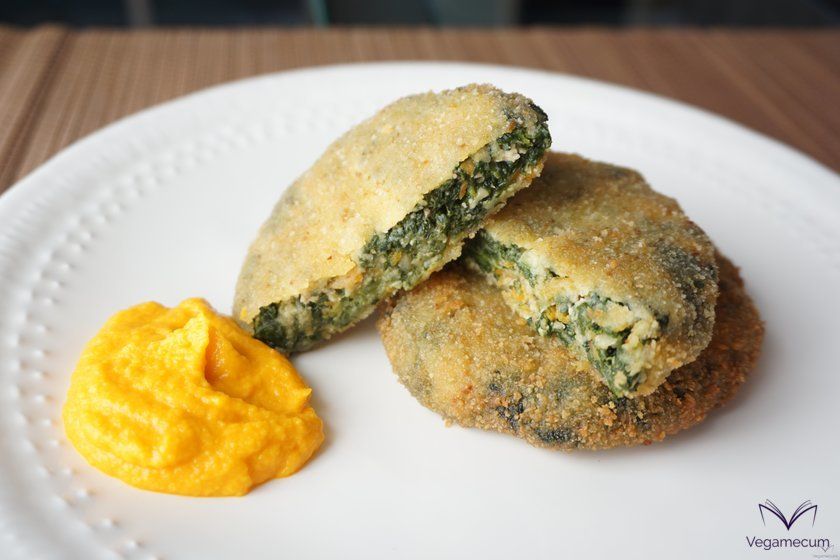 Making super-tasty and crunchy vegetable medallions is very easy, because with a few simple steps and simple and rich ingredients, they are ready.
These medallions are very good alone, but if they are accompanied with carrot alioli the result is even more spectacular because of the delicious contrast that is achieved.
Its filling is loaded with antioxidants, is rich in beta carotene and contains the richest food in folic acid: spinach.
Spinach is not only the food richest in vitamin B9, but it is the second richest in beta carotene, after the carrot, vegetable that is also present among the outstanding ingredients of this recipe.
and it is that this is an entrant rich in carotenoids , flavonoids , alpha-lipoic acid , omega 3 , omega 6 and omega 9 fatty acids , carbohydrates , allicin , alliin , protein , fiber , vitamins A , C , E , K and of group B ( B1 , B2 , B3 , B6 and B9 or folic acid ), sulfur , calcium , copper , phosphorus , iron , magnesium , manganese , potassium , selenium , sodium , iodine and zinc .
Below you can see what ingredients you need and the steps to follow to be able to make some rich and crispy vegetable medallions.
| | | |
| --- | --- | --- |
| Difficulty level | Preparation time | Rations |
| Easy | 45 m. | For 4 units |
* Plus 1 hour and 30 minutes of refrigeration
Ingredients
250 gr. spinach
50 gr. carrot
100 gr. zucchini
1 onion
1 clove of garlic
25 gr. pinion
1/4 teaspoon pepper
1/4 teaspoon nutmeg
1/2 teaspoon garlic powder
chickpea flour (to coat)
Water (to coat)
bread crumbs (to coat)
3 tablespoons extra virgin olive oil (plus oil for frying)
1/2 teaspoon salt
Instructions
Wash and peel the vegetables, chop the spinach and grate the carrot, zucchini, onion and garlic. We also chop pine nuts and reserve.
In a pan, put to heat the oil over medium heat and, when it is warm, take the garlic and stir to avoid burning.
We toss the onion, stir again to mix with the garlic, let it poach, and toss the rest of the vegetables. We give a few laps so that everything is cooked together and let it be done for 5 minutes.
Add the pine nuts together with the spices and salt and let it cook for 10 minutes all together, stirring occasionally so it does not burn. After this time, we separate from the fire and let it cool.
Once the dough is cold, we divide it into portions of about 70 gr. each one and we give them a rounded and flat shape, like small hamburgers. When we have them all, we put them on a flat plate and put them in the fridge for 1 hour to take consistency.
In a plate, mix a few tablespoons of chickpea flour with a little water until a viscous texture is obtained, and in another dish, we throw the bread crumbs to batter. We put to heat enough oil in a pan and, while it warms up, we are passing the medallions by the mixture of chickpea flour and water and rebozándolos in bread crumbs. When the oil is hot, we fry the medallions, turning them over when we see that they are already brown on one side, until they are all well done on both sides.
We remove them from the pan, place them on absorbent paper to remove the excess oil, and serve.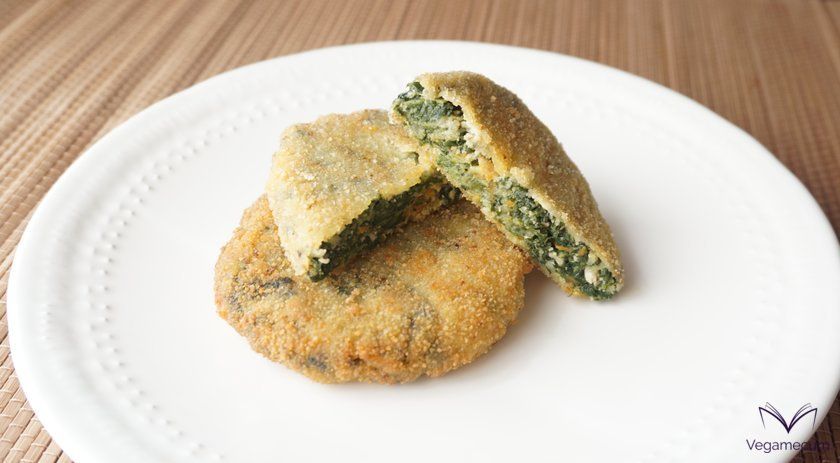 Notes
For the final batter you can use either chickpea flour or Yolanda flour or any other that allows you to achieve a thick and sticky consistency when mixed with water.
The bread crumbs can be both wheat and corn.
If you prefer, you can make these medallions in the oven to make them lighter.
We recommend that you accompany these medallions with carrot alioli To create an even more delicious contrast.
If you have any questions, you can leave it to us in the comments. And if you dare and want to show your creations to the world, do not hesitate to label us, we will love to see them through the networks!
Do you join us on social networks? You will find us on Facebook, Twitter, Instagram and Pinterest!