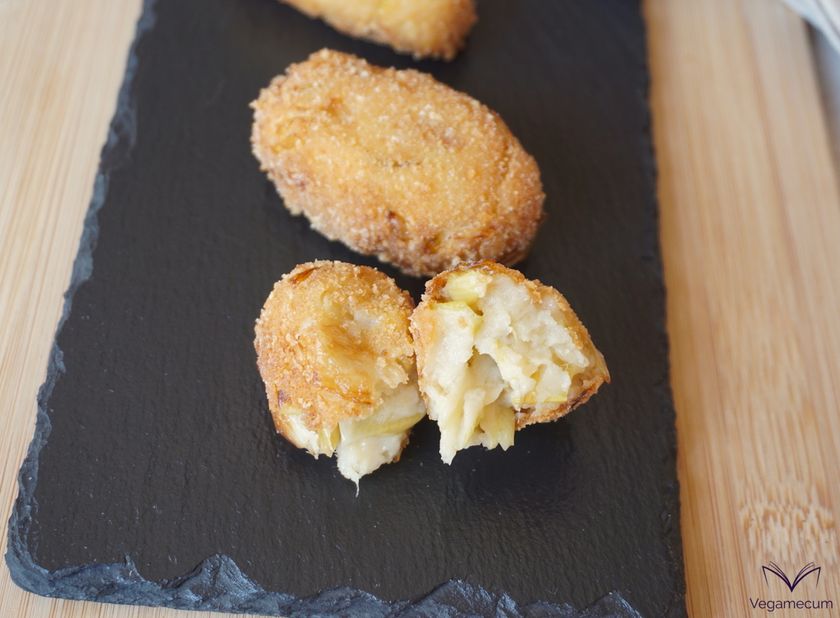 There are thousands and thousands of possibilities when it comes to making croquettes, so to the mushroom and walnut croquettes, seitan and pine nut croquettes and pumpkin, leek and tofu croquettes, we now add these irresistible vegetable cheese and caramelized leek croquettes.
These are very delicate croquettes, where their mild cheese flavor is highlighted by the sweet touch that the caramelized leek gives them.
As for its texture, this is also a delicacy, since its crunchy exterior contrasts with the velvety creaminess of its interior, where the different and delicious nuances of its ingredients melt.
Being made exclusively with ingredients of vegetable origin, these croquettes are free of cholesterol, lactose and trans fats, and also, thanks to the richness of their components, they provide us with flavonoids (such as quercetin ), fiber , allicin , protein , lecithin , carbohydrates , isoflavones , vitamins A , C , E , K and group B ( B1 , B2 , B3 , B6 and B9 or folic acid ), calcium , copper , chromium , phosphorus , iron , lithium , magnesium , manganese , molybdenum , potassium , vanadium and zinc .
Below you can see what ingredients you need and the steps to follow to be able to make delicate and super creamy croquettes with a flavor that will captivate you.
| | | |
| --- | --- | --- |
| Difficulty level | Preparation time | Rations |
| Half | 2 h. | For 14 units |
Plus 1 hour of rest
Ingredients
250 gr. leek (only the white part)
50 ml. extra virgin olive oil
400 ml. soy milk (sugarfree)
80 gr. rice flour
1 teaspoon salt
bread crumbs (to coat)
extra virgin olive oil (to fry)
Instructions
Prepare the potato cheese and set aside.
Remove the green part of the leeks, make a longitudinal cut and wash well under the tap to remove the earth. Cut it into thin slices and set aside.
Put to heat the oil in a frying pan over medium heat and, when it is warm, add the leek, lower the heat and let it cook for 30 minutes, stirring from time to time to caramelize.
After this time, remove the pan from the heat, put the leek aside on a plate and put the pan to heat again with the oil that has remained. When the oil is warm again, add the rice flour and let it toast for a couple of minutes over low heat.
After this time, add the leek again, stir and add the soy milk little by little. Add the salt and stir until the dough for the croquettes is formed. Add the potato cheese and continue stirring with low heat for 15 minutes so that no lumps form.
After this time, remove from the heat and transfer the dough to a large plate or tray to cool. When the dough is cooled down (after 30 minutes, approximately), put it in the fridge for 30 more minutes so that it completely cools and it can be easily handled.
When the dough is cold, take it out of the fridge and take portions with your hands or with a spoon, shape them into croquettes and pass them through the breadcrumbs.
When all the croquettes are formed, put to heat a deep frying pan with enough oil to fry over medium heat. When the oil is very hot (without getting to smoke), fry the croquettes in batches and, when they are golden brown, remove them from the heat and leave them carefully in a strainer to remove the excess oil. When all the croquettes are fried, serve them freshly made.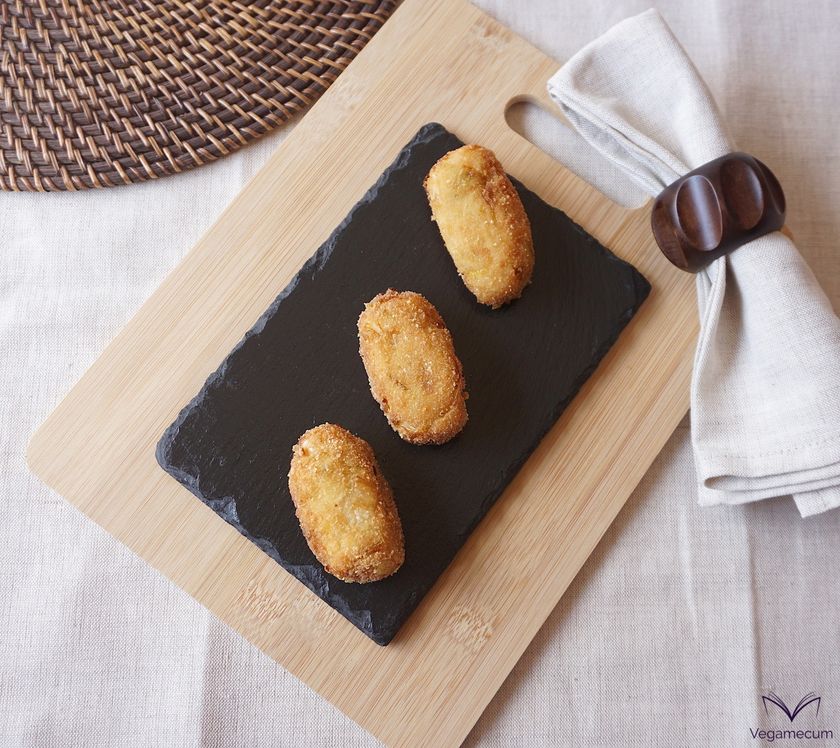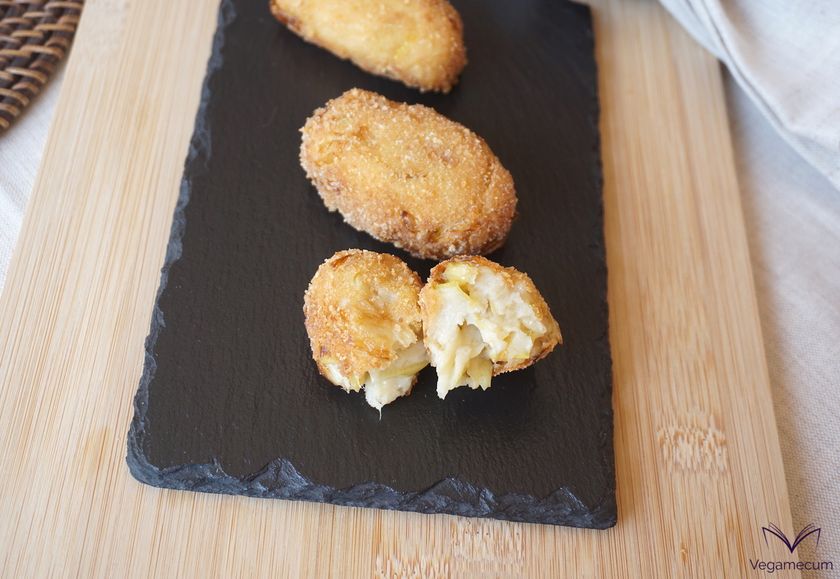 Notes
You can substitute soy milk for oat milk or rice milk, although each will add a slightly different touch. You just have to make sure that the one you choose is without sugar so that it does not alter the flavor.
If you have any questions, you can leave it to us in the comments. And if you dare and want to show your creations to the world, do not hesitate to label us, we will love to see them through the networks!
Do you join us on social networks? You will find us on Facebook, Twitter, Instagram and Pinterest!