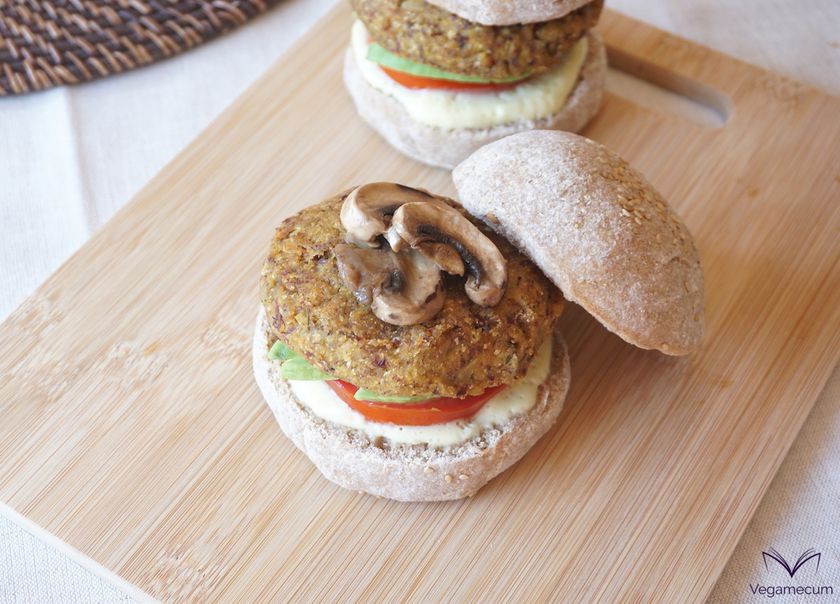 As we have already mentioned in other hamburger recipes such as chickpea, dry tomato and basil burgers or black bean and portobello burgers, vegetable burgers are super versatile thanks to the great capacity they have to accept any combination of ingredients, being infinite the possibilities they offer.
This time, the dough has red beans, eggplant and carrots as protagonists, so these are full-bodied hamburgers, with a firm and juicy texture, rich in protein and with a smooth flavor, seasoned with a combination of spices that unleash a parade of flavors that makes them truly spectacular.
In addition to their texture and flavor, the great advantage of these hamburgers compared to conventional ones is that, being made exclusively with vegetable ingredients, on the one hand they are free of cholesterol and trans fats, and on the other hand, they have a water footprint that is much less, making them much more sustainable and respectful of animals and the environment.
Nutritionally, these hamburgers are rich in protein , carbohydrates , allicin , alliin , beta-carotenes , flavonoids , fiber , essential oils , antioxidants , curcumin , vitamins A , C , E and group B ( B1 , B2 , B3 , B6 and B9 or folic acid ), sulfur , calcium , copper , phosphorous , iron , magnesium , manganese , potassium , selenium , sodium and zinc .
Below you can see what ingredients you need and the steps to follow in order to make 100% vegetable burgers with extraordinary flavor.
| | | |
| --- | --- | --- |
| Difficulty level | Preparation time | Rations |
| Half | 1 h. | For 8 units |
* Plus 1 hour of rest
Ingredients
400 gr. red beans
250 gr. eggplant
100 gr. carrot
1 leek
1 tablespoon flax seeds (ground)
3 tablespoons water
1 onion
2 tablespoons rice flour
1 tablespoon potato starch
1/2 teaspoon parsley
1 teaspoon salt
1/2 teaspoon turmeric
1/2 teaspoon dried thyme
1/2 teaspoon pepper (ground)
1 teaspoon minced garlic
2 tablespoons tamari
4 tablespoons extra virgin olive oil
Instructions
In a small bowl, add the ground flax seeds and water and leave to hydrate for 15 minutes.
Meanwhile, wash the eggplants, dry them, peel them and cut them into small cubes. Set aside.
Wash the carrot, peel it and grate it. Set aside.
Peel the onion and chop it finely. Set aside.
Remove the first layer and the greenest part of the leek, make some longitudinal cuts, wash it and cut it into slices. Set aside.
Put to heat the oil over medium heat in a wide frying pan and, when it is warm, add the onion and the leek and let them fry for 5 minutes.
After this time, add the carrot, stir and let cook for 5 more minutes.
After this time, add the eggplant and let cook everything for another 5 minutes. Meanwhile, wash the beans in a strainer. Set aside.
After this time, add the beans to the frying pan, stir to mix with the rest of the ingredients and add the spices, the flax and water mixture and the tamari sauce. Stir well and cook for a couple of minutes. After this time, remove from the fire and let the dough cool down.
When the dough is at room temperature, put it in a bowl and blend for a few seconds (only a few seconds so that it does not remain as a puree). Add the rice flour and the potato starch, mix well, cover the bowl with a clean cotton cloth and put it in the fridge for 1 hour.
After this time, take the bowl out of the fridge, moisten your hands and take portions of dough and shape them into a hamburger.
Put to heat a little oil and, when all the hamburgers are formed, cook them in the pan for a couple of minutes. After this time, turn them over and cook them for a couple of minutes on the other side. When all the hamburgers are cooked, remove from the heat and serve.
Notes
You can use both tamari soy sauce and shoyu soy sauce, the difference is that tamari does not contain gluten and its flavor is somewhat more intense.
If you have any questions, you can leave it to us in the comments. And if you dare and want to show your creations to the world, do not hesitate to label us, we will love to see them through the networks!
Do you join us on social networks? You will find us on Facebook, Twitter, Instagram and Pinterest!