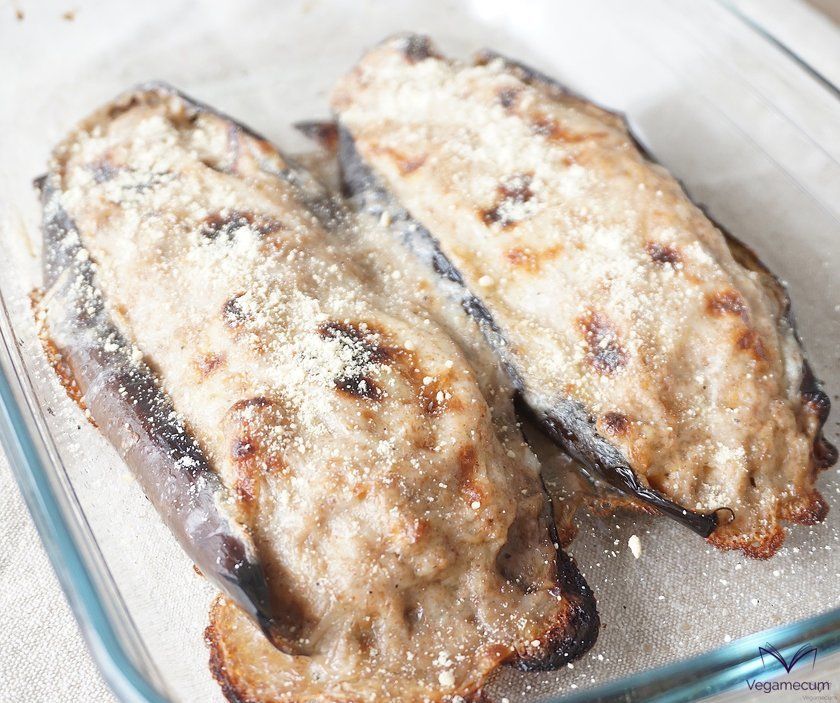 These aubergines stuffed with mushrooms and walnuts are one more example of the versatility of the aubergines and how exquisite they are when we fill them with fresh, natural and high nutritional quality ingredients such as mushrooms and nuts, which also provide an irresistible winter flavor and comforting.
These ingredients of soft flavor complement each other perfectly and generate, next to the pulp of the eggplant, a filling of creamy texture and soft and juicy flavor that is covered by a delicious layer of 100% vegetable béchamel.
It is about aubergines even easier to prepare than aubergines stuffed with soy , which require a smaller number of ingredients, and which contain a light and tasty filling with which the bechamel cover is melted.
If at the end, once baked and au gratin, in addition, sprinkle some cashew parmesan on top, we will create a rich contrast of intense and tasty flavor, excellent to finish the dish.
This dish is rich in antioxidants , fiber , flavonoids , proteins , lecithin , polyphenols , allicin , alliin , complex carbohydrates , omega 3 , omega 6 and omega 9 fatty acids ; vitamins C , E and group B ( B1 , B2 , B3 , B6 and B9 or folic acid ), sulfur , boron , calcium , copper , phosphorus , iron , magnesium , potassium , selenium , sodium and zinc .
If, in addition, sprinkle some cashew parmesan on top, add an extra protein , flavonoids , fiber , alliin , omega 6 essential fatty acids, vitamins C , E , B1 , B2 , B3 , B6 and B9 or folic acid ; calcium , copper , phosphorus , magnesium , manganese , potassium , selenium and zinc , as well as tryptophan , phytosterols , inulin , vitamin B5 , chromium , lithium , molybdenum and vanadium .
Below you can see what ingredients you need and the steps to follow in order to make easy stuffed, appetizing and nutrient-filled aubergines.
| | | |
| --- | --- | --- |
| Difficulty level | Preparation time | Rations |
| Easy | 1 h. y 30 m. | For 2 people |
Ingredients
2 eggplants
150 gr. mushroom
50 gr. nuts
1 onion
3 tablespoons extra virgin olive oil
1 teaspoon salt
Instructions
Wash the aubergines and dry them well. We cut them in half lengthwise by removing the tail, we make some cuts in the pulp, we put a little salt and oil and put on a baking tray protected with parchment paper. We introduce them in the preheated oven at 175º for 30 minutes. After this time, we remove them from the oven and let them warm up.
Prepare the bechamel and reserve.
We wash the mushrooms and drain them well, cut them into very small pieces and reserve them. Peel the onion, grate it and reserve it too.
We put the nuts in a chopper or coffee grinder and crush them until they are like flour.
When the aubergines are warm, we remove the pulp and cut it into small pieces too.
In a frying pan, drain the oil and heat over medium heat. When the oil is tempered, we toss the onion and let it be done for 5 minutes.
Then add the mushrooms, stir everything and let them cook for 6 minutes.
Add the pulp of the aubergines and the ground nuts, add the salt and stir again, letting it be done for 5 more minutes.
We turn off the heat and let the filling cool down for about 30 minutes.
We preheat the oven to 200º while filling the eggplant bottoms. Once they are all filled, cover them with the béchamel sauce and place them on a baking tray covered with baking paper or a baking dish.
We introduce the aubergines in the oven and bake them for 10 minutes. If we see that after this time, they are not yet very golden, we leave them a little longer, watching that they do not burn. Once they are golden brown, we take them out of the oven and, if we wish, sprinkle some Parmesan cheese with cashew nuts to enhance the flavor.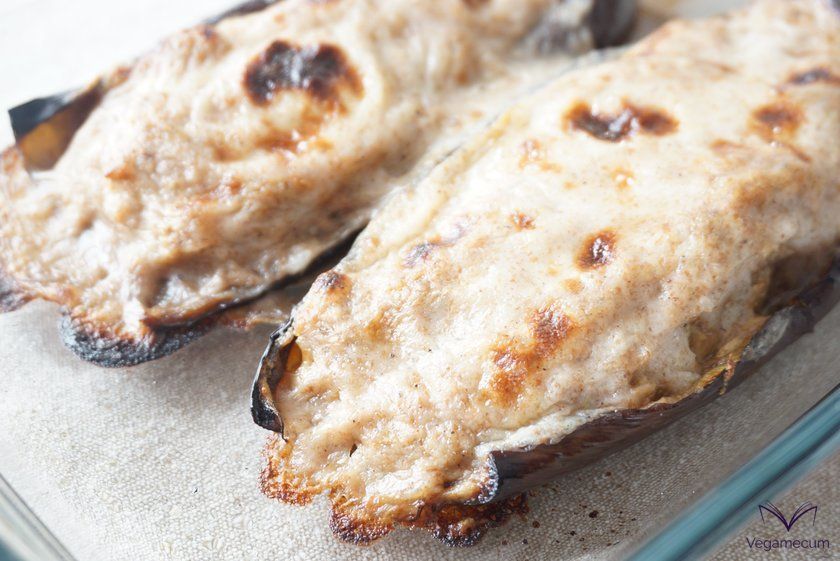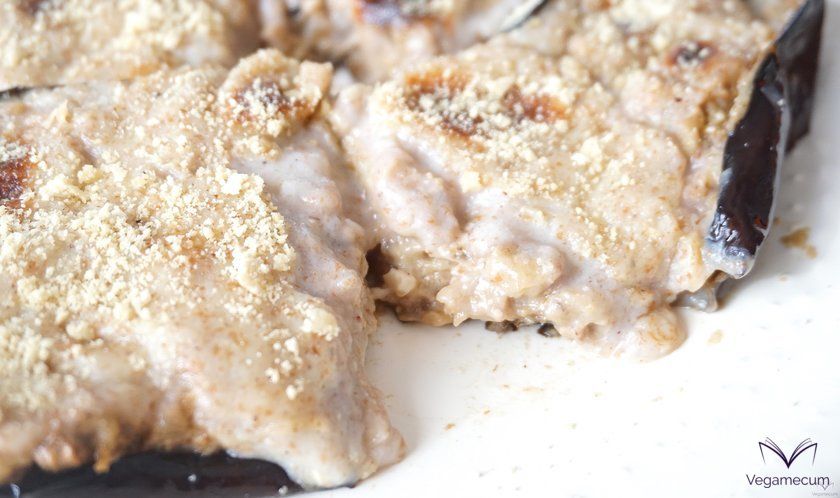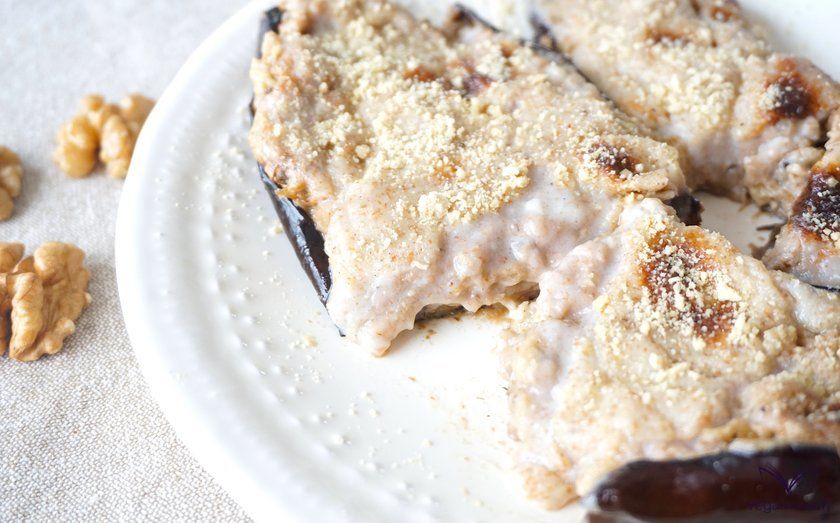 Notes
If you have any questions, you can leave it to us in the comments. And if you dare and want to show your creations to the world, do not hesitate to label us, we will love to see them through the networks!
Do you join us on social networks? You will find us on Facebook, Twitter, Instagram and Pinterest!