This autumn curry with sweet potato, made with some of the most representative and precious ingredients of this season, is a warm and tasty dish, with delicious sweet notes, subtle coconut flavor and intense curry aroma.
The base of this recipe is the legume, which is complemented with sweet seasonal vegetables such as sweet potato and broccoli; highlighted with the mixture of spices and softened with delicate coconut milk, which gives it an exquisite creaminess. The result is, thus, a sweet and spicy flavor and a creamy and velvety texture.
As for curry, this is synonymous with antioxidants, and that the richness of spices used in its production, give it properties at the height of its intense and addictive flavor.
As is often the case with dishes made with this magnificent ingredient, this curry is ideal to accompany it with whole basmati rice or any other type of rice, which will complete this delicious stew.
This recipe is rich in proteins , fiber , beta carotene , flavonoids , allicin , omega 6 and omega 9 fatty acids, carbohydrates , lecithin , terpenoids , tocopherol , vitamins A , C , E and group B ( B1 , B2 , B3 , B5 , B6 and B9 or folic acid , calcium , chromium , phosphorus , iron , magnesium , potassium , selenium and zinc .
Below you can see what ingredients you need and the steps to follow in order to make this comforting dish with an exotic flavor.
| | | |
| --- | --- | --- |
| Difficulty level | Preparation time | Rations |
| Easy | 45 m. | For 3 people |
Ingredients
300 gr. cooked chickpeas
2 sweet potatoes
1/2 broccoli (only the flowers)
1 Leek
1 can coconut milk
1 tablespoon curry
1 teaspoon salt
1/2 pinch of pepper
4 tablespoons extra virgin olive oil
Instructions
Wash the sweet potatoes, dry them, peel them and cut them into medium dices. Set aside.
Wash the leek, peel it, remove the darker green part and cut it into slices. Set aside.
Wash the broccoli, separate the bouquets and put them to boil for 5 minutes. Once boiled, drain and set aside.
In a large pan, put the oil to heat and, when it is warm, add the leek and sweet potatoes and cook for 10 minutes so that the sweet potato softens.
After this time, add the coconut milk and curry and stir everything well.
Incorporate the broccoli, chickpeas, salt and pepper, stirring everything carefully so that the bouquets of broccoli and sweet potatoes do not fall apart. Cook for 15 minutes and, after this time, remove from the heat and serve hot.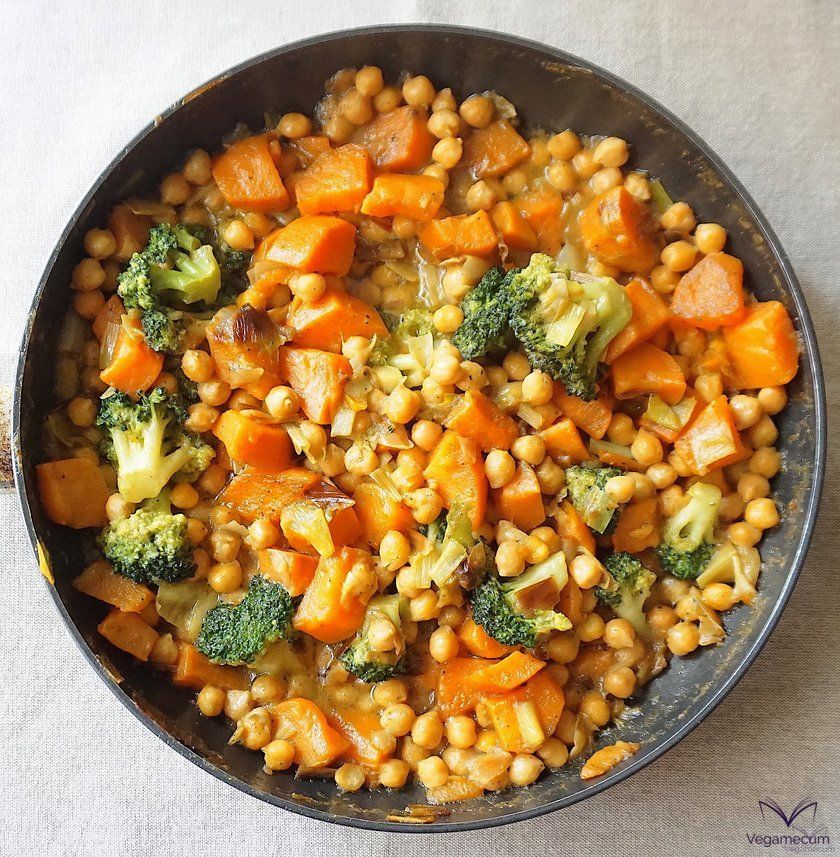 Notes
You can accompany this autumn curry with whole basmati rice or any other type of rice to make it even more complete.
If you have any questions, you can leave it to us in the comments. And if you dare and want to show your creations to the world, do not hesitate to label us, we will love to see them through the networks!
Do you join us on social networks? You will find us on Facebook, Twitter, Instagram and Pinterest!