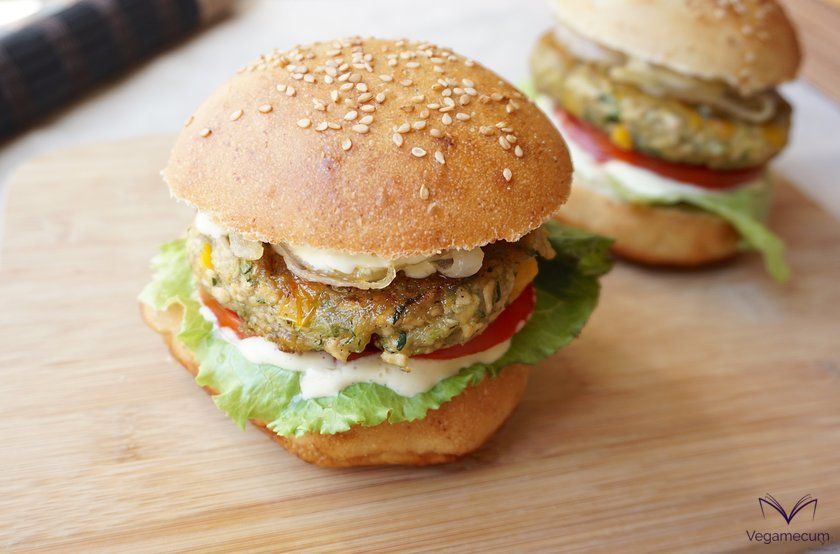 As we always say, vegetable burgers are an ideal dish to experiment, as they allow endless combinations of ingredients that give rise to authentic culinary delights.
These burgers stand out for their tender texture and their creamy flavor, with more sweet and vivid sparkles created by the pepper and the tasty medley of spices that, in addition, give them an irresistible spicy touch.
And among its ingredients highlights the aroma of black pepper and seasoning, which consists of a mix of spices based on turmeric, sweet paprika and dehydrated onion with black pepper, fennel, garlic powder, coriander grain, ginger, nutmeg, mustard seeds, celery and aromatic plants. This makes each bite become a dance of the most delicious flavors.
Besides rich in proteins, this is a dish rich in beta - carotene, lycopene, fiber, lecithin, flavonoids, terpenoids, carbohydrates, allicin, alliin, omega 3 fatty acids, vitamins C, E, K and B (B1, B2 , B3 , B6 and B9 or folic acid ), sulfur , calcium , phosphorus , iron , magnesium , manganese , potassium , selenium , iodine and, in smaller amounts, copper and zinc .
Below you can see what ingredients you need and the steps to follow in order to make this delicious 100% vegetable hamburger as tasty as possible.
| | | |
| --- | --- | --- |
| Difficulty level | Preparation time | Rations |
| Easy | 1 h. | For 6 units |
* Plus 1 hour of refrigeration
Ingredients
200 gr. tofu
1 zucchini
1 yellow pepper
1 onion
2 cloves of garlic
1/2 teaspoon pepper
1 teaspoon seasoning "for chicken"
50 gr. breadcrumbs
50 gr. rice flour
4 tablespoons extra virgin olive oil
1 teaspoon salt
Instructions
Grated the onion and garlic and, apart, grate the tofu. We reserve
We wash the pepper and cut it very often. We also wash the zucchini and grate it. We reserve
In a large pan, put the oil to heat and, when it is warm, take the onion and garlic. Let it be done for 5 minutes, until they get poached.
Add the zucchini and pepper, stir and let it cook for 7 minutes, until the pepper is tender.
Add the grated tofu with the spices and the salt and stir again to mix all the ingredients well. After 5 minutes, we put out the fire and set aside.
When the mixture is lukewarm, we toss the bread crumbs and the flour and we remove so that all the ingredients are well integrated. Then, we pass the dough to a bowl, cover it with a clean kitchen towel and put it in the fridge for 1 hour so that the dough is cooled and we can work it better.
After this time, we take the bowl out of the fridge, we take lots of dough and we give them a hamburger shape.
In a non-stick pan, put a little oil and, when it is hot, we are doing the burgers in batches, allowing them to be done for about 3 minutes on each side. When we see that they are golden brown on both sides, we extinguish the fire, we emplatamos and we serve.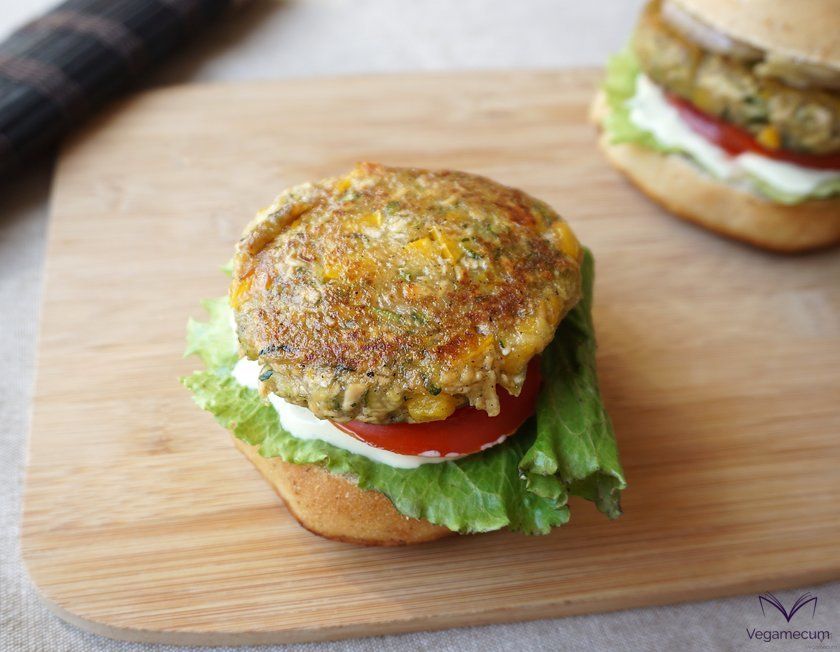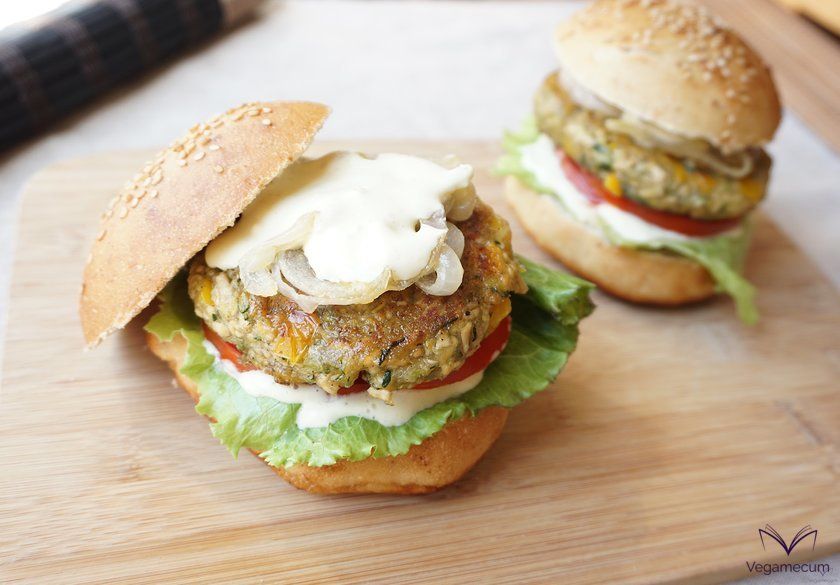 Notes
If you do not have yellow pepper, you can make the hamburgers with red pepper.
In case you do not have rice flour, you can also use whole wheat flour.
If you want to freeze the burgers, you can do it before cooking, keeping them in the freezer wrapped individually so they do not deform or stick together.
If you have any questions, you can leave it to us in the comments. And if you dare and want to show your creations to the world, do not hesitate to label us, we will love to see them through the networks!
Do you join us on social networks? You will find us on Facebook, Twitter, Instagram and Pinterest!