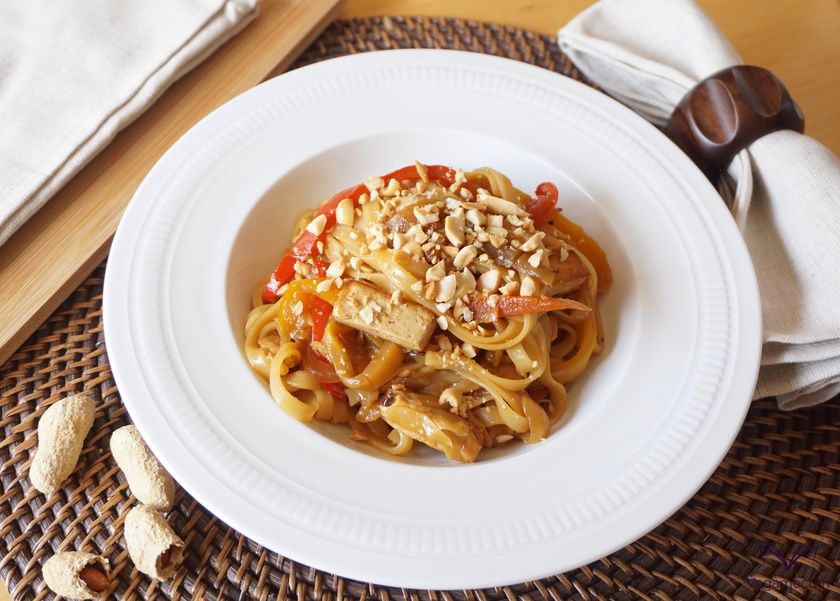 This vegan Pad Thai is a recipe very rich in nutrients and with a flavor full of delicious nuances thanks to the abundance of fresh ingredients and the irresistible Thai sauce, which gives it an extra dose of flavor and juiciness.
Pad Thai is the most emblematic dish of Thai cuisine. Although its greatest peak took place in the middle of the 20th century, its origin is of Chinese descent, and it is believed that this dish is an adaptation made by immigrants who came to Thailand from Yunnan, located in southern China, since that the full name of Pad Thai is ' Kuey Thiaw Pad Thai ', where ' Kuey Thiaw ' is a term of Chinese origin that would be translated as 'noodles'.
The success of this preparation from the middle of the last century is related to the Second World War, which led to a large shortage of rice, the basis of the population's diet, so it began to be replaced by rice noodles, that they were more efficient because they needed little cereal for their elaboration and therefore, they were also cheaper, as well as very satiating. This measure, in addition, allowed having enough rice to export and thus save the country's economy.
The great variety of ingredients that make up this recipe make it rich in protein , fiber , beta-carotene , lycopene , allicin , alliin , carbohydrates , flavonoids , linoleic and linolenic acids , lecithin , omega 3 fatty acids, curcumin , vitamins C , E , K and group B ( B1 , B2 , B3 , B6 and B9 or folic acid ), sulfur , calcium , cobalt , chromium , phosphorus , iron , magnesium , manganese , potassium , selenium , silicon , sodium , iodine , zinc and, in less quantity, copper .
Below you can see what ingredients you need and the steps to follow in order to make a dish full of nutrients and with a wonderful Thai flavor.
| | | |
| --- | --- | --- |
| Difficulty level | Preparation time | Rations |
| Half | 1 h. | For 4 people |
Ingredients
1 red pepper
1 yellow pepper
1/2 red onion
1 carrot
1/2 zucchini
100 gr. white cabbage
2 garlic cloves
250 gr. tofu
4 tablespoons extra virgin olive oil
1 cayenne chilli
100 gr. rice noodles
1 teaspoon salt
50 gr. roasted peanuts (peeled)
For the sauce
Juice of 1 lemon
2 tablespoons agave syrup
60 ml. tamari
2 tablespoons ginger (grated)
2 tablespoons extra virgin olive oil
1 garlic clove
Instructions
Drain the tofu and wrap it in a clean cotton cloth for 30 minutes to release all the liquid.
Meanwhile, prepare the sauce. To do it, chop the garlic finely, put it in a bowl and add the rest of the ingredients. Stir well and set aside.
Wash the peppers and cut them into strips of about 0.5 cm. wide. Set aside.
Wash the cabbage, julienne it in strips and set aside. Julienne also the onion and set aside as well.
Peel the carrot and zucchini, wash them well and cut them into 0.5 cm sticks. thick. Set aside.
When the tofu is well drained, cut it into 1 cm cubes. long and 0.5 cm. wide.
Put to heat the oil over medium heat in a wide skillet and, meanwhile, laminate the garlic. When the oil is warm, add the garlic, onion and tofu and let it cook for 5 minutes, stirring occasionally. When the onion is tender and the tofu has browned, remove the ingredients from the pan with a slotted spoon and put them on a plate. Set aside.
Put the peppers, carrots, zucchini, cabbage and cayenne pepper in the same skillet and let it cook for 7 minutes over high heat, stirring so that the vegetables brown but do not burn.
After this time, turn the heat down (over medium heat) and stir the sauce with a spoon. Add the half of the sauce to the pan and stir everything carefully.
Add the tofu, onion and garlic and add also the salt. Stir again, remove from the fire and set aside.
Cook the noodles as the instructions indicate and, when they are cooked, drain them well. When they are well drained, put to heat a wide frying pan, heat the noodles with the rest of the sauce that remains (well stirred again) and mix them well so that they take on the flavor evenly.
Add the vegetables and tofu over the noodles and stir carefully. Remove from the heat and serve with some chopped peanuts on top.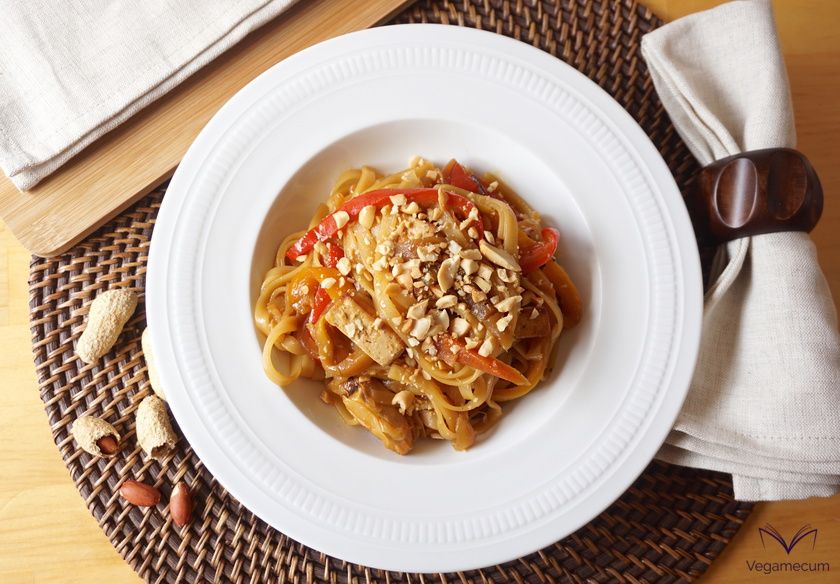 Notes
You can use both tamari soy sauce and shoyu soy sauce, the difference is that tamari does not contain gluten and its flavor is somewhat more intense.
If you have any questions, you can leave it to us in the comments. And if you dare and want to show your creations to the world, do not hesitate to label us, we will love to see them through the networks!
Do you join us on social networks? You will find us on Facebook, Twitter, Instagram and Pinterest!