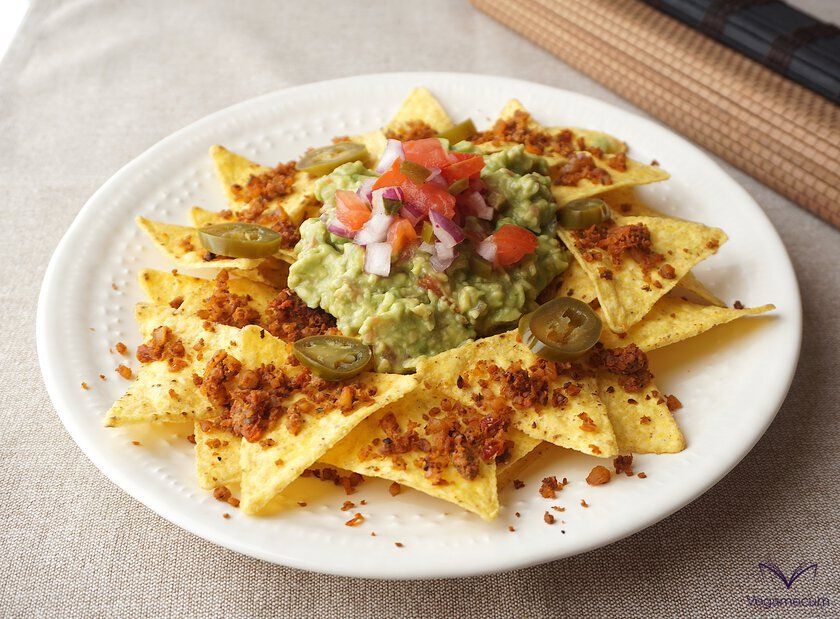 This nutty chorizo flavored meat is a great vegetable alternative to prepare dishes such as nachos, burritos, pizza, tacos, quesadillas, empanadas, empanadillas and wraps, among others.
This is one of the simplest ways to make vegetable sausage, a shredded sausage that has a tender and semi-crunchy texture that is delicious. This, added to its smoky, slightly spicy and versatile flavor, makes it absolutely irresistible.
In addition, being a meat made with dried tomatoes and nuts, we benefit from all the properties of these ingredients while we get all the flavor of chorizo in a light, healthy and respectful with animals and the environment.
As for its nutritional properties, this nutty chorizo meat is cholesterol free and rich in lecithin , polyphenols , fiber , proteins , lycopene , flavonoids , antioxidants , essential oils , alliin , omega 3 , omega 6 and omega 9 ; vitamins A , C , E , K and group B ( B1 , B2 , B3 , B5 , B6 and B9 or folic acid ); boron , calcium , copper , phosphorus , iron , magnesium , manganese , potassium , selenium , sodium and zinc . or
Below you can see what ingredients you need and the steps to follow in order to make this walnut meat with a delicious chorizo and 100% vegetable flavor.
| | | |
| --- | --- | --- |
| Difficulty level | Preparation time | Rations |
| Easy | 45 m. | For 600 grams |
* Plus 30 minutes of hydration
Ingredients
280 gr. walnuts (peeled)
225 gr. mushrooms
50 gr. sun-dried tomatoes
1/2 teaspoon hot paprika
2 teaspoons sweet paprika
1 teaspoon cumin (ground)
2 teaspoons oregano
2 teaspoons garlic powder
1 teaspoon salt
1/2 teaspoon Cayenne pepper
1 pinch of pepper
4 tablespoons extra virgin olive oil
Instructions
Soak the sun-dried tomatoes in hot water for 30 minutes to hydrate them. After this time, drain and set aside.
Wash the mushrooms, drain them and cut them into small pieces with a knife. Place them in a food processor and press a couple of times until obtain very small pieces, taking care not to process it too much. When the mushrooms are chopped, put them in a bowl and set aside.
Put the walnuts, sun-dried tomatoes and spices in the food processor and press 3 times, until obtain a granulated texture. Set aside.
In a large pan, put the oil to heat over medium heat and, when it is warm, add the chopped mushrooms, sauté them add half of the salt and cook until they start to release water. (about 5 minutes, approximately).
Add the walnuts, sun-dried tomatoes and spices mixture to the pan, add the rest of the salt and stir carefully until all the ingredients are thoroughly mixed. Cook for 5 minutes over medium heat, stirring constantly and checking that the mixture does not burn. After this time, remove from the heat and serve.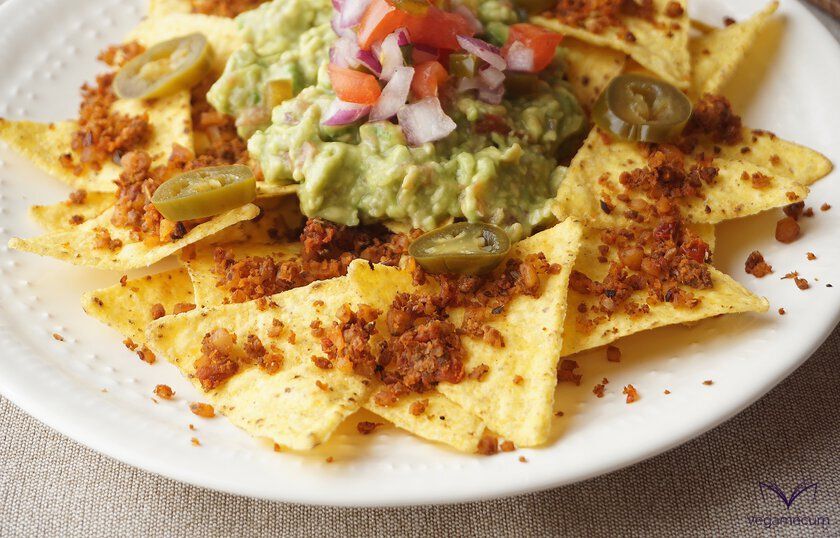 Notes
When it comes to chopping the ingredients, it is important not to crush them too much to avoid forming a pâté, since the objective is to achieve a grainy texture.
This nutty meat is ideal for making dishes such as nachos with guacamole , burritos, pizza, tacos, quesadillas, empanadas, empanadillas and wraps, among others.
If you have any questions, you can leave it to us in the comments. And if you dare and want to show your creations to the world, do not hesitate to label us, we will love to see them through the networks!
Do you join us on social networks? You will find us on Facebook, Twitter, Instagram and Pinterest!