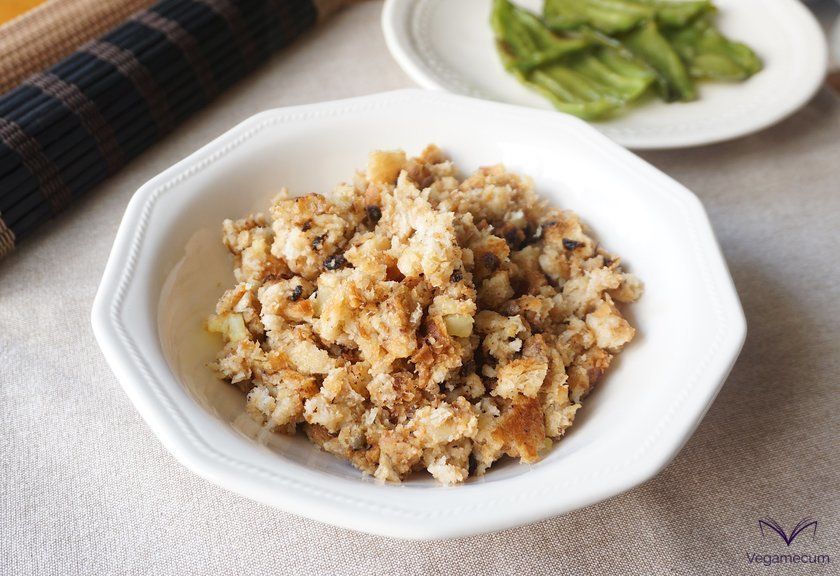 Huelva migas (from Huelva) are part of the traditional gastronomy of the Sierra de Aracena, and are characterized by the incorporation of potato to the popular recipe, which gives an extra dose of softness.
It treats, like this, of a very simple plate and of rich and comforting flavor, where the combination of the ingredients surrounds the crumbs of bread slightly gilded to give like result an absolutely tasty stew and of delicate intensity.
It is believed that the migas have their origin in Andalusian cuisine, and that over time became the livelihood of nomadic peoples, which made its development and consumption spread throughout the Iberian Peninsula and create multiple versions of this food throughout the geography.
This delicious dish is usually made with bread of abundant and compact crumb, since the result is more tender and juicy; and it is usually accompanied with fried green peppers.
This dish is rich in carbohydrates , amino acids , flavonoids , fiber , omega 9 fatty acids, alliin , beta carotene , vitamins C and group B (especially B6 ), calcium , phosphorus , magnesium , manganese , potassium and selenium .
Below you can see what ingredients you need and the steps to follow in order to make juicy and very tasty crumbs l .
| | | |
| --- | --- | --- |
| Difficulty level | Preparation time | Rations |
| Half | 1 h. | For 5 people |
Ingredients
1 kg. bread (of the previous day)
6 garlic cloves
250 gr. potatoes
150 ml. water
250 ml. extra virgin olive oil
1/2 pinch of salt
Instructions
Peel, wash and cut the potatoes into 1 cm. thick slices. Place them in a large bowl, add salt and stir well. Set aside.
Put the water with a pinch of salt in a cup, stir to dissolve the salt and set aside.
Cut the bread into 1 cm. thick slices and later cut the slices into cubes. When all the bread is cut, put it in a big bowl and sprinkle the water on it with the hand. Stir and continue sprinkling and stirring until everything is uniformly moistened. When there is no more water, set aside.
Put the oil in a large pan, preferably an iron or steel one and, when it is warm, add the garlic cloves pressed and unpeeled. Let them cook over medium heat and, when they are a little brown, add the potatoes. Cook them for 15 minutes, until they are soft but not too brown. After this time, place the potatoes and garlic cloves in a dish and set aside.
Remove from the pan almost all the oil, leaving ⅓ of the total, and put it back to heat over medium heat. When the oil is warm, add the potatoes, the garlic peeled and half of the bread and reduce heat to low. Add the other half of the bread and chop everything with a slotted spoon or kitchen scissors so that all ingredients are mixed uniformly.
Keep the heat low while chopping and stir with the slotted spoon or scissors, until getting small pieces (be careful not to cut too much, so the breadcrumbs must be loose).
When all the ingredients are well integrated and the breadcrumbs have taken a little color, without becoming too brown, remove from the heat and serve.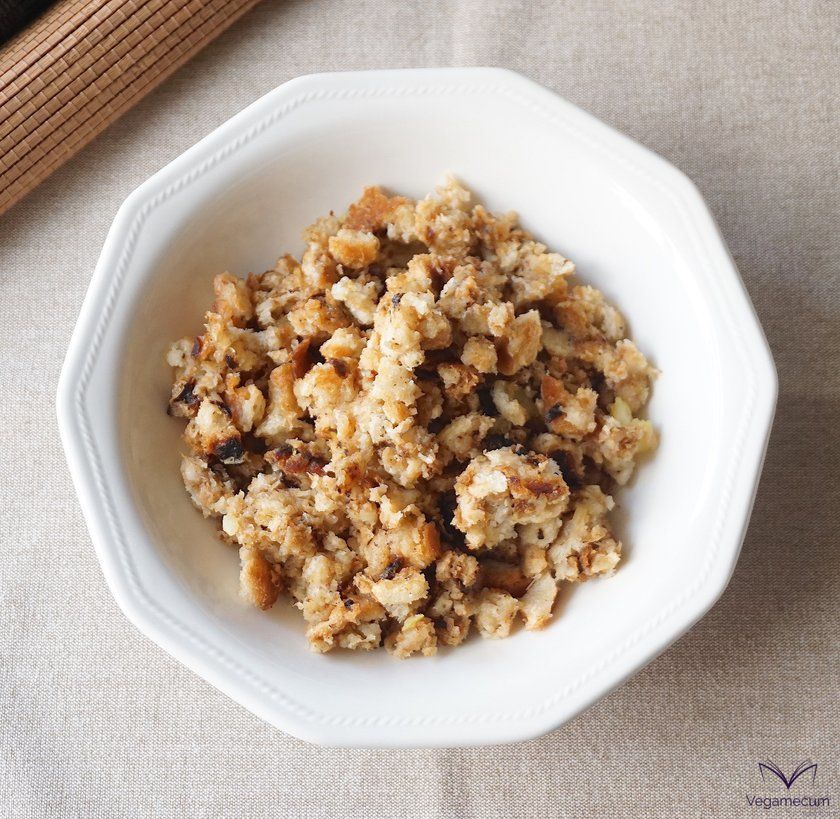 Notes
Make sure that the bread you use does not carry anything of animal origin, such as butter, milk, eggs and / or mono and diglycerides of animal-derived fatty acids (e471).
If you want, you can add a little chorizo flavor to the crumbs to create an even more intense flavor.
If you have any questions, you can leave it to us in the comments. And if you dare and want to show your creations to the world, do not hesitate to label us, we will love to see them through the networks!
Do you join us on social networks? You will find us on Facebook, Twitter, Instagram and Pinterest!