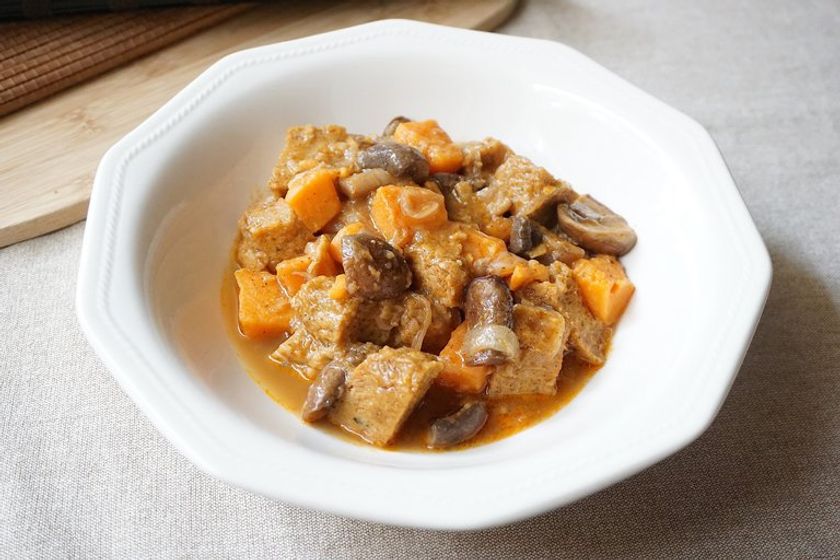 This cinnamon seitan stew with sweet potato and portobello is an autumnal flavor dish, very rich in protein and antioxidants, which makes it a very complete stew. The combination of its ingredients results in a pleasant blend of textures and a delicious and comforting flavor with a subtle cinnamon aroma.
This stew is cholesterol-free and rich in protein, lecithin, beta-carotene , tocopherol , carbohydrates , flavonoids , allicin, alliin , curcumin , fiber , cinnamic acid , vitamins A , C , E , K and group B ( B1 , B2 , B3 , B5 , B6 and B9 or folic acid ); sulfur , boron , calcium , cobalt , chromium , phosphorus , iron , magnesium , manganese , potassium , selenium , silicon , sodium and zinc .
Below you can see what ingredients you need and the steps to follow in order to make a very tasty and 100% vegetable stew.
| | | |
| --- | --- | --- |
| Difficulty level | Preparation time | Rations |
| Easy | 1 h. | For 3 people |
Ingredients
1 sweet potato
200 gr. mushroom portobello
1 onion
1 teaspoon ginger (grated)
1 cayenne pepper (seedless)
1 teaspoon sweet paprika
1/4 teaspoon ground cinnamon
1/2 teaspoon cumin (ground)
4 tablespoons extra virgin olive oil
1 teaspoon salt (plus a little more to pepper)
50 ml. white wine
1 vegetable stock cube
400 ml. water
1/2 teaspoon pepper (ground) (to season)
Instructions
Peel the onion, julienne it finely and set aside.
Cut the seitan into irregular pieces of approximately 1.5 cm. thick. Season and set aside.
In a large skillet, heat the oil and, when it is warm, add the seitan and brown it over medium heat, for 3 minutes. When it is golden, remove from the heat, pass it to a plate and set aside.
Peel the sweet potatoes, wash them and cut them into 1.5 cm. thick cubes. Set aside.
Wash and cut the mushrooms in quarters. Set aside.
Put to heat again the pan where the seitan has been cooked, add the onion and let it poach for 5 minutes.
After this time, add the sweet potato and mushrooms and stir. Add the wine, let it cook for 2 minutes to evaporate the alcohol and add the salt, ginger, cayenne pepper (without seeds), paprika, cinnamon and cumin. Stir again and lower the heat.
In a small saucepan, pour the water and put it to heat. When it boils, add the vegetable stock cube and stir until it dissolves. Once it has dissolved, remove from the heat and pour the broth into the pan with the other ingredients.
Add the seitan to the pan, stir and cook over medium heat for 20 minutes. After this time, make sure that the sweet potato has cooked well and remove from the fire. Let sit a few minutes and serve.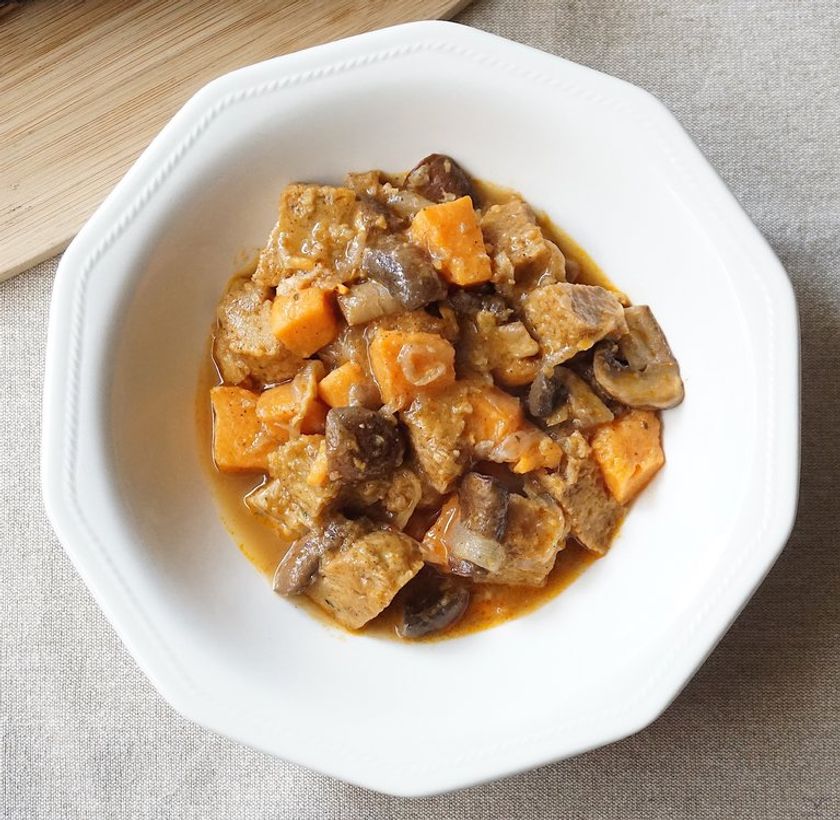 Notes
If you like it with a more intense touch of cinnamon, you can double the amount of it.
If you have any questions, you can leave it to us in the comments. And if you dare and want to show your creations to the world, do not hesitate to label us, we will love to see them through the networks!
Do you join us on social networks? You will find us on Facebook, Twitter, Instagram and Pinterest!