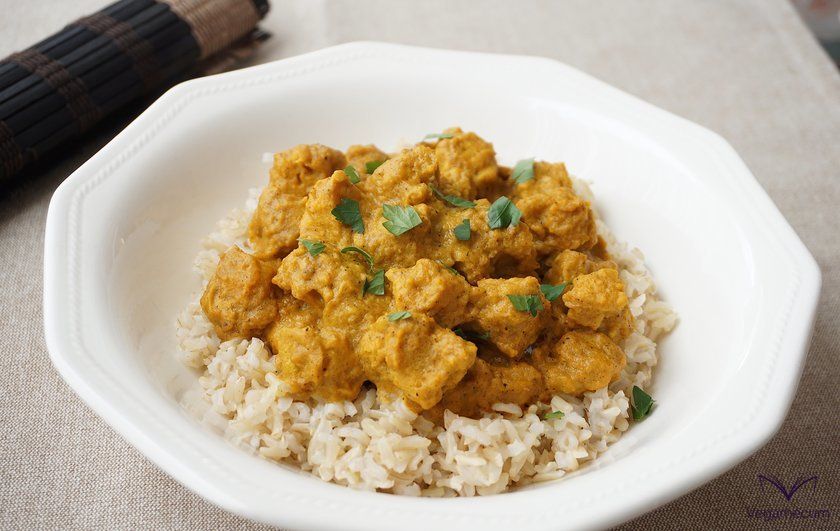 This is a dish of very rich and spicy taste, with a subtle spicy touch and an irresistible warm and exotic flavor that transports us to South Asia: the Garam Masala.
The Garam Masala is a mixture of spices highly valued and used, especially in India, where we can find under the same name different mixtures with different sets of spices each, although, usually, usually contain cardamom, black and white pepper , clove, coriander, nutmeg, cinnamon, cumin and star anise among its main ingredients.
And, in Hindi, Garam means "hot" and Masala means "seasoning" so the term would welcome any mixture of spices that gives the dish that delicious spicy and hot flavor.
This 100% vegetable tikka masala dish allows us to enjoy this irresistible mix of spices in one of the most delicious ways, and can also accompany basmati rice to bring a truly exquisite degree of smoothness.
Nutritionally, this is a dish very rich in complete proteins , carbohydrates , lycopene , alliin , allicin , flavonoids , isoflavones , omega 3 and omega 9 fatty acids, fiber , terpenoids , curcumin , turmenone , caffeic acid , vitamins A , C , E , K and group B ( B1 , B2 , B3 , B5 , B6 and B9 or folic acid ); sulfur , boron , calcium , copper , chromium , phosphorus , iron , magnesium , manganese , potassium , selenium , sodium and zinc .
Below you can see what ingredients you need and the steps to follow to be able to make a very, very tasty and exotic note.
| | | |
| --- | --- | --- |
| Difficulty level | Preparation time | Rations |
| Half | 1 h. | For 3 servings |
* Plus 2 hours of rest
Ingredients
100 gr. coarse textured soy
1 teaspoon salt
1 teaspoon cumin (ground)
1 spoonful of turmeric
1/2 teaspoon pepper (ground)
1 tablespoon garam masala
2 cloves of garlic
1 tablespoon ginger (grated)
1 unsweetened natural soya yogurt
1 tablespoon fried tomato
1 purple onion
3 tomatoes (pear type)
200 ml. coconut milk (of tin)
2 tablespoons extra virgin olive oil
Instructions
We put to hydrate the soya in hot water during 30 minutes and, while, we mix all the spices in a bowl or plate, stirring so that the mixture is uniform.
Laminate the cloves of garlic and, in another container, we make a mixture with these, the yogurt, the grated ginger and half of the mixture of spices that we have prepared. We remove everything and add the soy very well drained. Mix everything well and put the bowl in the fridge tightly covered with a clean cloth for about 2 hours so that the soy takes the flavor of the spices.
Peel the tomatoes, remove the seeds and cut them into small pieces. In a pan, put the oil to heat and, when it is warm, we take the cut tomato and let it be done for 10 minutes over medium heat to soften. After this time, we put out the fire and reserve.
Chop the onion, put it in the glass of the blender next to the fried tomato, the black pepper and the other half of the spices and beat until forming a homogeneous paste.
We put the pan back into the fire where we have the tomatoes and, once hot, add the contents of the blender glass and mix well with the tomatoes. We let it cook for 10 minutes on a low heat and then we crush everything again. We reserve
We take the bowl out of the fridge where we have the seasoned soybeans and we pass it to a pot. Add the sauce that we just prepared in the pan, add the previously stirred coconut milk and put the pot to heat over low heat for 20 minutes, stirring often so that the sauce does not get caught in the pot. After this time, extinguish the fire and serve hot.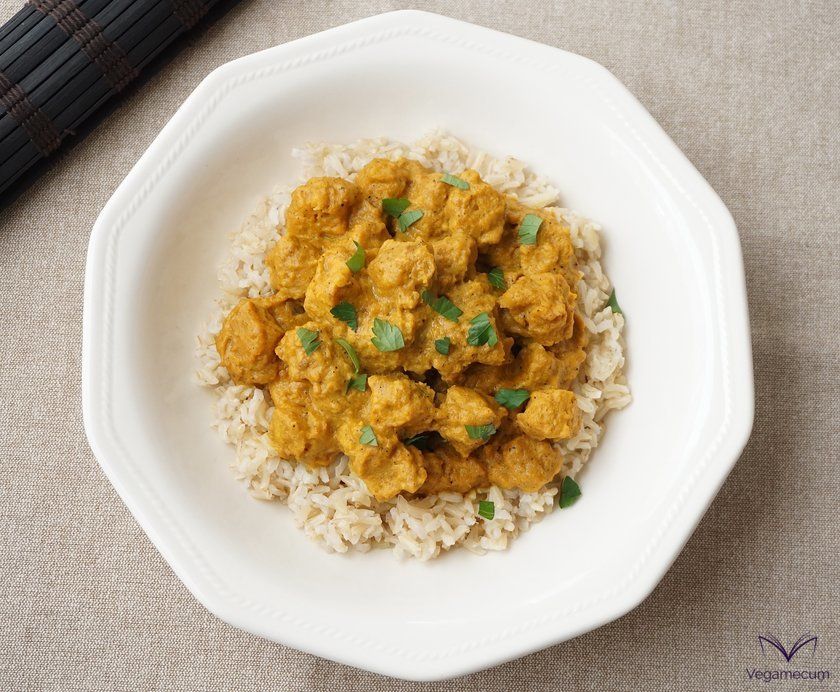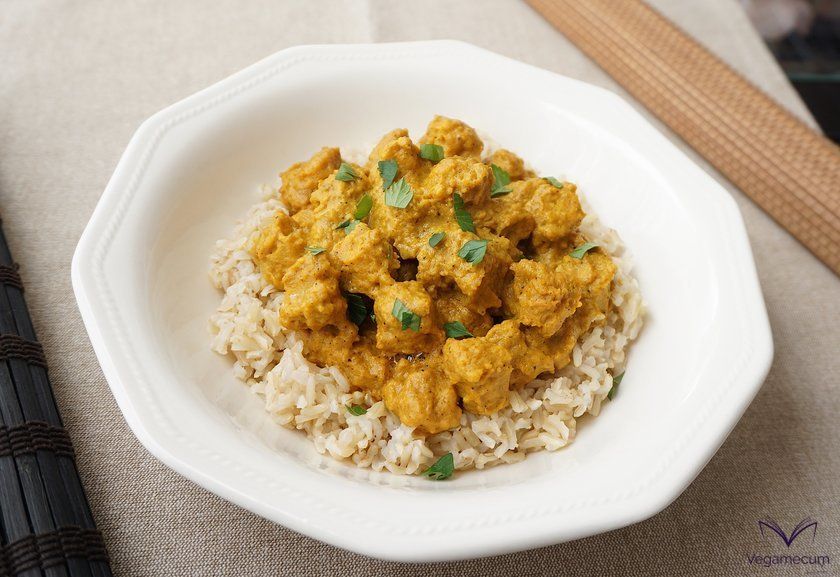 Notes
If you prefer, you can substitute the textured soybeans for tofu or chickpeas.
Ideally, serve this Tikka Masala with basmati rice to create a soft and delicious flavor.
If you have any questions, you can leave it to us in the comments. And if you dare and want to show your creations to the world, do not hesitate to label us, we will love to see them through the networks!
Do you join us on social networks? You will find us on Facebook, Twitter, Instagram and Pinterest!