The julienne soup gets its name from the way in which the vegetables that make it up are cut, a technique currently known as "cut in julienne" but which in its origins was called "chiselling".
This technique consists of cutting the vegetables and vegetables in a thin and elongated way, with a length of about 5 cm. long and about 2 mm. wide, approximately. This allows the ingredients to take less time to cook and to do it in a more uniform way, in addition to providing a greater eyeiness and harmony to the dish.
The cut in julienne is one of the oldest cuts in kitchen, appearing written for the first time in 1806, specifically in the book 'Le Cusinier Impérial'. Regarding the origin of his name, some authors claim that it may be related to Jean Julien, the first chef to publish gastronomic literature with information about the different types of cut to prepare vegetables.
Although julienne soup can be found with its dried ingredients, this homemade version is much more flavorful and aromatic. And it is a juicy and comforting soup dominated by the soft taste of cabbage and tender carrot, coupled with the appetizing point of tomato.
But besides being a very tasty dish and very easy to prepare, this soup is very moisturizing and rich in high quality nutrients, because it keeps all the finely cut vegetables, which, in addition, replace the pasta that other soups are used to carry, resulting much lighter and more nutritious.
At a nutritional level, this dish is rich in flavonoids , fiber , amino acids , antioxidants , omega3 , omega6 and omega 9 fatty acids, beta carotene , lycopene , carbohydrates , allicin , alliin , vitamins A , C , E , K and group B ( B1 , B2 , B3 , B5 , B6 and B9 or folic acid ), sulfur , boron , calcium , phosphorus , iron , magnesium , manganese , potassium , selenium , sodium , zinc and, in smaller quantities, copper .
Below you can see what ingredients you need and the steps to follow in order to make this simple and restorative soup.
| | | |
| --- | --- | --- |
| Difficulty level | Preparation time | Rations |
| Easy | 1 h. | For 3 servings |
Ingredients
1 onion
1 Leek
2 cloves of garlic
1 carrot
250 gr. white cabbage
2 tablespoons extra virgin olive oil
1 tablespoon fried tomato
1 teaspoon sweet paprika
1 l. water
1 teaspoon salt
Instructions
Wash the vegetables, peel the carrots and leeks and then cut them into julienne strips (thin and long strips), except for the leeks, which are cut into thin slices. We reserve
Peel the garlic and cut very small. We also booked.
In a deep pot, put the oil to heat and, when it is warm, take the garlic and sauté for 1 minute, making sure it does not burn.
Add the sweet paprika and remove the pot from the fire to prevent it from burning. Remove and add the fried tomato. We remove again and place the pot again on the fire.
We put the cut vegetables in the pot, add the salt and take a few turns. Next, add the water, stir and let the vegetables are done over medium heat for about 45 minutes. After this time, check that the vegetables are well cooked, rectify salt if necessary, turn off the heat and serve hot.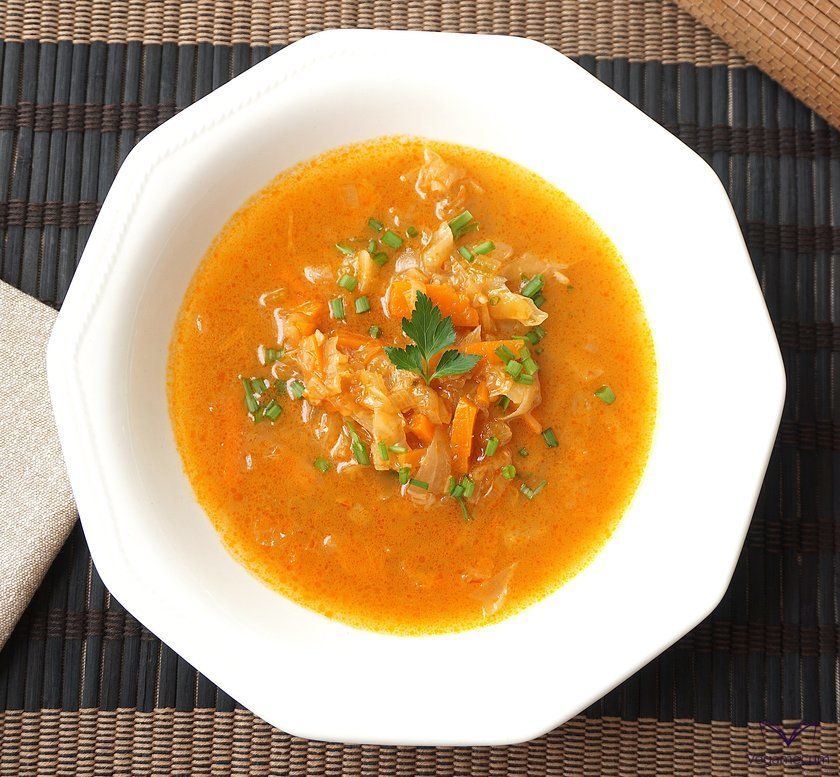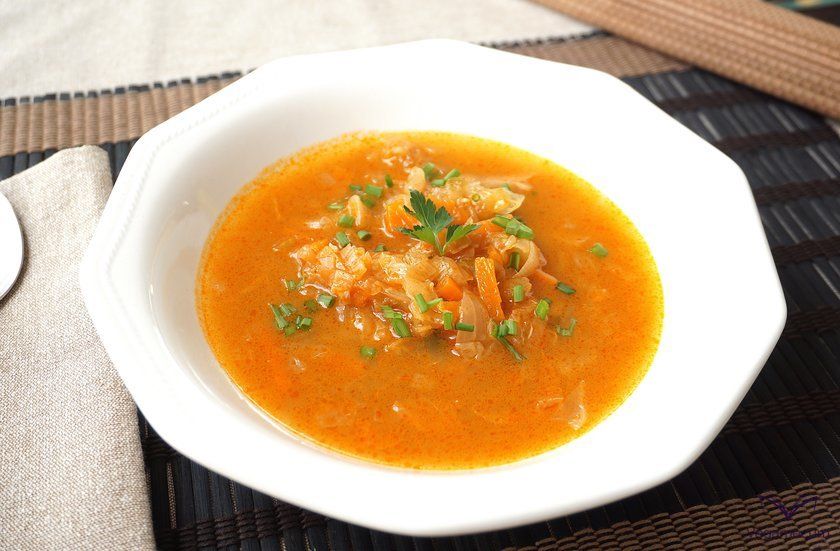 If you have any questions, you can leave it to us in the comments. And if you dare and want to show your creations to the world, do not hesitate to label us, we will love to see them through the networks!
Do you join us on social networks? You will find us on Facebook, Twitter, Instagram and Pinterest!