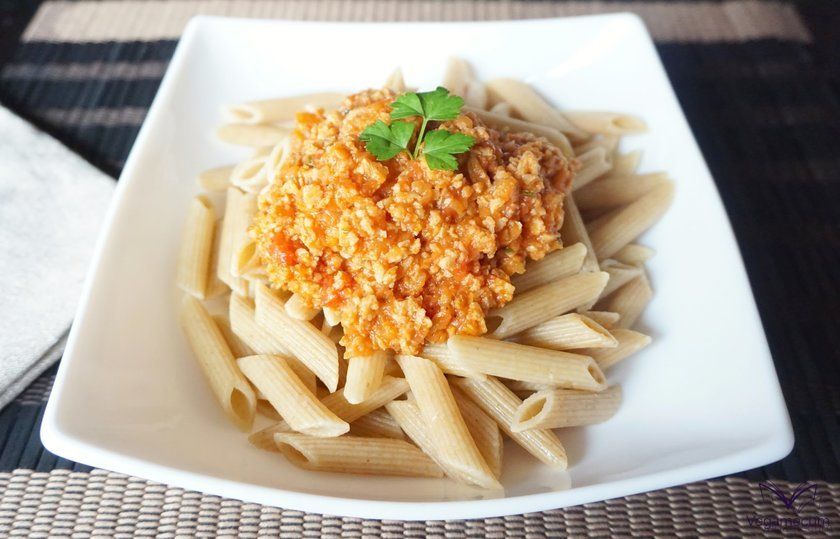 Bolognese sauce is a staple of vegetarian cooking in general, and of Italian vegetarian cuisine in particular.
Its main ingredient is fine textured soybeans, which is ideal to replace minced meat in conventional dishes, and allows us to benefit from its absence of cholesterol, and its richness in protein very low in fat.
Soy has a perfect texture and absorbs flavors very well, so thanks to all the ingredients that this recipe carries, the final result is a full-bodied taste and absolutely delicious.
This sauce is rich in proteins , fiber , complex carbohydrates , beta-carotene , lycopene , glutathione (antioxidant), vitamins A , C , E and group B ( B3 , B6 and B9 or folic acid ), calcium , phosphorus , magnesium , potassium and selenium
Below you can see what ingredients you need and the steps to follow to be able to make this essential of vegan cuisine.
| | | |
| --- | --- | --- |
| Difficulty level | Preparation time | Rations |
| Easy | 30 m. | For 3 people |
Ingredients
70 gr. textured soy
1 onion
1 carrot
2 cloves of garlic
1 bay leaf
1/2 teaspoon pepper
1/2 teaspoon nutmeg
1/2 teaspoon salt
1/2 teaspoon whole cane sugar
750 gr. whole peeled tomatoes from tin
4 tablespoons extra virgin olive oil
Instructions
We put the soy in a bowl with warm water for about 15 minutes to hydrate.
We wash and peel the carrot and grate it together with the onion and the garlic.
In a large pan, put to heat the oil. When it is hot, we toss the onion with the garlic, we refrigate 5 minutes and stir.
Next, we toss the grated carrot with the laurel leaf, leaving it to low fire so that it does not burn during 5 minutes more.
Drain the soybeans and add to the pan, take a few turns and take the pepper, nutmeg and salt. We remove and leave 5 minutes to take the taste well.
Next, we crush the tomatoes (if they are natural we grate them), we toss them in the pan, and we throw the sugar to remove the acrimony. We stir again to mix everything and leave about 15 or 20 minutes on low heat so that the tomato is done well. When we see that the tomato is made, we will have the Bolognese sauce ready to serve.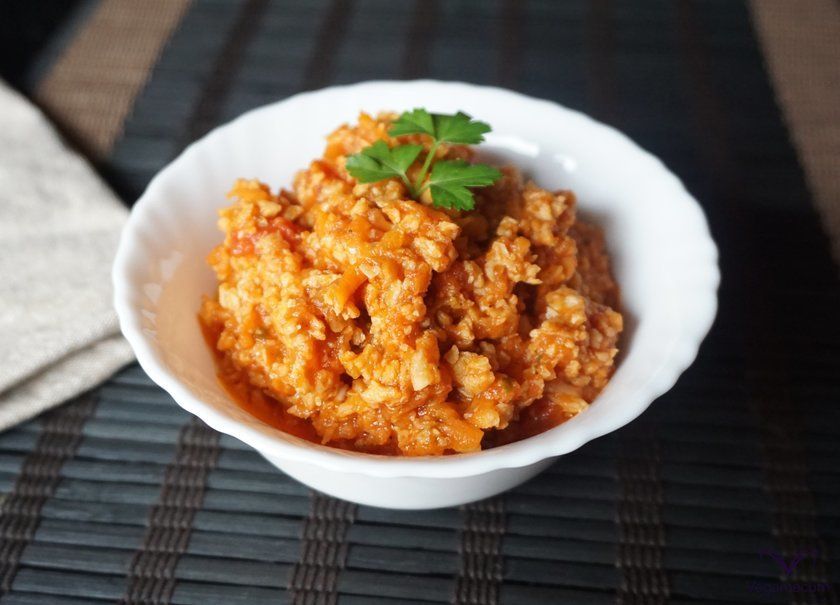 Notes
You can replace canned tomatoes with pear-type tomatoes, because although they are more acidic, they are less so than the other types of natural tomatoes.
If when tasting the sauce, you still find something sour, you can add a little more sugar.
You can sprinkle a little vegan parmesan above to accentuate the flavor and create a delicious contrast.
If you have any questions, you can leave it to us in the comments. And if you dare and want to show your creations to the world, do not hesitate to label us, we will love to see them through the networks!
Do you join us on social networks? You will find us on Facebook, Twitter, Instagram and Pinterest!