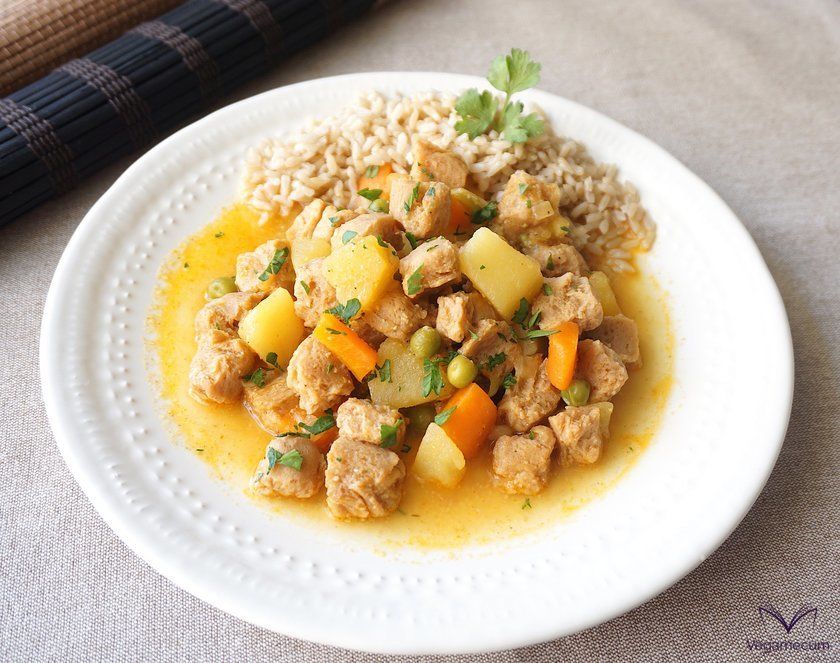 This spicy Peruvian vegan meat is a traditional Peruvian stew very tasty and with a delicious intense point that makes it very special.
The mixture of its ingredients makes it a nutritious, light and with a very unique touch thanks to the chili pepper, which wraps all the components with its essence and gives a flavor as exquisite as addictive.
Chili is a very important ingredient in this recipe, as it is in Peruvian cuisine in general. Peruvian cuisine has managed to combine in a masterly way the cuisine of different corners of the world, since its dishes contain the essence of multiple cultural influences (American, European, African and Asian); which has given rise to a unique and unmistakable flavor that is already a hallmark of the country.
This is a version made with soy meat, and therefore, low in fat, low in sugars, free of cholesterol and very rich in complete proteins and fiber; besides being the best option to protect animals and the planet.
The main ingredient of this dish is ají, specifically ají amarillo and ají panca, which are the most valued varieties of Peru and the most consumed. This is why it is an ideal stew to serve it with rice, because in this way, in addition to being able to absorb 100% the irresistible sauce, we can enjoy its unmistakable spicy point with a milder intensity.
As for its nutritional properties, this recipe is rich in complete proteins, carbohydrates, carotenoids, isoflavones, flavonoids, fiber, lecithin, tryptophan, essential oils, allicin, alliin, terpenoids, omega 6 and omega 9, vitamins C, E and group B ( B1 , B2 , B3 , B6 and B9 or folic acid ); sulfur , calcium , chromium , phosphorus , iron , magnesium , manganese , potassium , selenium , sodium , iodine and, in smaller quantities, copper .
Below you can see what ingredients you need and the steps to follow in order to make one of the most popular and successful delights in Peru.
| | | |
| --- | --- | --- |
| Difficulty level | Preparation time | Rations |
| Easy | 1 h. | For 3 people |
Ingredients
100 gr. textured vegetable protein (soy chunks)
1 onion
2 potatoes
1 carrot (big)
2 bay leaves
50 gr. peas
2 tablespoons garlic powder
1/2 teaspoon cumin (ground)
1 teaspoon salt
1/2 teaspoon pepper (ground)
450 ml. water
1 teaspoon yellow ají paste
1 teaspoon panca ají paste
3 tablespoons extra virgin olive oil
1 tablespoon parsley (chopped)
Instructions
Hydrate the textured vegetable protein in a bowl with hot water for 30 minutes. After this time, drain it very well until all the liquid has been extracted. Set aside.
Peel the potatoes, wash them and cut them into 1 cm thick cubes. Set aside.
Peel the onion and cut it very small. Set aside.
Peel the carrot, wash it and cut it into 1 cm thick cubes as well. Set aside.
Heat the oil over medium heat in a large saucepan. When it is hot, add the onion and let it cook for 5 minutes.
After this time, add the textured vegetable protein together with the cumin, garlic powder, pepper and salt and stir. Cook it for 5 minutes, stirring occasionally.
After this time, add the bay leaves and water, stir again and, when it starts to boil, add the potatoes, carrot, peas, yellow ají paste and panca ají paste. Stir everything carefully and let cook for 15 minutes. After that time, remove from the heat, add the chopped parsley and serve.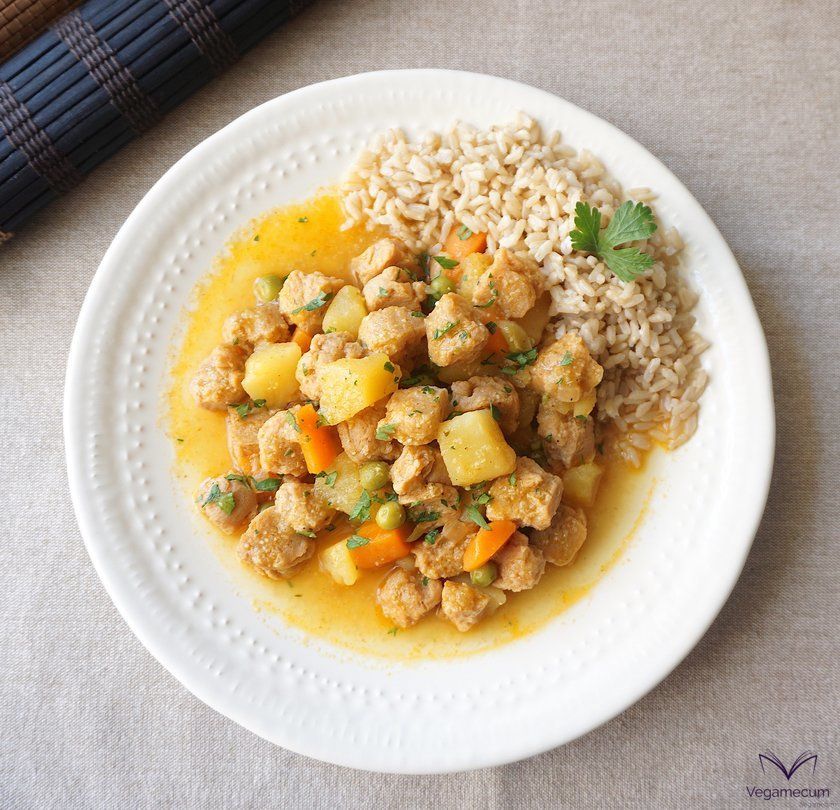 Notes
Ají paste can be found in stores specializing in Latin American products.
Chili paste can be found in stores specializing in Latin American products.
If you have any questions, you can leave it to us in the comments. And if you dare and want to show your creations to the world, do not hesitate to label us, we will love to see them through the networks!
Do you join us on social networks? You will find us on Facebook, Twitter, Instagram and Pinterest!