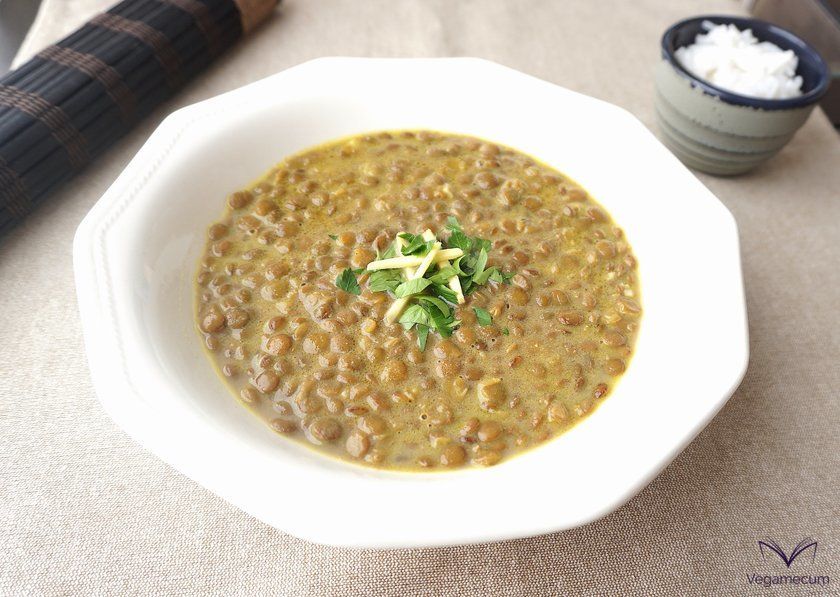 These lentils curried with coconut milk are a dish of vegetables as exotic as delicious, ideal to eat it as it is or to accompany it with basmati rice or tender bread 'naan'.
It is a stew that has the aromatic and slightly spicy flavor of the curry, softened with creamy coconut milk that also gives it a delicate and exquisite texture.
The curry, besides giving an irresistible touch to the recipes, is a very interesting condiment. Its name comes from the Tamil word 'kari', which translates as 'sauce' and is used to distinguish dishes prepared with sauce from dry dishes, although it is also known by this term to the spice mixture originally from the Indian Subcontinent, among which cilantro, cumin and turmeric are not usually absent, and which may include black pepper, ginger, fenugreek, cinnamon, fennel, cloves, cardamom, chilli, mustard or nutmeg, among other ingredients, depending on the country or region. region where we are (for example, in the south of India include fresh curry leaves, which although it seems, have nothing to do with the curry itself beyond its presence in some mixtures).
After the English began to market the British East India Company in the 18th century with preparations of spice mixtures under the name of "curry powder" , the belief that curry is a unique spice was extended , but as we have seen, there are multiple combinations and ways to use these, since traditionally they also usually mix whole spices with ground and add them both together or separately at different times throughout the preparation and cooking of the dishes.
As for the nutrients provided by this dish, the combination of all its ingredients make it a delicacy rich in proteins , antioxidants , carbohydrates , flavonoids , allicin , alliin , fiber , vitamins A , C , E and group B ( B1 , B2 , B3 , B5 , B6 and B9 or folic acid ), sulfur , calcium , chromium , phosphorus , iron , magnesium , manganese , potassium , selenium , sodium and zinc .
Below you can see what ingredients you need and the steps to follow to make this dish with a warm and comforting flavor.
| | | |
| --- | --- | --- |
| Difficulty level | Preparation time | Rations |
| Easy | 1 h. | For 4 people |
Ingredients
300 gr. lentils (soaked for 8 hours)
2 cloves of garlic
1 onion
1/2 can coconut milk
2 teaspoons curry
1 teaspoon cumin
1 teaspoon salt
1/4 teaspoon Cayenne chilli
1 glass water
2 tablespoons extra virgin olive oil (Smooth flavor)
Instructions
Chop the garlic, put to heat the oil in a pan and, when the oil is hot, fry the garlic for 2 minutes.
Chop the onion, toss it together with the coconut milk, curry, cumin, cayenne pepper and salt and stir well for 5 minutes.
Add the lentils and stir for 2 more minutes so that all the ingredients are mixed well.
Add the water and lower the heat to medium-low, cover the pan and let it done for 40 minutes, stirring occasionally.
After this time, we put out the fire, and serve.
Notes
If after adding the water, while the stew is being made, you see that it runs out of liquid, you can add a little more water.
At the time of serving, you can decorate the dish with a bit of chopped cilantro and some thin strips of ginger.
This dish is ideal to accompany it with rice or naan bread.
If you have any questions, you can leave it to us in the comments. And if you dare and want to show your creations to the world, do not hesitate to label us, we will love to see them through the networks!
Do you join us on social networks? You will find us on Facebook, Twitter, Instagram and Pinterest!