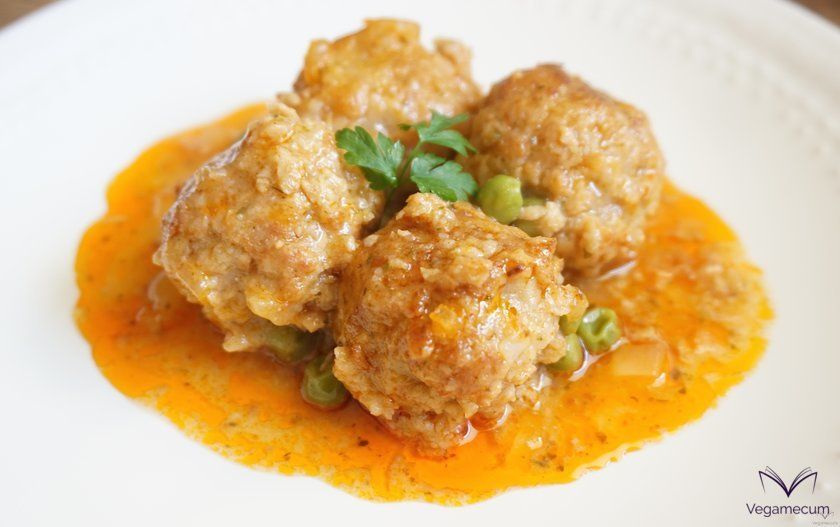 These meatballs are super tasty, since apart from being made with a good stir-fry, they are accompanied by a sauce made with rich ingredients that give it an intense and traditional flavor.
Instead of animal meat, these are made with soy meat, which is low in fat, low in sugar and free of cholesterol. In addition, we already know how versatile is the textured soy at the time of cooking, and that is that we can use it in each and every one of the dishes that were made with minced meat, as we saw with stuffed aubergines , bolognese sauce , the cannelloni , the Mexican fajitas and the barbecue pizza .
Thus, these meatballs are free of cholesterol and rich in proteins , complex carbohydrates (with satiating power and slow absorption), fiber , flavonoids , malic , oleic and lanoleic acids , lecithin , tryptophan , vitamins C , E and group B ( B1 , B2 , B3 , B6 and B9 or folic acid ), sulfur , calcium , chromium , phosphorus , iron , magnesium , manganese , potassium , selenium , sodium , zinc and, to a lesser extent, copper .
Below you can see what ingredients you need and the steps to follow in order to make delicious vegan meatballs full of flavor.
| | | |
| --- | --- | --- |
| Difficulty level | Preparation time | Rations |
| Medium | 1 h. | For 14 units |
For the meatballs
100 gr. textured soy
1 onion
2 tablespoons buckwheat flour
1/2 teaspoon salt
1/2 teaspoon parsley
1 clove of garlic
3 tablespoons extra virgin olive oil
rice flour (to coat)
75 spoons of breadcrumbs
100 ml. water
For the sauce
1 onion
3 tablespoons extra virgin olive oil
1 teaspoon sweet paprika
1/2 white wine glass
1 glass water
1 clove of garlic
1/2 teaspoon parsley
1 bay leaf
50 gr. peas
Instructions
We put the soybeans in a bowl with hot water for 15 minutes to hydrate. After this time, we drain the soy well in a colander (if necessary, exert a little pressure with the hand to release all the water).
Grate one of the onions and put to heat a pan with 3 tablespoons of oil. When the oil is hot, we toss the grated onion and leave about 5 minutes on medium heat.
We give a few laps, add the soy, and mix well with the onion. We toss the salt and let it be done for 5 minutes.
We add the half teaspoon of parsley, the garlic very well chopped, the flour and the bread crumbs, we mix everything well and we reserve.
When the meatballs are cooled, we form 3 cm balls. approximately (or the size you prefer) and batter them in flour. We fry them in enough oil over medium heat and, as they go slightly browned on all sides, we are going to a plate with absorbent paper to lose excess oil. We pass them to a casserole and reserve.
Cut the other onion into small pieces and, in another pan, put to heat 3 tablespoons of oil. When it is hot, take the onion and let it poach over medium heat. Then, we toss the paprika and we give a couple of turns, watching that it does not burn to avoid that it bitter. Add the wine, let the alcohol evaporate, and pour a glass of water. Rectify salt and mix everything well.
Meanwhile, we make a flock of garlic and parsley by crushing a garlic and half a teaspoon of parsley with a couple of tablespoons of water in a mortar. When the broth breaks to boil, we toss it on the meatballs that we have in the casserole, add the bay leaf, the peas and the garlic and parsley mince, and let it cook for about 15 minutes. After this time, we put out the fire and serve.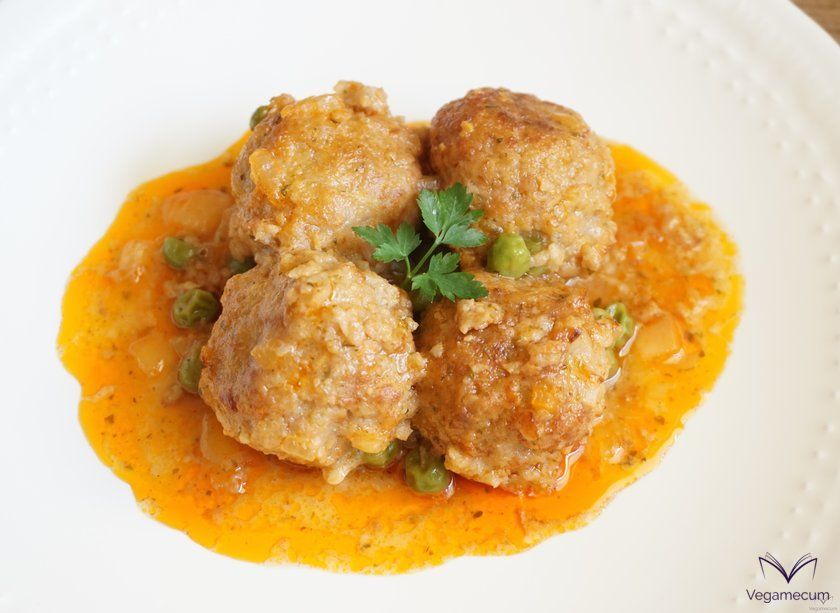 Notes
If you prefer, you can use whole wheat flour both to make the meatballs, and to reboze them.
It is very important to drain the soy well after hydrating it so that the meatballs do not fall apart.
If you have any questions, you can leave it to us in the comments. And if you dare and want to show your creations to the world, do not hesitate to label us, we will love to see them through the networks!
Do you join us on social networks? You will find us on Facebook, Twitter, Instagram and Pinterest!