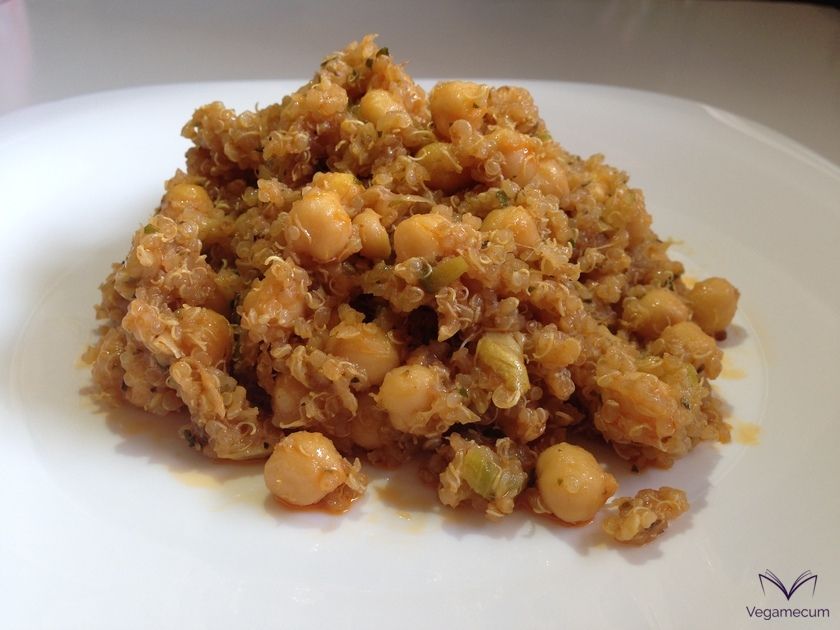 This is one of the simplest and most complete dishes, since it is made with legumes, vegetables and quinoa (the food of astronauts). The extra touch of flavor is given by sweet paprika, which is also rich in iron .
As you can imagine by the ingredients that make it up, this stew provides a large dose of protein , which in the case of quinoa, have all the essential amino acids .
It is also rich in fiber and carbohydrates and, in terms of vitamins and minerals, contains vitamin A , C , folic acid , magnesium , zinc , calcium and potassium .
Besides, it has a high content of omega 3 and omega 6 , in lecithin , in carotenes , in lycopene and in coumarins .
All this makes it a very suitable dish to help reduce and control cholesterol and triglycerides, with satiating and antioxidant power, suitable to prevent hypertension and vascular diseases in general, beneficial to the eye and to control the level of sugar in The organism, which also provides energy, favors the nervous system and helps eliminate liquids.
Below you can see what ingredients you need and what steps you have to follow to enjoy this dish so complete and easy to prepare.
| | | |
| --- | --- | --- |
| Difficulty level | Preparation time | Rations |
| Easy | 45 m. | For 2 people |
Ingredients
200 gr. cooked chickpeas
1 medium zucchini
100 gr. quinoa
1 spoonful of oregano
2 tablespoons soy sauce
1 tablespoon sweet paprika (we recommend from the side)
extra virgin olive oil
Salt
Instructions
First of all we put the quinoa in a colander and wash it under the tap until the water comes out clear. We cook it over medium heat in a saucepan with twice as much water as in its volume and with a little salt. After 15 minutes, we left the fire and booked.
Then wash the zucchini, peel it with the help of a peeler and cut it into cubes. We put it in a large pan with a little oil and let it be done little by little and evenly, taking care that it does not burn.
When the zucchini is soft, add the chickpeas that previously we would have washed well, along with the quinoa, the soy sauce, the oregano and the salt. All this we remove so that it is mixed correctly and we leave it for about 5 minutes in the fire.
Finally, we toss the paprika, we give a few laps so that it takes the taste, we extinguish the fire so that it does not burn, and we serve.
Notes
If you prefer, you can add the unpeeled zucchini. In this way you will keep all the fiber.
Once the paprika is poured, it is important not to have too much time in the fire because when it starts to burn, bitter.
If you have any questions, you can leave it to us in the comments. And if you dare and want to show your creations to the world, do not hesitate to label us, we will love to see them through the networks!
Do you join us on social networks? You will find us on Facebook, Twitter, Instagram and Pinterest!