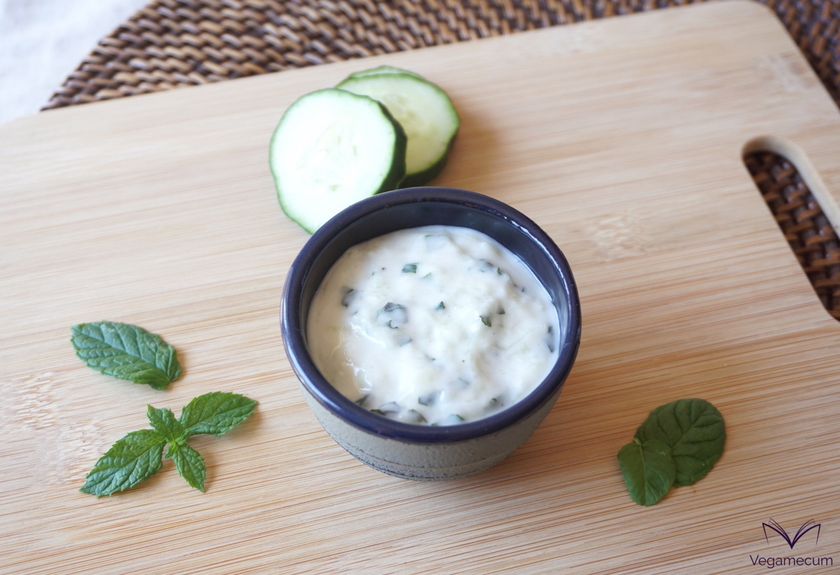 Tzatziki sauce can be considered the Greek version of Yogurt Sauce, since it is a very similar sauce, but with a fresher and more lively point thanks to the cucumber.
It is a very creamy sauce that, being made with vegetable yogurt, cucumber and mint, captivates for its versatility and its refreshing flavor, the intense point that garlic and pepper give it and the acid touch that lemon gives it.
Thus, it is ideal for dressing salads, falafel, seitan, tofu, hamburgers such as chickpea, dried tomato and basil burgers; baked vegetables and sandwiches, as well as to accompany and dip with naan bread, pita bread or, in its lighter version, with crudités.
Regarding its nutritional properties, this sauce is rich in isoflavones, lecithin, flavonoids, fiber, proteins, beta-carotene, biotin, terpenoids (antioxidants), omega 3 fatty acids, menthol, cineole, limonene, tannins, vitamins A, C, E, K and from group B ( B1, B2, B3, B5, B6 and B9 or folic acid ); calcium, phosphorus, iron, magnesium, manganese, potassium, selenium, sodium, iodine and zinc.
Below you can see what ingredients you need and the steps to follow to be able to make the vegan version of this irresistible and emblematic sauce that transports us through the senses to the Hellenic country.
| | | |
| --- | --- | --- |
| Difficulty level | Preparation time | Rations |
| Very easy | 15 m. | For 250 grams |
* Plus 2 hours of refrigeration
Ingredients
200 gr. unsweetened plain soy yogurt
3/4 cucumber
1 garlic clove
2 tablespoons fresh mint (chopped)
1/2 lemon (small)
1/2 teaspoon salt
1/4 teaspoon pepper (ground)
Instructions
Peel the cucumber, wash it very well and grate it with the help of a grater. Once grated, pass it to a strainer, wring it out to remove as much liquid as possible and let it drain. Set aside.
Meanwhile, wash the mint, chop it and chop the garlic too.
Add the yogurt in a bowl, add also the mint, garlic, lemon juice, salt and pepper and stir to mix the ingredients well.
When the cucumber is well drained, add it to the bowl and stir well so that it integrates with the rest of the ingredients and put it in the fridge for a minimum of 2 hours. When the flavors have settled and the sauce is very cold, serve.
If you have any questions, you can leave it to us in the comments. And if you dare and want to show your creations to the world, do not hesitate to label us, we will love to see them through the networks!
Do you join us on social networks? You will find us on Facebook, Twitter, Instagram and Pinterest!