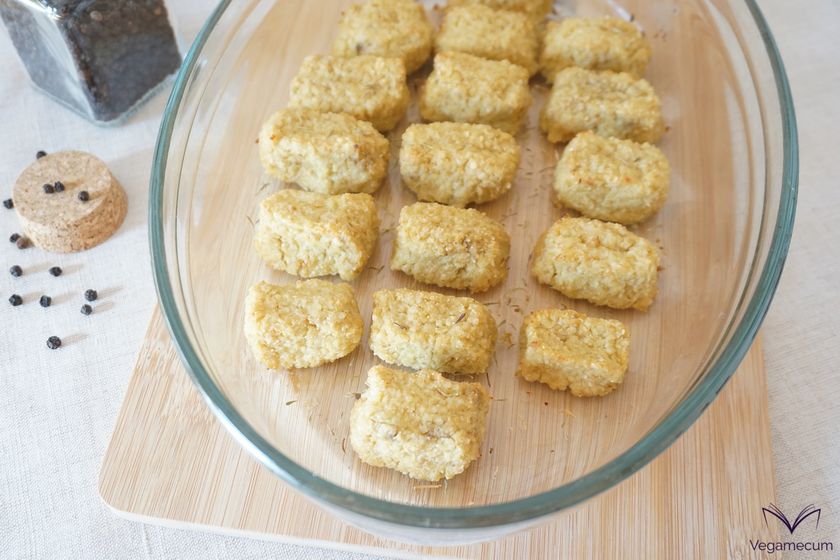 These Vegan Parmesan Cauliflower Tater Tots are lightly toasted on the outside and creamy on the inside, with a smooth and delicious flavor.
Made with vegetables instead of potatoes, and baked in the oven instead of fried, these 'tater tots' are lighter and contain less fat than conventional ones, what makes them a healthier and more complete version.
Although this time we have seasoned them with black pepper, the subtlety of cauliflower makes this recipe accept a wide variety of spices, so it can be adapted to all tastes and preferences, allowing us to benefit from the properties of cauliflower in the most attractive way for us.
Regarding their nutrients, these snacks contain flavonoids , allicin , alliin , carotene , proteins , carbohydrates , alpha-lipoic acid , terpenoids (antioxidants), fiber , omega 3 and omega 6 essential fatty acids, tryptophan , phytosterols , vitamins C , E and from group B ( B1 , B2 , B3 , B5 , B6 and B9 or folic acid ); sulfur , boron , calcium , copper , chromium , phosphorus , iron , lithium , magnesium , manganese , molybdenum , potassium , selenium , sodium , vanadium, and zinc .
Below you can see what ingredients you need and the steps to follow to make this original and nutritious starter.
| | | |
| --- | --- | --- |
| Difficulty level | Preparation time | Rations |
| Easy | 1 h. y 30 m. | For 20 units |
Ingredients
300 gr. cauliflower
1/2 onion
1/3 teaspoon salt
1/2 teaspoon pepper (ground)
1 tablespoon flax seeds (ground)
3 tablespoons water
Instructions
Wash the cauliflower, mince it with the mincer and steam it for 10 minutes. Meanwhile, mix the flax seeds with the water in a bowl and set aside.
When the cauliflower is cooked, remove from the heat and transfer it to a large bowl. Chop the onion, add it to the bowl where the cauliflower is, add the rest of the ingredients and mix well until all the ingredients are integrated.
Preheat the oven to 200ºC and, meanwhile, form the tater tots. To do this, take portions of dough with the help of a spoon, form cylinders of about 3 cm. long by 1.5 cm. wide and, as they are being formed, place them in a baking dish coated with oil or on a baking tray covered with baking paper. When all the tater tots are formed, put the baking dish or baking tray in the oven and bake for 20 minutes.
After this time, turn them over with the help of two teaspoons so that they cook on the other side and bake for 10 more minutes. After this time, remove the baking dish (or baking tray) from the oven and serve.
Notes
If you have any questions, you can leave it to us in the comments. And if you dare and want to show your creations to the world, do not hesitate to label us, we will love to see them through the networks!
Do you join us on social networks? You will find us on Facebook, Twitter, Instagram and Pinterest!