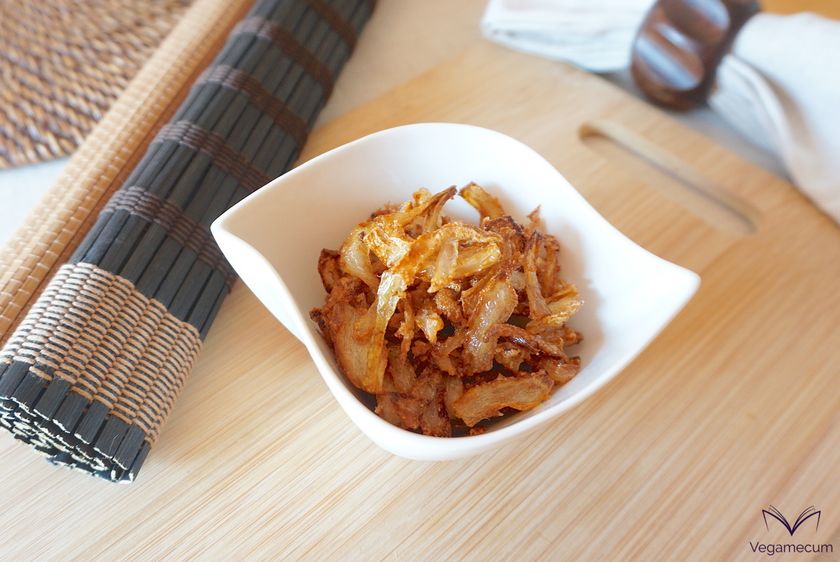 If there is a simple seasoning that deliciously enhances any dish, it is Crispy French Fried Onion.
The Crispy French Fried Onion is a perfect topping to highlight the most varied preparations, from hamburgers (such as tofu, zucchini and bell pepper burgers) to creams (such as zucchini, potato, carrot and leek cream), and even to dress salads and any vegetable dish, whether they are griddled, grilled or baked. That's because with its crunchy texture and with that salty and sweet point at the same time, it gives an extraordinary touch to the food.
Some of the advantages of making this delicious garnish ourselves at home is that in this way we can have it at any time, since it is very, very easy and quick to prepare, and, in addition, we can prepare it with healthy oils, with wholemeal flours and with just the right amount of salt.
Below you can see what ingredients you need and the steps to follow in order to make the ideal topping for your favorite dishes.
| | | |
| --- | --- | --- |
| Difficulty level | Preparation time | Rations |
| Very easy | 10 m. | For 50 grams |
1 onion
2 tablespoons whole wheat flour
1/4 teaspoon salt
extra virgin olive oil (to fry)
Instructions
Peel the onion, cut it in half and julienne it. Then pass it to an airtight container, add the flour and salt, close the container and shake so that the flour adheres well to all the onion.
In a large frying pan, heat enough oil to fry (covering the onion) over medium heat and, when it is very hot (without smoking), add the floured onion in batches and fry, while stirring, until the onion is golden, making sure that it does not burn. Once the onion is browned, put it in a drainer to eliminate the excess oil and, when it has released all the oil possible, transfer it to a large plate covered with absorbent paper so that it releases the oil that it may still contain, making sure that the onion pieces are not too close together so that they dry well.
Let it cool and, when the onion has dried and is very crisp, use it in the dishes you want or store it in the fridge, inside an airtight container.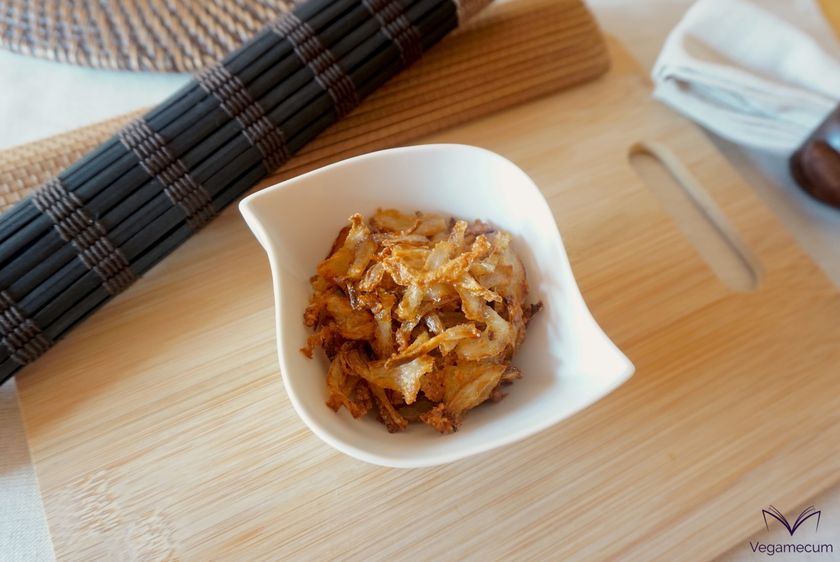 Notes
If you prefer, you can cut the onion brunoise (in small cubes). Depending on the dish in which you are going to use it, one type of cut or another may be more suitable.
If you have any questions, you can leave it to us in the comments. And if you dare and want to show your creations to the world, do not hesitate to label us, we will love to see them through the networks!
Do you join us on social networks? You will find us on Facebook, Twitter, Instagram and Pinterest!