The Palak Paneer is a traditional dish from India where the main ingredient is spinach ("palak" in Hindi). In the case of this 100% vegetable Palak Paneer, it is made with spinach, paneer tofu and a delicious sauce based on vegetables, garam masala and fresh ginger in which all the ingredients are submerged and combined.
Palak paneer stands out in Indian cuisine because, despite being rich in spices (as is usual in this type of cuisine), its flavor is very delicate.
And the main characteristics of this preparation are a very creamy texture and a very soft, subtly spicy flavor. In addition, it is accompanied by small tofu cubes flavored with flavor, so that its flavor is reminiscent of vegetable ricotta cheese , as the components used in its preparation are very similar and its taste is equally light.
This is a dish that is even more exquisite when accompanied with boiled or steamed rice or with naan bread, roti, chapati. Also, increasing the amount of liquid, it can be taken as if it were a soup, making it a different version and ideal for winter.
As a whole, this recipe is very rich in proteins , lecithin , fiber , flavonoids , antioxidants , aliinia , curcumin , omega 3 , omega 6 and omega 9 fatty acids ; beta carotene , lycopene , vitamins A , C , E , K and group B ( B1 , B2 , B3 , B6 and B9 or folic acid ); boron , calcium , copper , chromium , phosphorus , iron , lithium , magnesium , manganese , molybdenum , potassium , selenium , silicon , vanadium and zinc .
Below you can see what ingredients you need and the steps to follow to make a very nutritious and creamy-tasting dish.
| | | |
| --- | --- | --- |
| Difficulty level | Preparation time | Rations |
| Medium | 45 m. | For 2 people |
* Plus 24 hours of maceration
For paneer tofu
200 gr. tofu
1 teaspoon nutritional yeast
2 teaspoons lemon juice
1/4 teaspoon salt
1 tablespoon extra virgin olive oil
For the Palak
240 gr. spinach leaves
water
1 purple onion
4 cloves of garlic
1 tablespoon ginger (grated)
1/2 green chile
1 tomato (pear type)
1/2 teaspoon cumin (ground)
1 teaspoon turmeric
1/4 teaspoon garam masala
1/4 teaspoon salt
2 tablespoons coconut milk (only the solid part)
4 tablespoons extra virgin olive oil
Instructions
In a bowl, put the diced tofu, the lemon juice, the nutritional yeast and the salt. We stir well, close the container tightly and introduce it in the refrigerator for a minimum of 24 hours.
We introduce the coconut milk also in the fridge for a minimum of 4 hours.
Once the maceration and cooling time has elapsed, we wash the spinach well and heat a pot with water and a little salt. When the water breaks to boil, we toss the spinach and, once the water boils again, let them cook for 2 minutes. We passed the spinach to a drainer and set aside.
Chop the onion and garlic. We reserve
We wash the tomato, peel it, remove the seeds and cut it into small pieces. We also reserve.
In a frying pan, heat 3 parts of the oil over medium heat and, when it is warm, add the onion, the garlic and the grated ginger and let it cook for 5 minutes.
Add the tomato, stir and let it all be done for 10 more minutes.
After this time, we pass the sofrito to the glass of the blender, add the spinach, the chili without seeds and grind. Add a little water and shred again, until you get a dense mash texture. We reserve
In a pan, put to heat the remaining oil and sauté the tofu for 1 minute. After this time, we set it aside and reserve.
In the same pan where we have sautéed the tofu, toss the spices and the salt, stir a little and add the "mash" of spinach we have prepared.
Remove again, add the coconut milk (only the solid part) and let it be done for 5 minutes on low heat, stirring occasionally.
We toss the tofu to the pan where we have the rest of the ingredients, stir and let it be done together with a low heat for 5 minutes, stirring occasionally. After this time, we put out the fire and serve.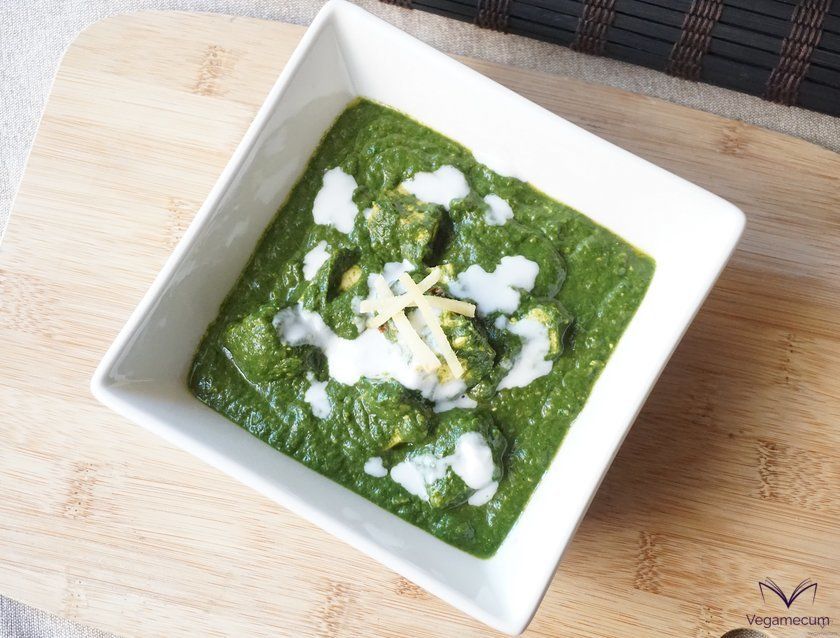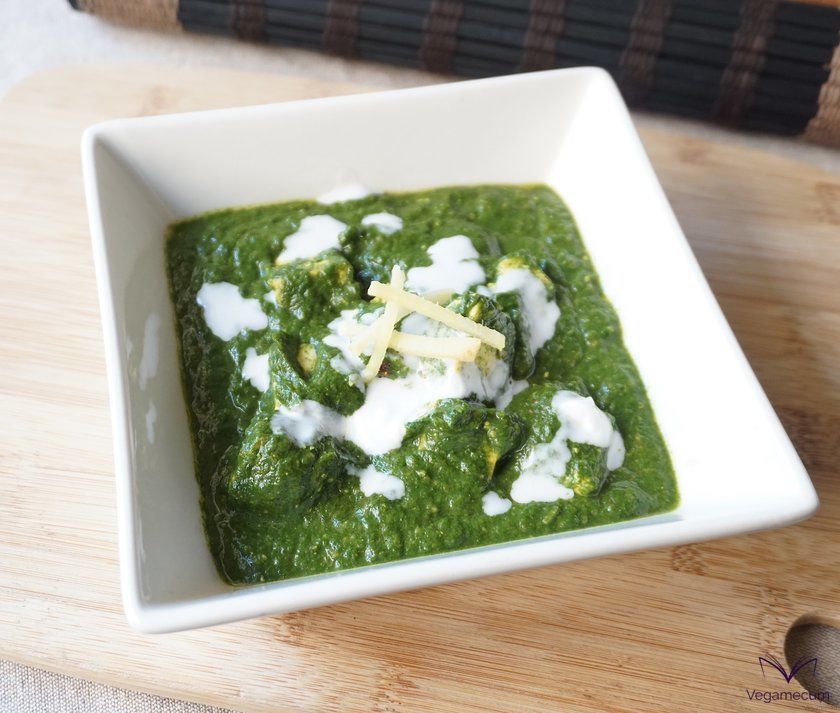 Notes
It is important that the coconut milk contains a minimum percentage of coconut of 50%.
The Palak Paneer can be served with naan bread, roti, chapati or boiled or steamed rice.
At the time of serving, you can take a little coconut cream to decorate.
If you have any questions, you can leave it to us in the comments. And if you dare and want to show your creations to the world, do not hesitate to label us, we will love to see them through the networks!
Do you join us on social networks? You will find us on Facebook, Twitter, Instagram and Pinterest!