Few things are so simple and quick to prepare like this soft, unctuous and 100% vegetable alioli. And it only needs 4 ingredients and is ready in less than 5 minutes.
But the best thing is that, unlike the aliolis made with ingredients of animal origin, it is less indigestible and free of cholesterol, which makes it the best and healthiest option to accompany our dishes.
This aioli contains, thanks to soy milk, protein , flavonoids , lecithin , omega 3 and omega 9 fatty acids, fiber , vitamins A , E , K , folic acid , calcium , phosphorus , magnesium and potassium .
Below you can see what ingredients you need and the steps to follow in order to make one of the easiest and most versatile sauces.
| | | |
| --- | --- | --- |
| Difficulty level | Preparation time | Rations |
| Easy | 5 m. | For 200 milliliters |
Ingredients
50 ml. soy milk
150 ml. sunflower oil
1 clove of garlic
1 pinch of salt
Instructions
Peel and chop the garlic, and put it in the blender glass with soy milk and salt. We add a little oil and start beating.
We continue beating while we slowly remove the rest of the oil, until we see that it takes consistency. Once we obtain a dense and homogeneous texture, we stop beating and serving.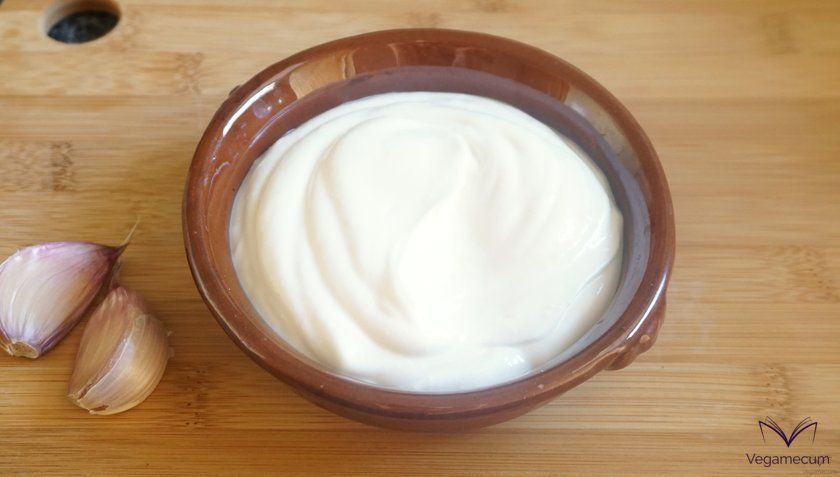 Notes
You can substitute sunflower oil for any other vegetable oil. We recommend that you try to do it with different oils, such as olive oil, rapeseed, etc., since each one brings a unique and different touch, and this will allow you to discover which one you like the most.
If you have any questions, you can leave it to us in the comments. And if you dare and want to show your creations to the world, do not hesitate to label us, we will love to see them through the networks!
Do you join us on social networks? You will find us on Facebook, Twitter, Instagram and Pinterest!