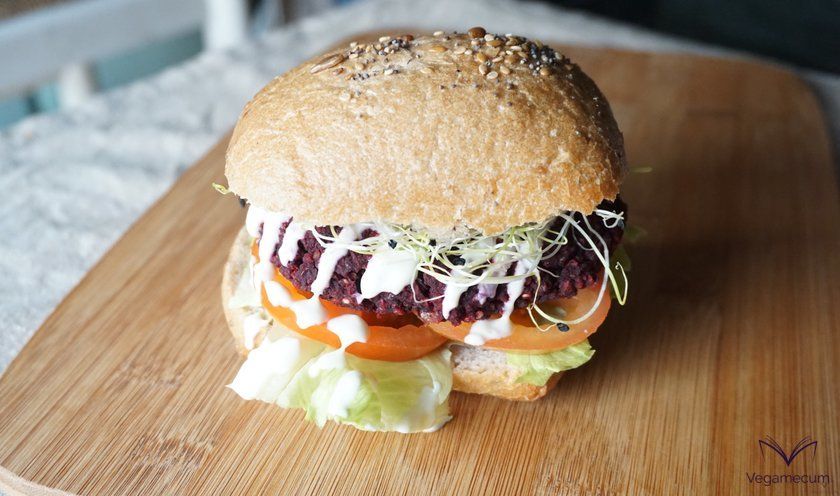 These burgers, in addition to delicious, are perfect for when you have a craving for fast-food, but at the same time you are looking for a complete and healthy dish.
They are light, low in fat, easy to make and, a very important thing, they are not dismantled! (even being free of flours)
In addition, being made with pseudocereals, legumes, vegetables, mushrooms and nuts, we provide a lot of valuable nutrients.
As for its flavor, it is very soft thanks to the beet, and it stands out even more in combination with the rest of the ingredients, the garnish and, above all, with the sauce that we have added.
Another strong point is its pleasant texture, since its exterior remains a crispy point, and its interior is tender and juicy.
These burgers have complete proteins (with all the essential amino acids), complex carbohydrates (they provide energy and, in addition, they are low glycemic index and give us a feeling of fullness for longer), fiber , lecithin , flavonoids , polyphenols , much omega 3 , omgea 6 , omega 9 , vitamins A , C , E and group B ( B1 , B2 , B3 , B6 and B9 or folic acid ), boron , calcium , copper , phosphorus , iron , magnesium , potassium , selenium , silicon , sodium and zinc .
Below you can see what ingredients you need and the steps to follow in order to make these burgers so rich and complete.
| | | |
| --- | --- | --- |
| Difficulty level | Preparation time | Rations |
| Easy | 1 h. y 30 m. | For 5 units |
Ingredients
100 gr. cooked beet
240 gr. black beans
60 gr. mushroom
40 gr. nuts
150 gr. purple onion
50 gr. quinoa
1/2 teaspoon pepper
1/2 teaspoon sweet paprika
1/4 teaspoon spicy paprika
1 teaspoon cumin
1/2 teaspoon salt
Instructions
We put the quinoa in a colander and wash it under the tap until the water comes out clean. Once we have it thoroughly washed, we put it in a saucepan with twice as much water as quinoa and a little salt, and let it cook for 15 minutes. Remove from heat, we go through cold water in a colander, drain and reserve.
Peel and cut the onion and pochamos for 5 minutes.
We wash and cut the mushrooms and toss them in the pan where we have the onion. We let them be done for 5 more minutes.
After this time, we crushed the black beans and we passed them, together with the onion, the mushrooms, the beet and the quinoa to the glass of the chopper. We also add the nuts, spices and salt and chop it well.
When we have everything well chopped and mixed, we put the mixture in the refrigerator 5 minutes to get a more compact texture, and put to preheat the oven to 150ºC. Black bean and beetroot burgers ready to go into the oven

Hamburguesas de alubias negras y remolacha listas para entrar en el horno

Meanwhile, we are taking dough and giving it a hamburger shape. When they are formed, put them in the oven tray on vegetable paper and bake them for 50 minutes at 150 ° C, until you get the desired texture and watching that they do not burn. When we see that they have taken some consistency it is better to turn them around so that they are done uniformly (in the 40th minute approx.). Black Bean Burger and Baked Beet

Hamburguesa de alubias negras y remolacha horneada

After this time, we take them out of the oven and serve them as is or in hamburger bread with the garnish that we prefer.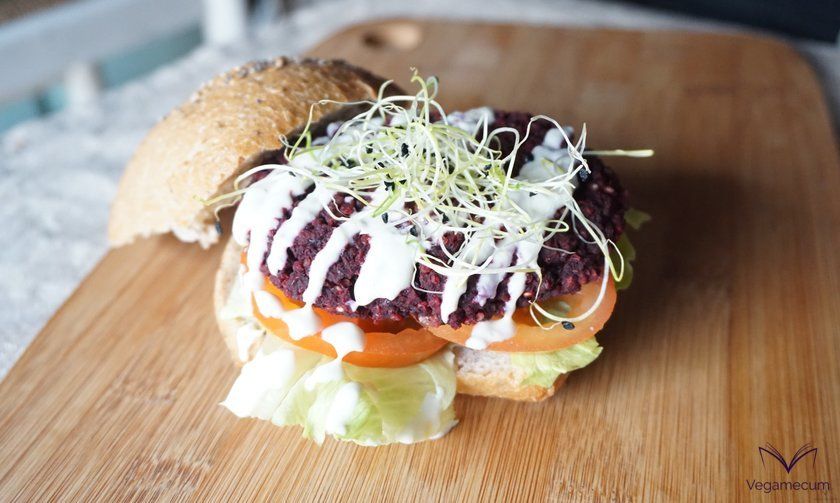 Notes
If you prefer, you can replace the mushrooms with shiitake mushrooms.
Keep in mind that, depending on the size of the burgers, the baking time will vary.
When serving hamburgers, we recommend that you accompany them with a sauce that provides contrast, such as the yogurt sauce with the touch of garlic and Dijon mustard that we use in this recipe .
If you have any questions, you can leave it to us in the comments. And if you dare and want to show your creations to the world, do not hesitate to label us, we will love to see them through the networks!
Do you join us on social networks? You will find us on Facebook, Twitter, Instagram and Pinterest!