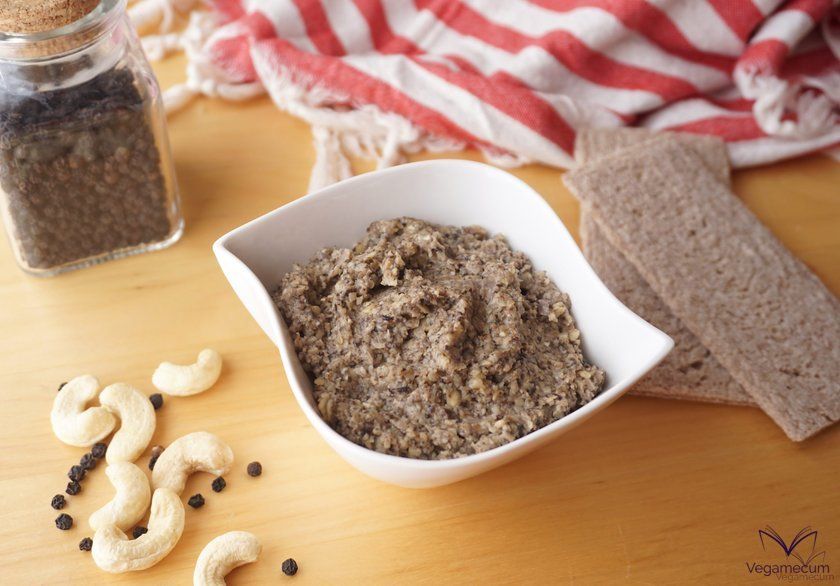 This mushroom and cashew pâté is ideal for those days when you don't feel like cooking a lot but it seems something appetizing. Cooked with a tasty stir-fry, the flavor of this spread is warm and aromatic, with a semi-sweet touch and a variety of nuances that give it a delicate and velvety flavor that is very tasty.
This pâté is perfect for spreading on toasts and canapés, but also for adding to sandwiches and as a filling for pasties , where its creamy flavor is exquisite when combined with the crunchy dough of these.
In addition to delicious, this vegetable pate is rich in flavonoids , fiber , protein , omega 6 and omega 9 essential fatty acids, allicin , alliin , carbohydrates , tryptophan , phytosterols , vitamins C , E and group B ( B2 , B3 , B5 , B6 and B9 or folic acid ); sulfur , calcium , copper , phosphorus , iron , magnesium , manganese , potassium , selenium , sodium and, to a lesser extent, zinc .
Below you can see what ingredients you need and the steps to follow in order to make a pate that is very easy to prepare and with a totally addictive flavor.
| | | |
| --- | --- | --- |
| Difficulty level | Preparation time | Rations |
| Very easy | 30 m. | For 3 people |
Ingredients
150 gr. mushroom
1 red onion (small)
1 garlic clove
125 gr. raw cashew nuts
3 tablespoons extra virgin olive oil
1/4 teaspoon salt
1/4 teaspoon pepper (ground)
1 pinch of cayenne chilli
Instructions
Peel the garlic clove and chop it finely. Set aside.
Peel the onion, finely chop it and set aside.
Wash the mushrooms, cut them into thick slices and let them drain in a strainer.
Put to heat the oil in a frying pan over medium heat and, when it is warm, add the garlic and let it brown for 1 minute, stirring occasionally.
Add the onion, stir and let it poach for 5 minutes.
Add the mushrooms, let cook for 5 minutes more and remove from the heat.
Put the content of the frying pan into the mixer glass, add the cashews, salt, pepper and cayenne and blend until obtaining a pate with a homogeneous texture but without being excessively fine. Once the pate is ready, serve it.
Notes
If at the time of mixing you see that the pate is too dry, you can add a little oil to achieve the desired texture.
We recommend using this pate as a filling for pasties . Its creamy flavor is exquisite when combined with their crunchy dough.
If you have any questions, you can leave it to us in the comments. And if you dare and want to show your creations to the world, do not hesitate to label us, we will love to see them through the networks!
Do you join us on social networks? You will find us on Facebook, Twitter, Instagram and Pinterest!