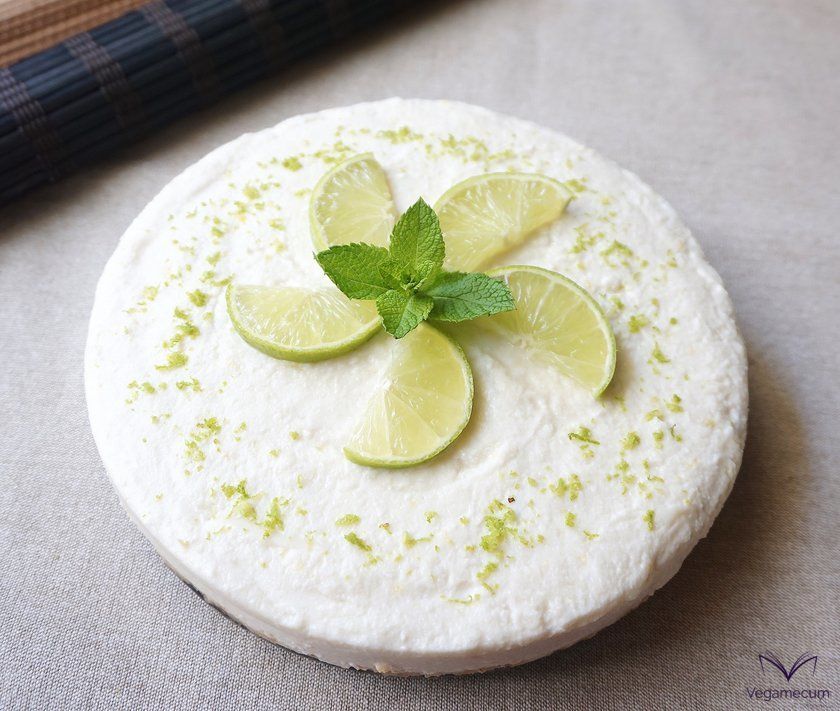 This lemon cake is a very refreshing and juicy dessert, with a sweet and citrus flavor, slightly acidic, ideal for the warmer months.
The texture of this rich cake has a creamy and velvety filling that is enhanced by the contrast it generates when combined with the crispy and sweet biscuit base.
In addition, as the ingredients used to make this exquisite sweet are all of vegetable origin, it is a delicate cake with a soft and light flavor; sustainable and respectful with animals and the environment, and free of cholesterol, lactose, casein and trans fats.
Thanks to its composition, this lemon cake is rich in proteins , isoflavones , carbohydrates , flavonoids , lecithin , omega 3 fatty acids, beta carotene , fiber , vitamins A , C , E , K and group B ( B1 , B2 , B3 , B5 , B6 and B9 or folic acid ); calcium , chromium , phosphorus , magnesium , potassium and selenium .
Below you can see what ingredients you need and the steps to follow in order to make a delicious and refreshing cake with an irresistible lemon flavor.
| | | |
| --- | --- | --- |
| Difficulty level | Preparation time | Rations |
| Half | 45 m. | For 10 servings |
* Plus 12 hours of rest
Ingredients
500 gr. unsweetened natural soy yogurt
50 ml. lemon juice
Zest of 1 lemon
100 gr. whole cane sugar
7 gr. agar-agar
200 ml. water
200 gr. coconut milk (only the solid part)
100 gr. non-hydrogenated margarine (melted)
250 gr. organic vegan cookies
Instructions
Refrigerate the coconut milk for a minimum of 4 hours.
Crush the cookies until they are well ground. Next, put them in a bowl and mix them with the melted margarine, stirring well until forming a uniform dough. When a homogeneous mixture is formed, transfer it to the mold where the cake will be assembled and introduce it in the freezer while preparing the filling.
In a large bowl, add the yogurt, the lemon juice, the lemon zest and the sugar. Stir well so that all the ingredients are integrated and set aside.
Take the coconut milk from the fridge, put the solid part in a bowl and whisk with the rods until it is whipped. Reserve in the fridge.
Put the water in a saucepan, add the agar-agar and stir until it dissolves. Heat over medium heat, stirring, and when the water starts to boil, let it cook for 1 minute.
Add the yogurt, lemon and sugar mixture and let boil for 1 minute more, stirring constantly.
After this time, remove from the heat and let it sit for 2 minutes.
After this time, incorporate the coconut milk little by little and mix everything carefully, with enveloping movements.
Take out from the freezer the mold with the biscuit base and pour the filling slowly. Cover the mold with a shallow dish and place it in the fridge for at least 8 hours.
After this time, take out the cake from the fridge, unmold and serve it cold.
Notes
We recommend you to wash the lemons very well before grating them and, if you can, use them organically.
It is very important that coconut milk has at least 50% coconut.
When choosing margarine, see that it is not hydrogenated and does not contain palm oil among its ingredients or any component of animal origin (eg: gelatin or buttermilk).
We recommend that you make sure that the cookies do not contain, in addition to ingredients of animal origin, palm oil.
The minimum time in refrigerator for coconut milk to solidify is 4 hours, but the longer it is refrigerated, the more solid it will get.
To make this cake we used a mold of 22 cm. diameter.
Although after 8 hours in refrigerator, the cake will be ready to consume, ideally, once finished, refrigerated for 12 hours to have a more optimal consistency.
When serving it you can decorate the surface of the cake with lime to create a more eye-catching and striking contrast.
If you have any questions, you can leave it to us in the comments. And if you dare and want to show your creations to the world, do not hesitate to label us, we will love to see them through the networks!
Do you join us on social networks? You will find us on Facebook, Twitter, Instagram and Pinterest!