This cucumber dip is a very refreshing starter, ideal to accompany toast, nachos and crudités, and even to garnish tacos, burritos, wraps and sandwiches.
Its fresh and smooth flavor is mixed with the unctuousness of the vegetable yoghurt, the irresistible spicy notes provided by the condiments and the unmistakable aroma of fresh basil, resulting in a combination of flavors very rich, delicate and sparkling.
This is a delight that gives us nutrients such as lycopene , fiber , glutathione , beta-carotene , isoflavones , proteins , lecithin , flavonoids , carbohydrates , essential oils , terpenoids , allicin , alliin , omega 3 fatty acids, vitamins A , C , E , K and of group B ( B1 , B2 , B3 , B6 and B9 or folic acid ), sulfur , calcium , phosphorus , iron , magnesium , potassium , sodium , iodine , zinc and, to a lesser extent, copper .
Below you can see what ingredients you need and the steps to follow in order to make a different and flavorful dip.
| | | |
| --- | --- | --- |
| Difficulty level | Preparation time | Rations |
| Very easy | 20 m. | For 350 grams |
Ingredients
200 gr. cucumber
1/4 onion
1/2 tomato
50 gr. natural soy yogurt without sweetening
1 pinch of cayenne chilli (powdered)
1 teaspoon fresh basil
1/2 teaspoon lemon juice
1/4 teaspoon cumin (ground)
1/4 teaspoon pepper (ground)
1/4 teaspoon salt
Instructions
Peel, wash and chop the cucumber into small pieces, eliminating the seeds. We wash and chop the onion and tomato in the same way. We throw everything together in a bowl and stir.
We wash and chop the basil also and add it to the bowl. We add salt, spices and lemon and stir well again.
We add the vegetable yogurt and mix again, When we have all the ingredients perfectly integrated, we serve.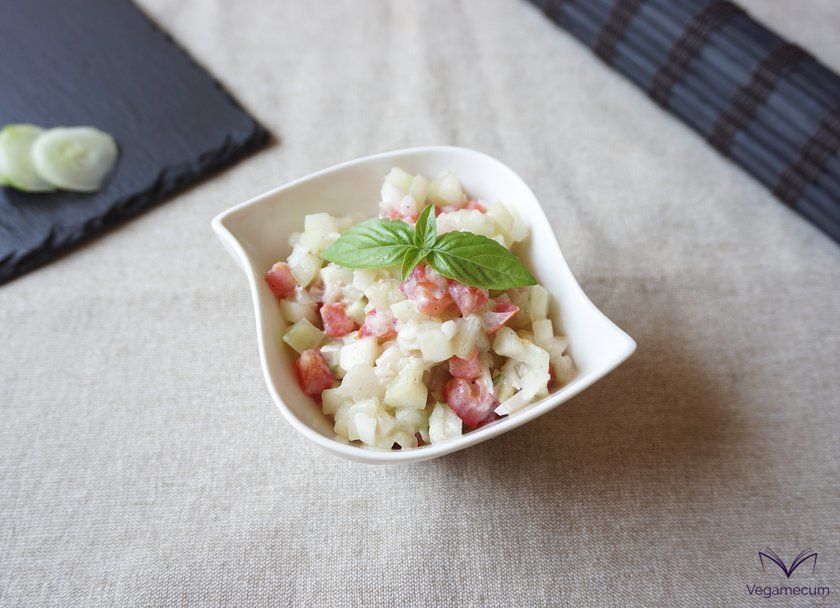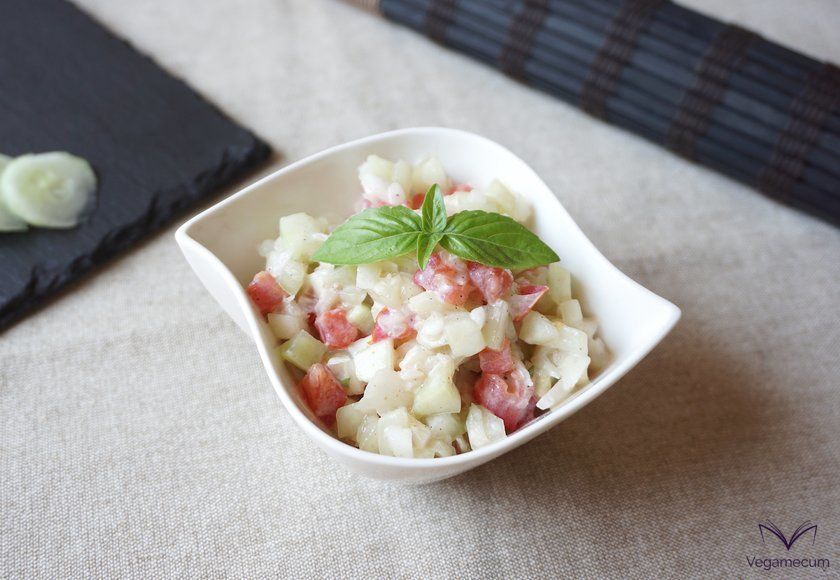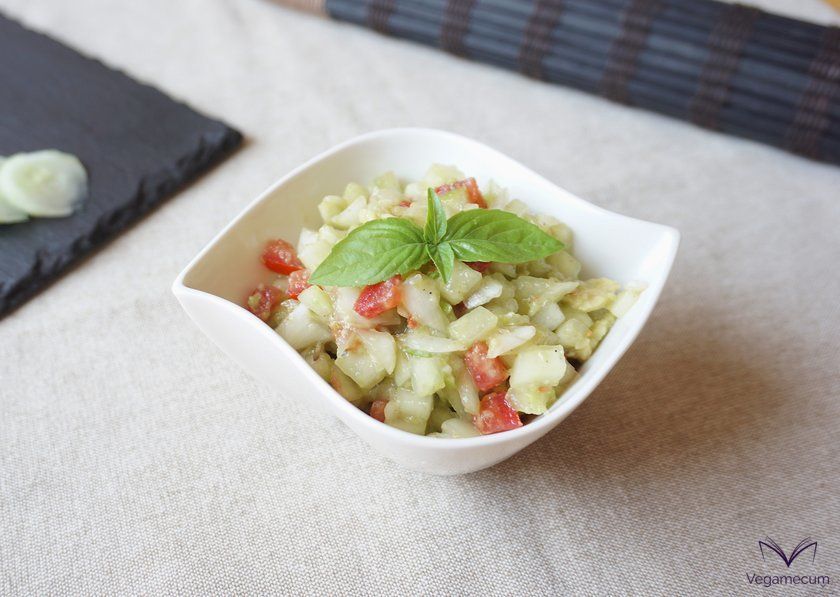 Notes
This dip is also incredibly good replacing the yogurt with avocado, which provides creaminess and a different flavor but equally delicious.
If you have any questions, you can leave it to us in the comments. And if you dare and want to show your creations to the world, do not hesitate to label us, we will love to see them through the networks!
Do you join us on social networks? You will find us on Facebook, Twitter, Instagram and Pinterest!