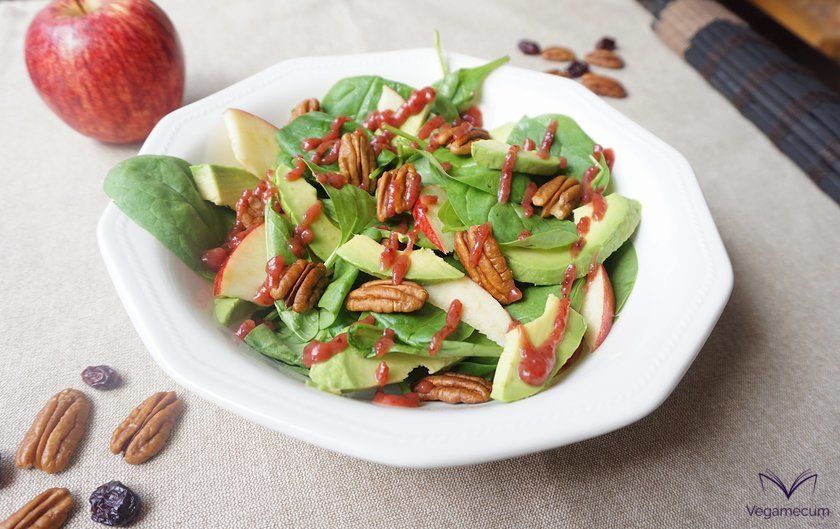 This salad of baby spinach, avocado, walnuts and apple with cranberry vinaigrette is a refreshing and light option with a very special fruity flavor.
To the soft taste of spinach and avocado, the apple and nuts provide a sweet and aromatic point that is enhanced by the contrast generated by the irresistible blueberry vinaigrette.
This makes this salad an extraordinary combination of delicious sweet and fruit notes really tempting.
In addition, this is a salad rich in antioxidants such as glutathione and lutein , beta carotene , fiber , alpha-lipoic acid , flavonoids , carbohydrates , polyphenols , lecithin , phytosterols , omega 3 , omega 6 and omega 9 ; proteins , vitamins A , C , E , K and group B ( B1 , B2 , B3 , B6 and B9 or folic acid ), boron , calcium , copper , phosphorus , iron , magnesium , manganese , potassium , selenium , sodium and zinc .
Below you can see what ingredients you need and the steps to follow to make this first dish so delicate and juicy.
| | | |
| --- | --- | --- |
| Difficulty level | Preparation time | Rations |
| Easy | 15 m. | For 2 people |
For the salad
90 gr. baby spinach
1 avocado
30 gr. pecan nut
1 apple
For the vinaigrette
20 gr. cranberry
1 y 1/2 tablespoons water (hot)
3 y 1/2 tablespoons extra virgin olive oil (Smooth flavor)
1 y 1/2 tablespoons apple cider vinegar
1 pinch of salt
Instructions
Put the cranberries in the blender cup next to the hot water and let them hydrate for 10 minutes.
Meanwhile, we wash and drain the spinach and toss in the bowl where we go to prepare the salad. We add the nuts and mix.
When the blueberries are hydrated, add the rest of the ingredients to make the vinaigrette and beat until emulsified. We reserve
Cut the apple and avocado into slices, add them to the bowl where we have the salad and mix carefully so that the avocado does not fall apart.
Finally, add the cranberry vinaigrette on top and serve.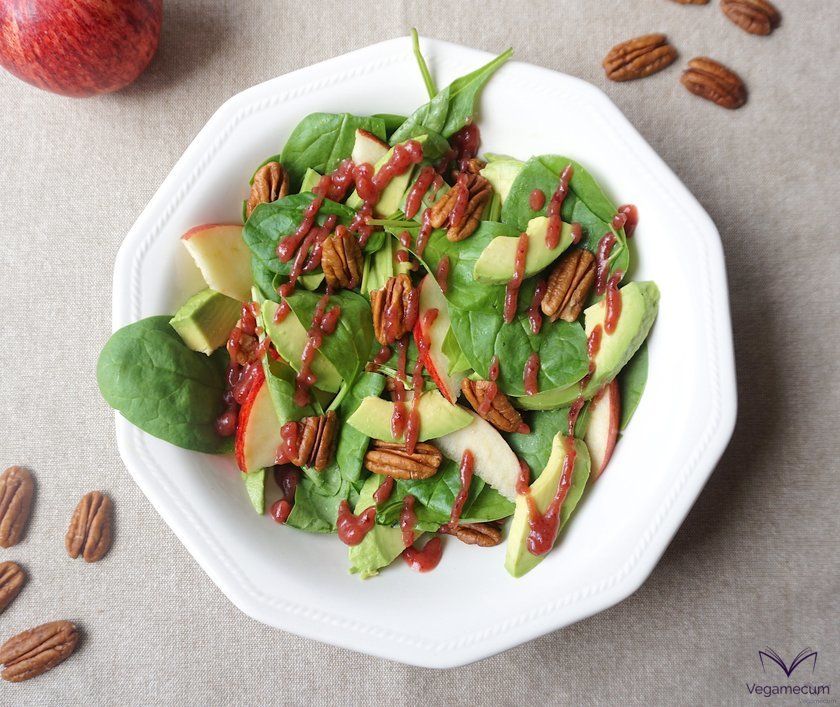 Notes
If you see that the vinaigrette is very thick, you can add a little more water, but not in excess because it can lose flavor.
If you have any questions, you can leave it to us in the comments. And if you dare and want to show your creations to the world, do not hesitate to label us, we will love to see them through the networks!
Do you join us on social networks? You will find us on Facebook, Twitter, Instagram and Pinterest!