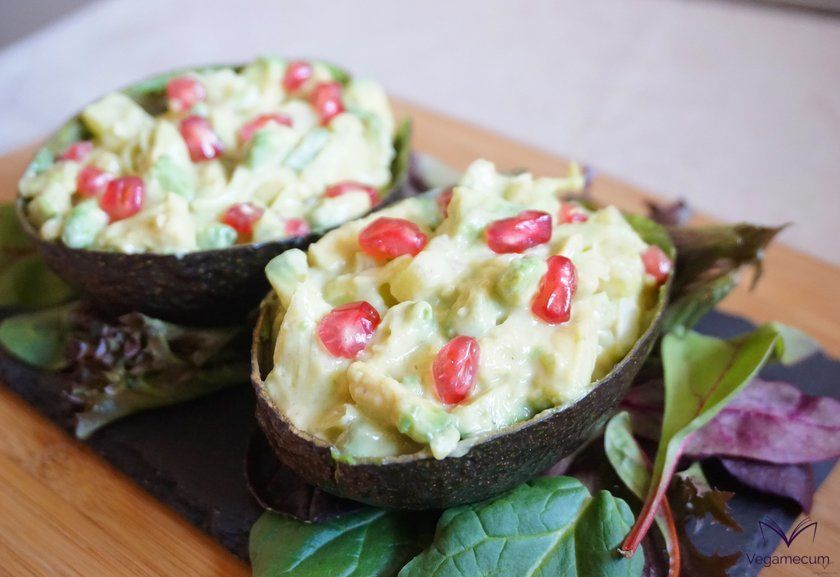 Stuffed avocados are a very popular entree that allows many combinations, although they are the ones with the freshest, acidic and sweet ingredients that are most successful.
That is why this recipe is so successful either prepared in summer or winter, and is that by mixing delicate vegetables with fruit sweet accents and citrus, and garnish with a smooth but full body, the dish becomes an authentic delight full of textures.
At a nutritional level, this is an entree that gives us antioxidants such as carotenoids ;   flavonoids , isoflavones , fiber , omega 3 and omega 9 fatty acids, proteins , lecithin , carbohydrates , bromelain , vitamins C , E , K and group B ( B1 , B2 , B3 and B9 or folic acid ), calcium , copper , phosphorus , iron , magnesium , potassium , selenium , sodium and zinc .
In addition, when adding pomegranate seeds, we complete it with vitamin B5 and vitamin B6 , and with extra doses of flavonoids , fiber , fatty acids , vitamins C , E , B1 , B2 , B3 and B9 or folic acid ; potassium and, in smaller quantity, calcium , phosphorus , copper , iron , sodium , selenium and zinc .
Below you can see what ingredients you need and the steps to follow to make a fresh and tasty starter.
| | | |
| --- | --- | --- |
| Difficulty level | Preparation time | Rations |
| Easy | 20 m. | For 2 people |
Ingredients
2 avocados (big)
4 pineapple slices in their juice
50 gr. lettuce
1/2 teaspoon salt
juice of 1/2 lemon
20 gr. pomegranate seeds
Instructions
Cut the avocados along and empty them carefully so that the skin does not break. Cut the pulp into small pieces and sprinkle with lemon juice so it does not turn black. We reserve
We wash the lettuce and cut it into julienne. We also cut the pineapple into small pieces, shred the pomegranate and set aside everything together with the avocado.
In a bowl, we put the avocados cut along with the pineapple, the pomegranate, the lettuce and the salt. We add the pink sauce, mix everything well taking care that the pieces of avocado do not fall apart, fill the skin of the avocados and serve decorating with some of the pomegranate seeds.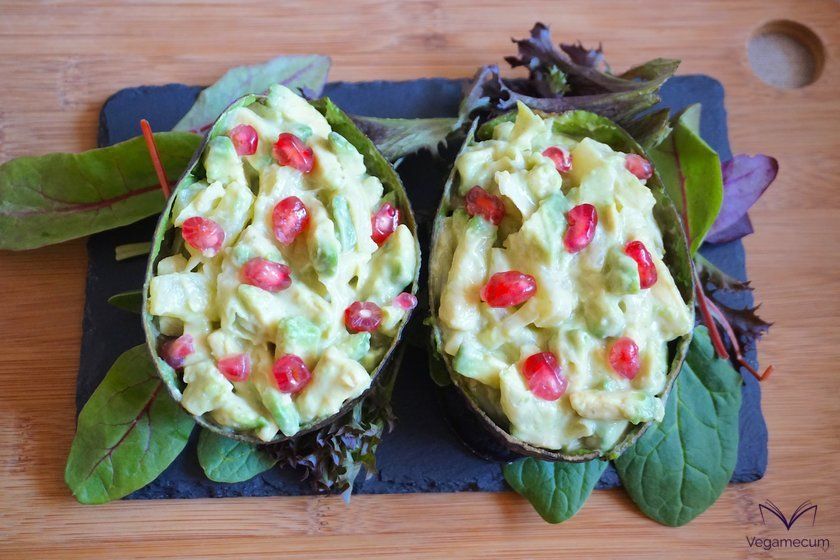 Notes
If you have any questions, you can leave it to us in the comments. And if you dare and want to show your creations to the world, do not hesitate to label us, we will love to see them through the networks!
Do you join us on social networks? You will find us on Facebook, Twitter, Instagram and Pinterest!