Polenta is a food made from corn grits that has a very mild flavor and is ideal to accompany it with contrasting sauces, like an intense puttanesca sauce or an irresistible homemade guacamole .
As we can see in this recipe, polenta is also perfect to mix with ingredients with more intense flavor, such as cashew parmesan, which provides flavor and nutritional properties as valuable as proteins and essential fatty acids, among others.
In this way, we obtain a more tasty and rich polenta, which we can enjoy as it is, or accompanied with a dip or sauce.
Another positive point of the polenta is that it is very easy to prepare and needs very few and simple ingredients, which allows us to have it ready at any time.
Thanks to polenta and cashew parmesan, this dish is rich in complex carbohydrates , proteins , beta carotene , fiber , omega 6 essential fatty acids, tryptophan , phytosterols , vitamins E and B group ( B1 , B2 , B3 , B5 , B6 and B9 or folic acid ), magnesium , potassium , phosphorus , calcium , selenium , copper , manganese , chromium , lithium , vanadium , molybdenum and zinc .
Below you can see what ingredients you need and the steps to follow in order to make a healthy and different starter.
| | | |
| --- | --- | --- |
| Difficulty level | Preparation time | Rations |
| Easy | 20 m. | For 4 people |
* Plus 30 minutes of rest
Ingredients
150 gr. corn grits
1 l. water
1 vegetable broth pill
2 tablespoons extra virgin olive oil (to fry)
Instructions
In a large pot or pan, put the water to heat and, when it starts to boil, take the broth pill. in a pan and dilute the broth pill.
When the tablet has been diluted, add the semolina of the corn little by little while we are stirring. Let it be done on low - medium heat for 4 minutes, stirring constantly.
When all the broth has been absorbed, add the cashew parmesan and mix it well. We pass it to a fountain and extend it so that it remains with a height no higher than 1.5 cm. high, and with the surface as smooth as possible. Let it stand for 30 minutes at room temperature.
After this time, we cut the polenta into strips of about 1.5 cm. wide, about 8 cm. long.
We put the oil in a pan and, when it is hot, we make the polenta sticks on medium heat for a couple of minutes on each side. When they are somewhat crispy on both sides, we take them out and place them on absorbent paper, or in a colander, to eliminate the excess oil they may have, and serve.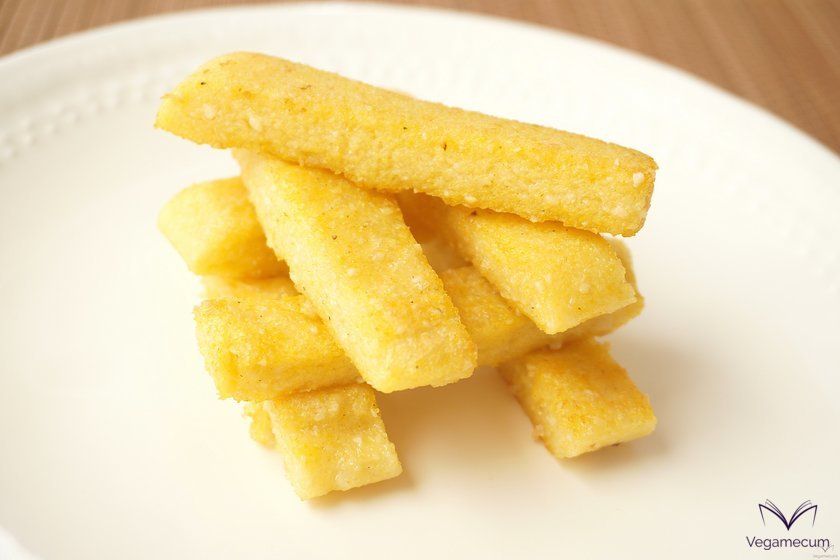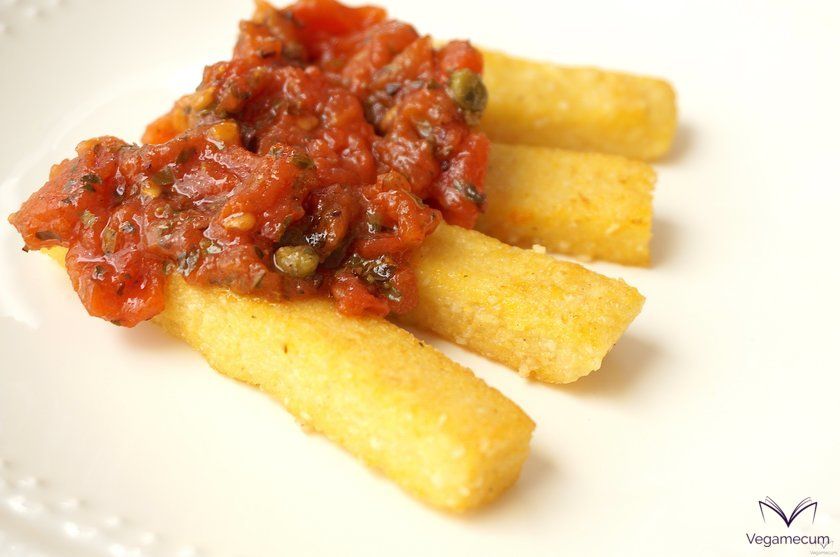 Notes
Some broth tablets contain palm oil among its ingredients, so we recommend that you look carefully at the ingredients when purchasing them.
If you prefer, you can make the polenta sticks baked in the oven instead of fried, baking them at 150º for 30 minutes.
If you have any questions, you can leave it to us in the comments. And if you dare and want to show your creations to the world, do not hesitate to label us, we will love to see them through the networks!
Do you join us on social networks? You will find us on Facebook, Twitter, Instagram and Pinterest!