This lentil salad with sweet mustard and lemon vinaigrette is a simple, fresh and delicious salad.
And the fact is that the already rich flavor of the vegetables, the vinaigrette brings the special touch with its addictive combination of sweet and citrus flavors, turning this dish of vegetables into one of the tastiest, and highlighting its freshness even more.
This salad is rich in proteins , complex carbohydrates (slow absorption and satiating effect), lycopene , glutathione (antioxidant), fiber , allicin , vitamins A , C , E , K and group B ( B1 , B2 , B3 , B6 , B7 , B9 or folic acid , and inositol ), calcium , phosphorus , iron , magnesium , manganese , potassium , selenium , iodine and zinc .
Below you can see what ingredients you need and the steps to follow in order to make an easy and different vegetable salad.
| | | |
| --- | --- | --- |
| Difficulty level | Preparation time | Rations |
| Easy | 30 m. | For 3 people |
For the lentil salad
300 gr. lentils
1 tomato (mature)
1 chive
70 gr. cooked corn
1/2 green pepper
1 carrot
1/2 teaspoon salt
2 tablespoons extra virgin olive oil
For the vinaigrette
1 tablespoon Dijon mustard
juice of 1/2 lemon
100 ml. extra virgin olive oil
1 pinch of pepper
1 teaspoon agave syrup
Instructions
We wash and drain lentils well and put them in a bowl.
We wash the carrot, peel it and cut it into very small pieces, and add it to the bowl with the lentils.
Wash the tomato, pepper and chives, cut them into very small pieces and throw them into the bowl.
We wash the corn under the tap and put it also in the bowl. Mix everything well and add a little salt and two tablespoons of oil to moisten everything.
In a cup, take the tablespoon of mustard, the lemon juice, the pepper, the syrup and half the oil. Beat with some rods and add the rest of the oil little by little, until emulsified.
With the salad and the vinaigrette ready, we serve the salad and toss the vinaigrette on top (at the time of serving it, not before).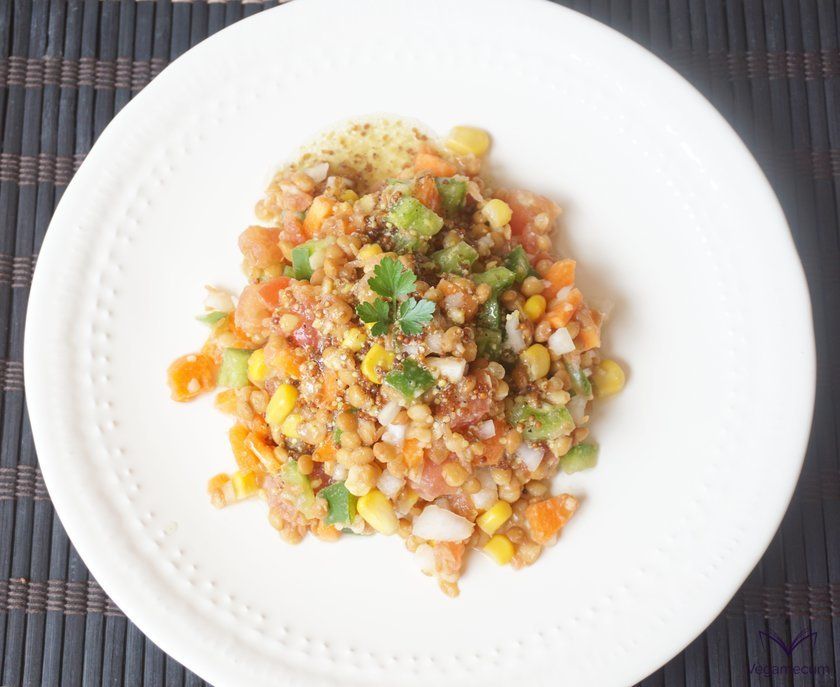 If you have any questions, you can leave it to us in the comments. And if you dare and want to show your creations to the world, do not hesitate to label us, we will love to see them through the networks!
Do you join us on social networks? You will find us on Facebook, Twitter, Instagram and Pinterest!