This tartare is the perfect dish to discover how easy it is to replace the tuna with a vegetable option, being able to enjoy an even better texture and flavor thanks to the permeability of the tempeh.
This one in particular, is a dish rich in vegetable protein, where the contrast of soft flavors with the intense freshness of the vinaigrette, makes the whole turn even more delicious.
As for its nutritional properties, apart from being, as we have said, rich in protein , it provides fiber , complex carbohydrates (slow absorption and satiating power), lecithin , omega 6 and omega 9 fatty acids, antioxidants such as lycopene and glutathione , vitamins A , C , E and group B ( B6 and B9 or folic acid ), iron , calcium , copper , phosphorus , magnesium , sulfur and potassium .
Below you can see what ingredients you need and the steps to follow in order to make this super refreshing tartar.
| | | |
| --- | --- | --- |
| Difficulty level | Preparation time | Rations |
| Easy | 40 m. | For 3 people |
For the tartar
1 avocado
1 chive
1 tomato
juice of 1/2 lime
1 pinch of salt
For the vinaigrette
juice of 1/2 lime
1 tablespoon tamari
1 teaspoon Dijon mustard
4 tablespoons extra virgin olive oil
Instructions
Peel the tomato, remove the seeds and cut it into small pieces. We reserve
We cut the onion in a small way and we also reserve it.
Cut the avocado into small pieces and sprinkle with the juice of half a lime to prevent it from turning black. We reserve
Prepare the vinaigrette with lime juice, tamari, mustard and oil, stirring to mix all ingredients well, and reserve.
In a bowl, toss the vegetable tuna, the avocado, the onion and the tomato, and add the vinaigrette on top, stirring carefully so that everything is mixed without the avocado falling apart. We put it in the fridge for 30 minutes.
After this time, we plated using a ring to place, remove the ring up with great care so that we do not dismantle the tartar, and served with a few seeds above.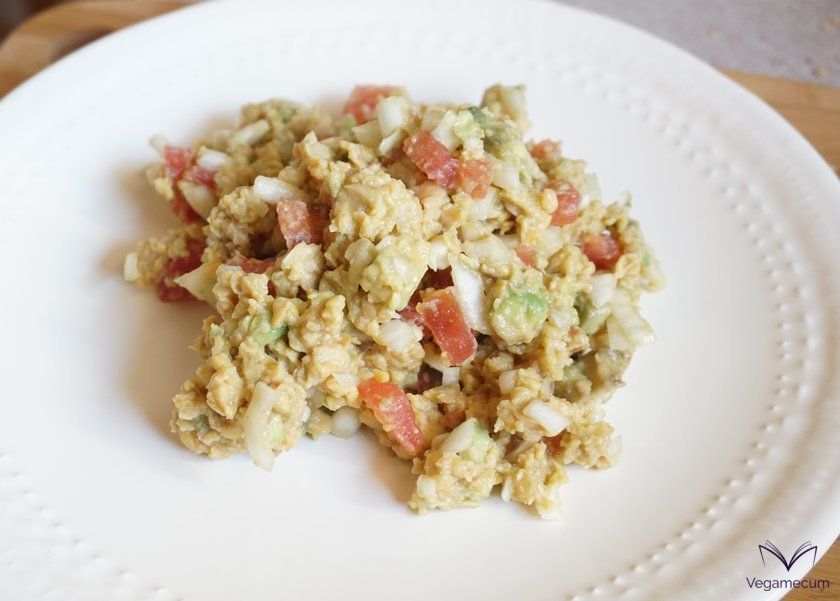 Notes
You can substitute the tamari for shoyu soy sauce.
You can substitute the tamari for shoyu soy sauce.
As you can see in the photo, we have sprinkled some sesame seeds on top, but you can throw flax seeds, poppy seeds, or those you prefer.
If you have any questions, you can leave it to us in the comments. And if you dare and want to show your creations to the world, do not hesitate to label us, we will love to see them through the networks!
Do you join us on social networks? You will find us on Facebook, Twitter, Instagram and Pinterest!