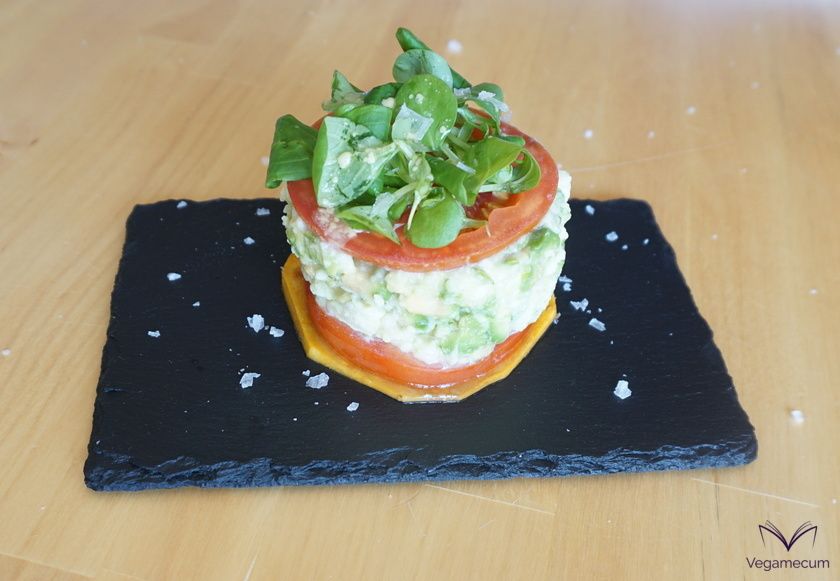 Salads have a bad reputation for being boring, but there are some that are a real show for taste, and an example of this is this vertical salad of potato, avocado, tomato and pumpkin with Dijon vinaigrette.
This is a very simple option where the main protagonism is hoarded by the center of the dish, which is formed by a delicious mixture of potato and avocado seasoned with oil, garlic and parsley.
As for its nutrients, all its ingredients provide us with protein , omega 9 monounsaturated fatty acids, lecithin , carbohydrates , beta-carotene , powerful antioxidants such as lycopene and glutathione , fiber , Vitamins A , C , D , E , B6 and B9 or folic acid , potassium , calcium , phosphorus , magnesium , iron and copper .
Here we tell you everything you need to know to enjoy this salad that is a must, especially if you love avocado as much as we do 😉
| | | |
| --- | --- | --- |
| Difficulty level | Preparation time | Rations |
| Easy | 1 h. | For 2 people |
Ingredients
2 potatoes
1 avocado
2 tomato slices
1 pumpkin slice
4 buds of canons
1 teaspoon garlic powder
1 tablespoon parsley
2 tablespoons sherry vinegar
10 tablespoons extra virgin olive oil
1 teaspoon Dijon mustard
1 teaspoon salt
salt flakes Maldon
Instructions
We wash the potatoes and put them in a saucepan, pour water until they are covered and we cook them. Once cooked, we go through cold water, peel and reserve.
We cut a slice of pumpkin 1/2 cm thick, we salt it, we grill it and we also reserve it.
Wash the tomato, cut 2 slices of 1 cm and also reserve.
Peel the avocado, cut it into cubes and reserve it again.
Put the potatoes in a bowl, the skins a little with the help of a fork until you get a thick puree, toss the avocado and add the oil, chopped parsley, garlic powder and a teaspoon of salt and mix well.
We make a vinaigrette with the oil, vinegar and mustard, mix vigorously until emulsified and reserve for the end.
To make the kettledrum, we take a plate, put the slice of pumpkin and, on this, a slice of tomato. Place a hoop to place on top and in this we put the potato and avocado mixture and press a little so that it does not dismantle when removing the hoop. We remove the ring very carefully and, on the mixture, put the other slice of tomato and, on it, a few canons.
Finally, sprinkle a little salt in flakes (very little) and sprinkle a spoonful of the vinaigrette that we had reserved.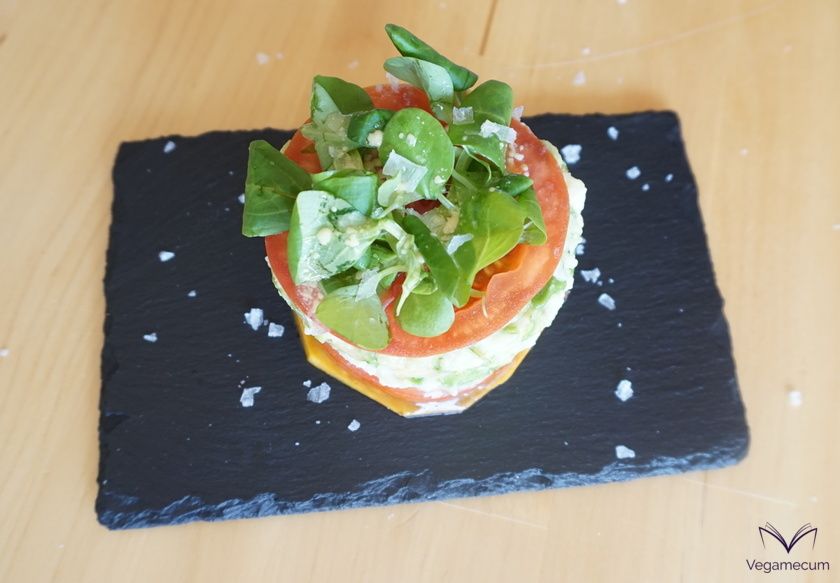 Notes
If you use "old fashioned" Dijon mustard (granulated), you will have enough with half a teaspoon, since its flavor is more intense.
When you reserve the avocado, you can take a little lemon juice so it does not get dark.
If you have any questions, you can leave it to us in the comments. And if you dare and want to show your creations to the world, do not hesitate to label us, we will love to see them through the networks!
Do you join us on social networks? You will find us on Facebook, Twitter, Instagram and Pinterest!