This celery cream is an ideal dish to enjoy an original and balanced starter, with a crispy touch, and a fresh and delicious flavor, the result of combining a slow-cooked sauce and vegetables with a light and refreshing aroma.
This is a very easy dish to prepare, very satisfying and perfect to take it both hot and cold, since its aromatic and creamy flavor with semi-sweet brushstrokes seems equally irresistible in both ways.
Nutritionally, this cream provides flavonoids , fiber , lecithin , apiin , apigenin , omega 3 and omega 9 fatty acids, protein , allicin , alliin , carbohydrates , vitamins A , C , E , K and group B (especially B6 and B9 or folic acid ), calcium , phosphorus , iron , magnesium , manganese , potassium , selenium and zinc .
Below you can see what ingredients you need and the steps to follow in order to make a tonic and very tasty cream very easily and simply.
| | | |
| --- | --- | --- |
| Difficulty level | Preparation time | Rations |
| Easy | 1 h. | For 2 people |
Ingredients
200 gr. celery
100 gr. potato
1 leek
1 garlic clove
100 ml. soy milk
1/2 l. water
2 tablespoons extra virgin olive oil
1/2 teaspoon salt
30 gr. bread (just the crumb)
extra virgin olive oil (to fry)
Instructions
Cut the bread crumbs into cubes, heat the oil to fry and, when it is hot, fry the crumb until the croûtons are brown. When they are done, put them in a strainer and set aside.
Remove the first layer and the greenest part of the leek, make some longitudinal cuts, wash it and cut it carefully. Set aside.
Peel the potatoes, wash them and cut them into small pieces. Set aside.
Remove the ends of the celery, remove the hard fibers too and wash it well with water to remove any remaining soil. Then cut it finely. Set aside.
Grate the garlic, heat the oil in a pot and, when it is hot, add the grated garlic and fry for 2 minutes.
Add the potatoes, celery and leek and cook for 15 minutes over medium heat, adding a little water every time the ingredients are sticking to the pot.
After this time, add the salt and the rest of the water and cook for 20 minutes.
After this time, remove from the heat and blend everything with a blender in the same pot, until obtaining a smooth purée without small pieces. Add the soy milk, blend again and pass it through a conical strainer to obtain a fine cream without clumps. Then add some croûtons on top and serve it.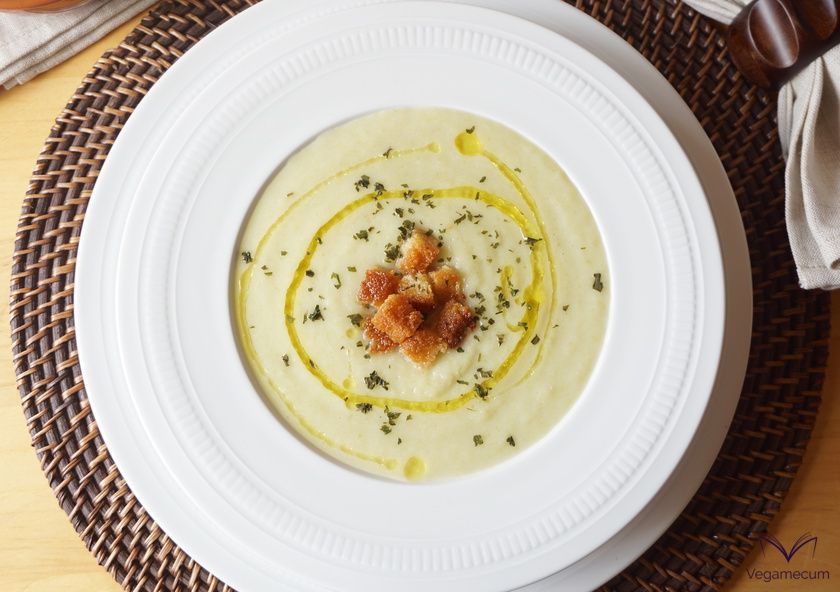 Notes
Make sure that the bread you use does not contain anything of animal origin, such as butter, milk, eggs and / or mono and diglycerides of fatty acids from animal sources (e471).
If you want to make a gluten-free version, you can substitute the croûtons for tofu cubes, which will also add more protein.
If you want a lighter version, you can make the croûtons by baking the bread or by toasting it, instead of frying it.
If you prefer, you can also take the celery soup warm or cold.
If you have any questions, you can leave it to us in the comments. And if you dare and want to show your creations to the world, do not hesitate to label us, we will love to see them through the networks!
Do you join us on social networks? You will find us on Facebook, Twitter, Instagram and Pinterest!