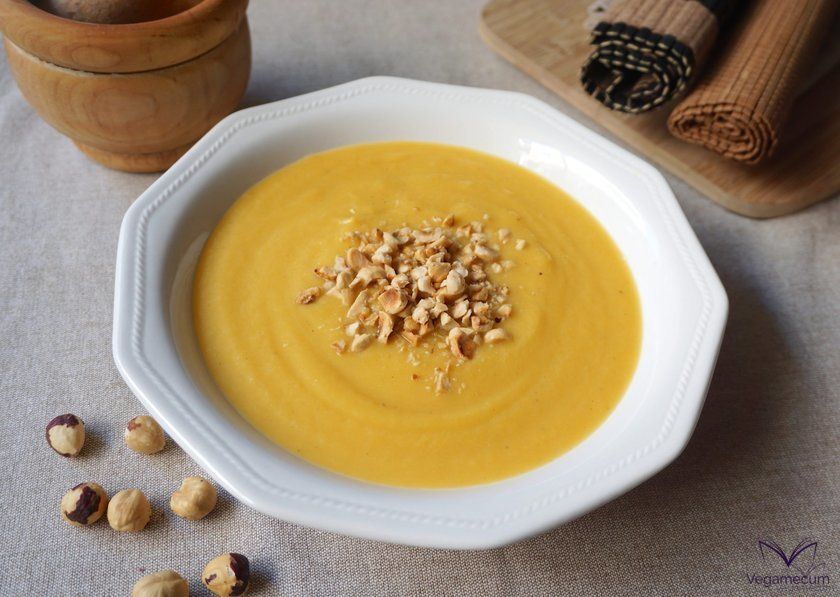 This cauliflower and pumpkin cream with toasted hazelnuts is a very tasty recipe, very nutritious and very easy to prepare.
It is a cream with a velvety texture and a mild flavor, with a sweet and subtly spicy point and the delicious toasted and aromatic touch of hazelnuts.
This cream is rich in carotenes , flavonoids , protein , fiber , alpha-lipoic acid , lycopene , coumarins , cysteine , allicin , arginine , terpenoids , phytosterols , omega 6 and omega 9 fatty acids; vitamins C , E , K and of group B ( B3 , B6 and B9 or folic acid ); sulfur , boron , calcium , copper , phosphorus , iron , magnesium , potassium and zinc .
Below you can see what ingredients you need and the steps to follow to make this dish so simple and appetizing, ideal to incorporate cauliflower into our diet and benefit from all its fantastic properties.
| | | |
| --- | --- | --- |
| Difficulty level | Preparation time | Rations |
| Very easy | 1 h. | For 3 people |
Ingredients
500 gr. cauliflower (only the flowers)
500 gr. pumpkin (peeled and deseeded)
1 leek
1/4 teaspoon pepper (ground)
1 teaspoon salt
30 gr. toasted hazelnuts (without skin)
4 tablespoons extra virgin olive oil
1 and 1/2 l. water
Instructions
Separate the flowers from the trunk of the cauliflower, remove the hard part and wash well. Put them in a drainer to remove excess water and set aside.
Wash the pulp of the pumpkin, cut it into pieces and set aside.
Remove the first layer of the leek and the green part, make some longitudinal cuts to eliminate the soil that it may have and wash it well. Then we cut it small and set aside.
In a pot, put to heat the oil over medium heat and, when it is warm, add the leek and let it poach for 5 minutes.
When the leek is poached, add the cauliflower and pumpkin and let sauté a couple of minutes. Then add the salt and pepper.
Pour the water and let cook for 30 minutes. Meanwhile, put the hazelnuts in a mortar and crush them a little to chop them.
After the cooking time, remove from the heat, blend everything well with the blender until obtaining a smooth purée, without pieces, and pass it through a conical strainer so that it is a fine cream without clumps.
When the cream is ready, plate it, add a handful of crushed hazelnuts on top and serve.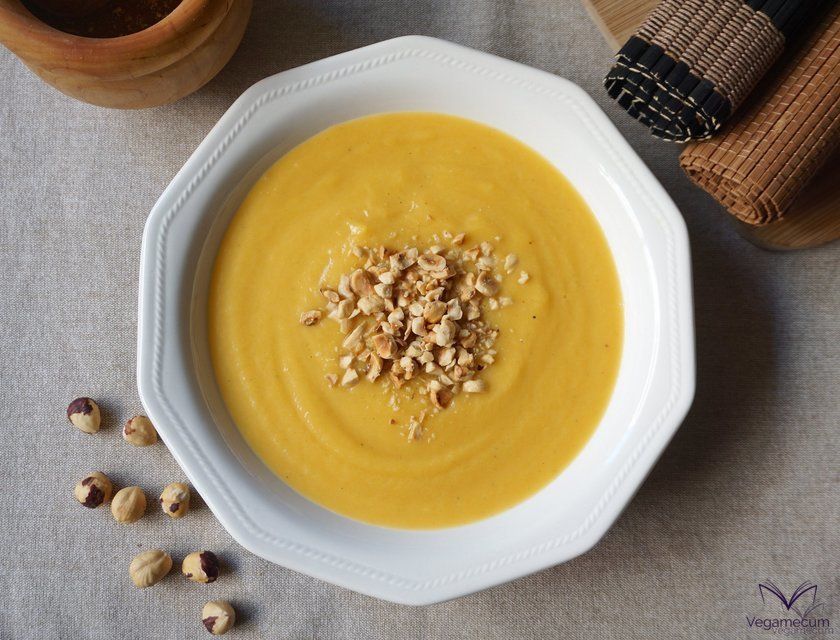 If you have any questions, you can leave it to us in the comments. And if you dare and want to show your creations to the world, do not hesitate to label us, we will love to see them through the networks!
Do you join us on social networks? You will find us on Facebook, Twitter, Instagram and Pinterest!