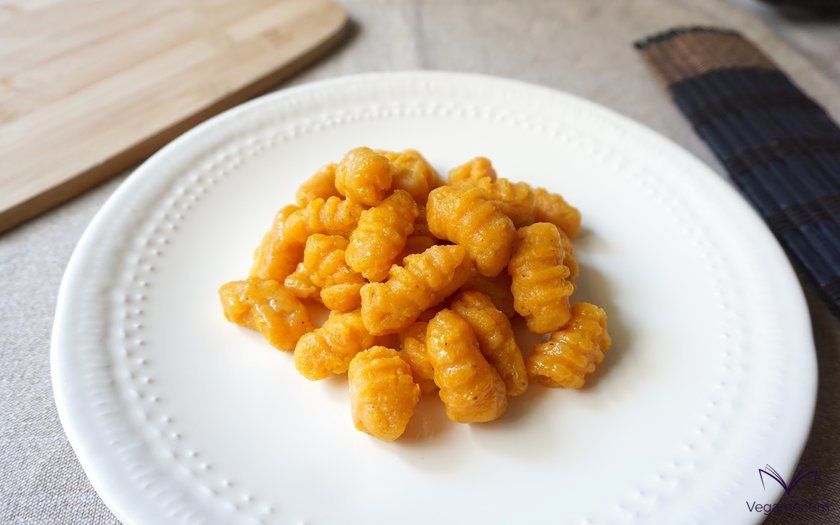 The gnocchi or gnocchi are, literally and as their own name suggests (from the Italian singular "gnocco") , boiled dumplings. Usually, these balls are formed from potatoes and flour, but as we see in this recipe, we can also make them with other ingredients such as pumpkin, giving rise to gnocchi more nutritious, tender and striking.
This is a classic of Italian cuisine with its origins in the 18th century and, without a doubt, we can affirm that it is the easiest dish to prepare, since in addition to not requiring many ingredients, its process is the simplest.
Its creation is the result of the need, because until its invention, the so-called zanzarelli and malfatti made from wheat flour used to be consumed, but in the year 1880, the Italian peasants suffered the price increase due to the increase in prices. rates that the feudal lords imposed to be able to grind the wheat. This brought out the ingenuity of the villagers, leading them to try cooking with mashed potatoes, which allowed them to make elaborations with the least amount of wheat flour possible thanks to the cohesion provided by potato starch.
Since they are a food made with very cheap ingredients, it was customary to consume them on the 29th of each month, because they were ideal for when money, like the month, was coming to an end.
These pumpkin gnocchi are ideal to benefit from the nutrients of this rich vegetable and its advantageous nutritional quality compared to that of the potato, and since it does not contain egg, it allows us to enjoy some soft, light and cholesterol-free gnocchi.
In addition, as they do not contain gluten, they are also suitable for people with celiac disease and gluten intolerance or for those who simply seek to reduce their intake.
The most delicious way to consume them is with a tasty sauce, such as a pesto rosso or pesto alla genovese with cashew parmesan sprinkled on top.
Thus, at the nutritional level, these gnocchi are not only free of gluten and cholesterol but also are rich in carotenes , fiber , coumarins , lycopene , carbohydrates , vitamins C , E , K and group B ( B1 , B2 , B3 , B6y B9 or folic acid ), calcium , copper , phosphorus , iron , magnesium , potassium , sodium and zinc .
Below you can see what ingredients you need and the steps to follow in order to make this popular recipe with a reputation for attracting prosperity to those who consume it.
| | | |
| --- | --- | --- |
| Difficulty level | Preparation time | Rations |
| Easy | 1 h. | For 2 people |
Ingredients
500 gr. pumpkin
40 gr. brown rice flour
75 gr. corn starch
1/2 teaspoon salt
1/4 teaspoon pepper
1 pinch of nutmeg
Instructions
We preheat the oven to 175º and, while, peel, wash and chop the pumpkin.
Put the chopped pumpkin in a baking dish and bake at 175 º for 30 minutes, until it is thoroughly dry, taking care not to burn.
Once the pumpkin is baked, we pass it through a food mill so that there are no lumps and we move it to a large bowl.
In another bowl, mix the rice flour, the corn starch, the salt, the pepper and the nutmeg. Once the ingredients are well integrated, we are pouring the mixture little by little into the bowl where we have the pumpkin and we knead it. We continue pouring flour mixture and starch right until we see that the dough has good consistency and no longer hooks in our hands.
On a clean surface, sprinkle a little rice flour and we take portions of dough from the bowl, roll them on themselves and form 1.5 cm elongated cylinders. of thickness, approximately.
With a knife, cut the cylinders into pieces of approximately 1.5 cm; We pass the ends of each one of them by rice flour, we eliminate the excess of this one that they can have and we roll them on the internal face of a fork to make the characteristic cracks.
In a pot, put water to heat and, when it starts to boil, we are throwing the gnocchi in batches. Let them be done for 2 or 3 minutes and, when they start to float, we remove them with the help of a slotted spoon. We put them to drain in a drainer and, when they are well drained, we serve them with the sauce that we want.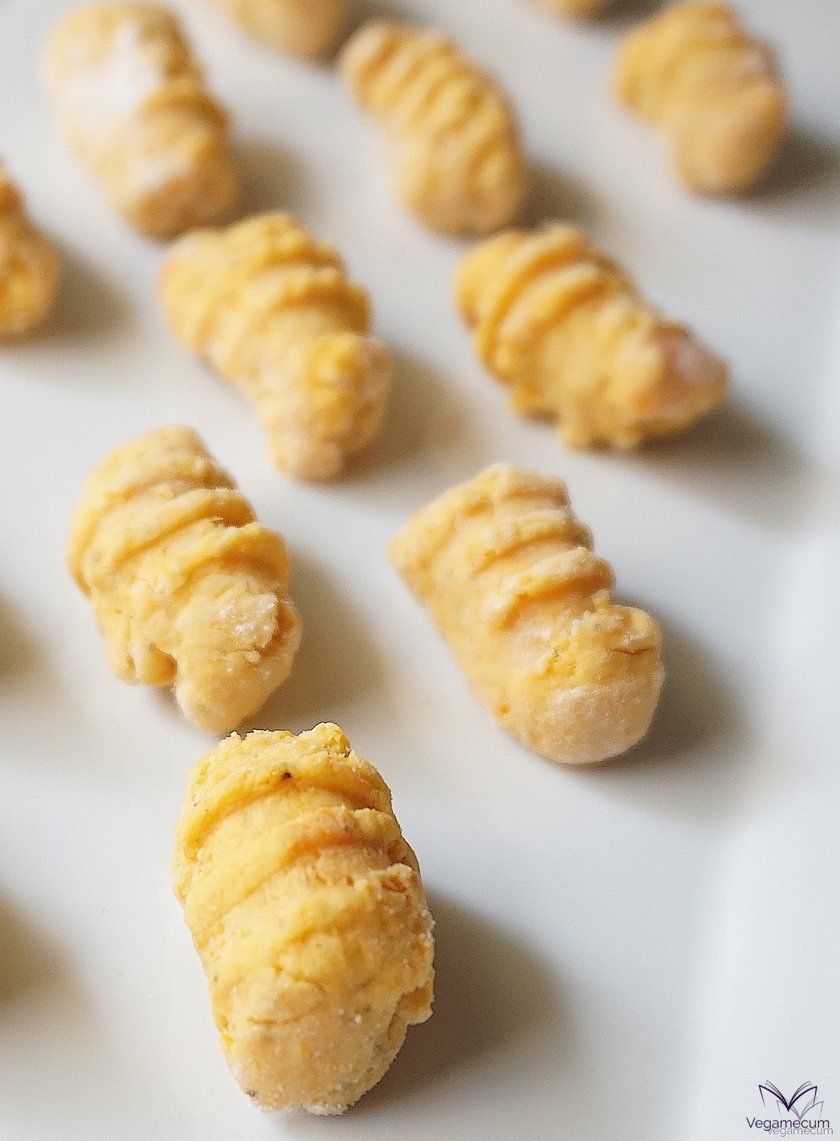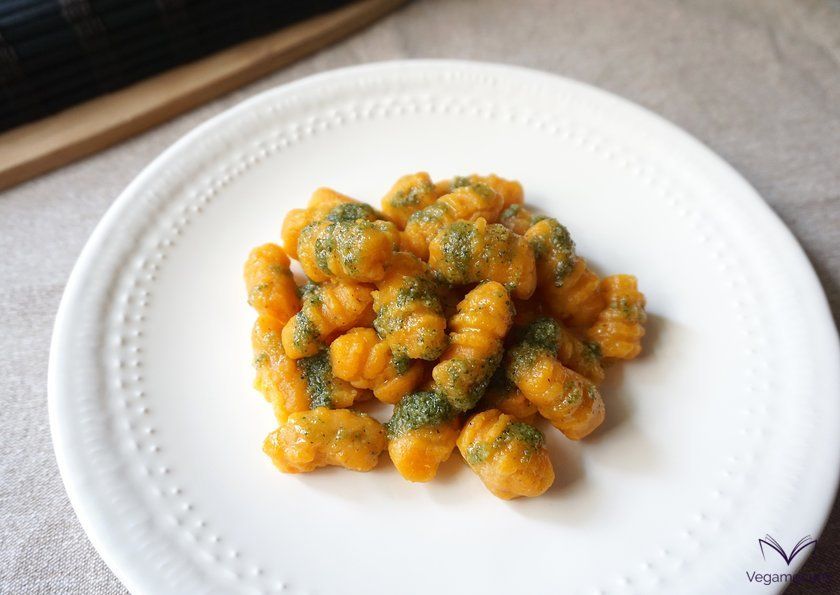 Notes
The amount of water that the pumpkin contains may vary, hence if after 30 minutes of baking, it is still somewhat damp, it should be baked a few more minutes until it is dry, making sure that it does not burn.
If when adding the mixture of flour and corn starch to the pumpkin, you see that the dough is already sufficiently consistent without having thrown the total of the mixture, it is not necessary that you throw it all, because if you pass, you can stay a too dry dough and spoil the soft texture of the gnocchi.
If on the other hand, after pouring the whole mixture of rice flour and cornstarch into the dough, you can see that it is still too wet, you can add a little more mixture to gain consistency, maintaining the proportions of flour and starch.
Being made with gluten-free ingredients, these gnocchi are a little more difficult to handle than those made with wheat flour, so, although ideally they have the striations that characterize them so that they are well impregnated with the sauce with the that you serve them, you can do without them or choose to mark them only a little with the back of the fork if this is easier for you.
If you want, you can make smaller gnocchi to be used in soup dishes.
If you have any questions, you can leave it to us in the comments. And if you dare and want to show your creations to the world, do not hesitate to label us, we will love to see them through the networks!
Do you join us on social networks? You will find us on Facebook, Twitter, Instagram and Pinterest!