Stuffed peppers are an ideal option to obtain the same nutrients from different types of food, since using the pepper as a wrap, we benefit from the nutrients of this tasty vegetable in combination with those of the ingredients with which we want them fill, which in this case are whole grains, dried fruit and dried fruit.
As for its flavor, these peppers stuffed with brown rice, raisins and pine nuts have a more delicate and sweet flavor than other stuffed peppers, such as buckwheat stuffed peppers and portobello mushrooms , as well as being even easier to make.
And the basis of the filling is prepared with a rich sofrito that makes the rice is very tasty, while generating a delicious contrast with the juicy sweetness of the raisins, with the fragrant taste of the pine nuts and the soft accents of the mint, which provides a very subtle aromatic point.
Another thing to note about these peppers is that, being filled with brown rice, we benefit from all the nutrients contained in the whole grain, which preserves all the amino acids, vitamins and minerals that white rice lacks.
More detailed, and thanks to the combination of all its ingredients, this is a dish rich in complex carbohydrates (slow absorption and satiating power), beta carotene , lycopene , fiber , allicin , alliin , proteins , omega 3 essential fatty acids and omega 6 , flavonoids (such as quercetin ), vitamins A , C , E and group B ( B1 , B2 , B3 , B6 and B9 or folic acid ), calcium , phosphorus , iron , sulfur , copper , magnesium , potassium , sodium , zinc and, in smaller quantities, selenium and manganese .
Below you can see what ingredients you need and the steps to follow in order to make peppers stuffed with sweets and delicious accents.
| | | |
| --- | --- | --- |
| Difficulty level | Preparation time | Rations |
| Half | 1 h. | For 2 people |
Ingredients
2 red peppers (big)
1 vegetable broth pill
300 ml. water
150 gr. brown rice
1 onion (little)
1 Leek
2 cloves of garlic
25 gr. pinion
25 gr. sultanas raisins
1 teaspoon salt
1 teaspoon dried peppermint
3 tablespoons extra virgin olive oil
Instructions
Wash the peppers, cut them in half and remove the seeds. We place them on a baking sheet covered with vegetable paper, we toss a little oil on top of them and bake them for 30 minutes at 175º, making sure they do not burn.
We put the water to boil with the vegetable broth tablet and, when the water starts to boil, we toss the rice and let it cook for the time specified by the container, making sure it does not pass. Once boiled, we drain it, we pass it by cold water so that it is loose, we drain again and we reserve.
Wash the leek making a few cuts along to remove the soil that may be between the different layers and chop it well with the onion and garlic. In a large pan, put the oil to heat and, when hot, take the leek, onion and garlic and let it be done for about 10 minutes, stirring from time to time and making sure it does not burn.
When the leek and the onion are tender, add the rice, the raisins, the mint, the pine nuts and the salt, we remove everything so that it is mixed well and we let it to be done during 5 minutes more. We reserve
When the peppers are roasted, we take them out of the oven and let them warm up so they can be handled without burning. Once tempered, we fill them with care with the rice and other ingredients that we have in the pan and serve.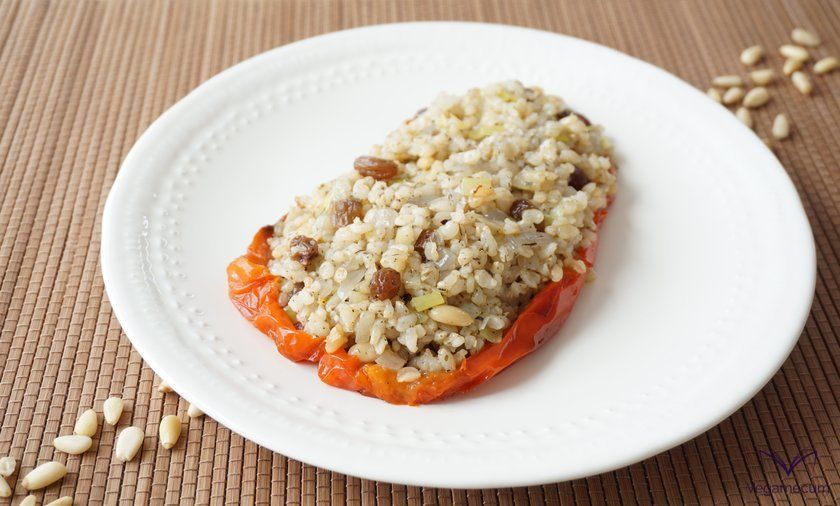 If you have any questions, you can leave it to us in the comments. And if you dare and want to show your creations to the world, do not hesitate to label us, we will love to see them through the networks!
Do you join us on social networks? You will find us on Facebook, Twitter, Instagram and Pinterest!