The vichyssoise is a very light and easy-to-use cold cream, ideal for the warmer times of the year.
Although there is no agreement about the inventor of this cold soup, since there is doubt between two French chefs and one Basque, what there seems to be no doubt is that his name owes it to the city of Vichy, located in the heart of France, and specifically to the feminine femininity of this one.
This cream also keeps the mystery of the place where it was created, because both France and the United States claim their nationality. And, although there is evidence of a very similar dish in the recipes of 1869 published by the French chef Jules Gouffé , the thing is complicated by the fact that it appeared for the first time officially and with the name   and characteristics that have transcended until our days, at the beginning of the XXth century, in the letter of the hotel Ritz-Carlton of New York, where originally it was registered with the name of crème vichyssoise glacée .
The flavor of this dish is extremely delicate, and its texture is smooth and creamy, which together with the simple thing that is to prepare and the temperature at which it is served, makes it a must for spring days and, especially , Of summer.
But undoubtedly, the best thing about this cream is its composition, based solely on ingredients of vegetable origin, which translates into a dish full of flavor and aromas, totally free of lactose, cholesterol and trans fats, which does not cause heavy digestion.
This summer soup is rich in fiber , carbohydrates , flavonoids , alliin , allicin , amino acids , vitamins C , E and group B ( B6 and B9 or folic acid ), sulfur , calcium , phosphorus , magnesium , potassium , sodium , zinc and , in smaller quantities, beta carotene , copper , iron , manganese and selenium .
Below you can see what ingredients you need and the steps to follow to make this cold cream worthy of a 5-star Grand Luxury hotel.
| | | |
| --- | --- | --- |
| Difficulty level | Preparation time | Rations |
| Easy | 1 h. | For 4 servings |
* Plus 2 hours and 30 minutes of rest and refrigeration
Ingredients
4 Leeks
2 potatoes
1 onion
4 tablespoons extra virgin olive oil
1 teaspoon salt
Instructions
Cut the leeks leaving only the white part. We make some cuts along and wash well until they release all the earth. We cut them short and reserve.
Peel the potatoes, wash them, cut them into medium pieces and reserve them. Peel the onion, cut it into very small pieces and reserve it too.
Put the oil to heat in a pan and, when it is hot, take the onion and pochamos. When it is transparent, add the leek and sauté 5 minutes with the onion.
After this time, add the potatoes and sauté 5 more minutes.
We pour water to cover everything, let it cook for half an hour and extinguish the fire.
We put everything in the glass of the blender, we throw the liquid cream, and we crush everything until obtaining a homogeneous cream, assuring us that there are not pieces of potato or leek.
We pass the cream for a Chinese so that it is lighter, we let it cool at room temperature for about 2 hours and, if we want it cold, we put it in the fridge for 30 minutes. When it has cooled, we serve it.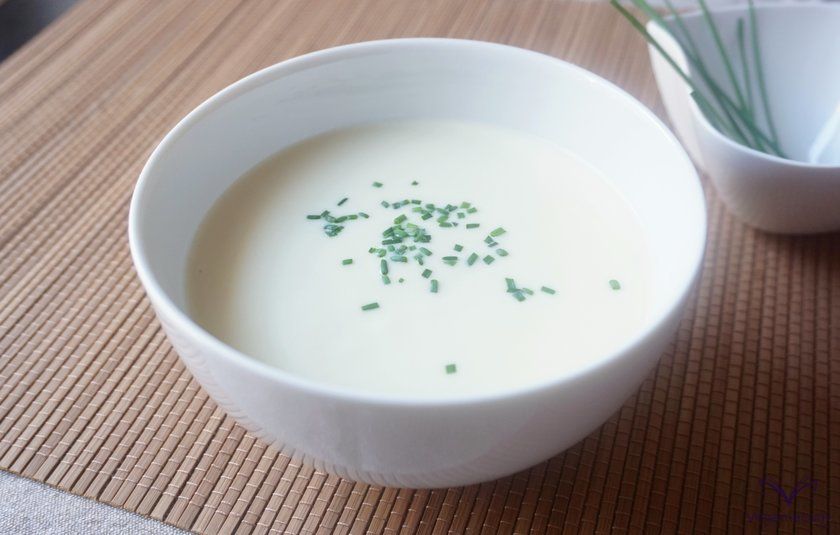 Notes
The ideal is to serve the vichyssoise with a little chopped chives on top, or a sprout.
To highlight its flavor, you can add a little ground black pepper at the time of serving it.
Although the best way to consume it is cold and with well-established flavors, this vichyssoise is also a hot delight.
If you have any questions, you can leave it to us in the comments. And if you dare and want to show your creations to the world, do not hesitate to label us, we will love to see them through the networks!
Do you join us on social networks? You will find us on Facebook, Twitter, Instagram and Pinterest!