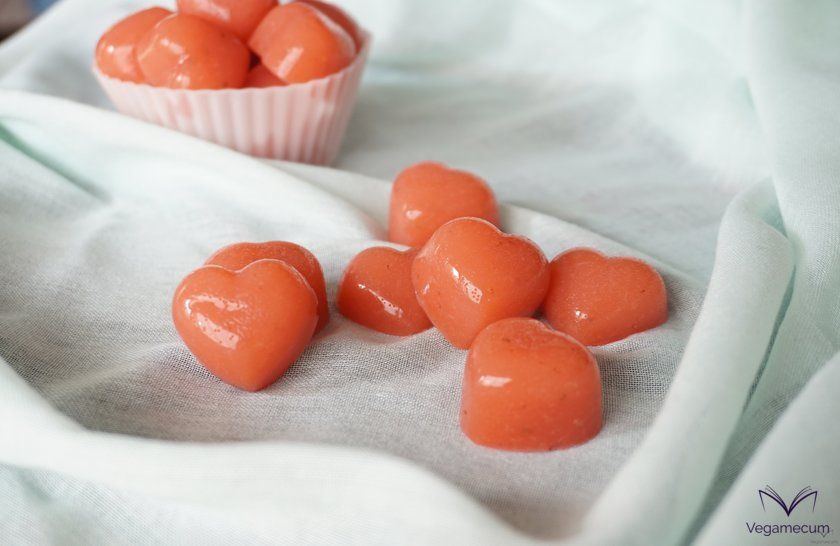 Strawberries and cava is a good combination, but have you tried it in the form of jelly?
These sweet and tender snacks are very simple to make and do not need more than 10 minutes to be ready because the rest is occupied by the refrigerator.
But the best thing is that, although these hearts are sweet, they do not turn out to be cloying at all, since apart from not having added sugar, they have the soft fruity and acidic touch of the strawberry that, combined with the light aroma of cava, go powered
Being made from natural strawberries, these "chuches" are rich in lecithin , fiber , flavonoids , tannins , polyphenols , vitamins C , E and group B ( B2 , B3 and B9 or folic acid ), potassium , magnesium and copper .
Below you can see what ingredients you need and the steps to follow to make this recipe so cute.
| | | |
| --- | --- | --- |
| Difficulty level | Preparation time | Rations |
| Very easy | 10 m. | For 250 milliliters |
* Plus 2 - 4 hours of refrigeration
Ingredients
150 ml. apple juice
50 ml. cava
4 gr. agar-agar (powdered)
180 gr. strawberry (well mature)
Instructions
Mix the cava, the apple juice and the strawberries washed and chopped in a bowl, and beat until you get a uniform mixture.
We pass the mixture to a saucepan and, when it is hot, we take the agar-agar and stir. While stirring, bring it to a boil and continue for 2 more minutes. After this time, we put out the fire.
We pour the mixture into a mold and leave it in the refrigerator for 2 to 4 hours so that it takes on a semi-solid consistency.
After this time, we take the mold out of the fridge, unmold it and serve it.
Notes
You can substitute the apple juice for the one you like the most.
Make sure that the cava has not been clarified with any component of animal origin.
The strawberries can be replaced by any red fruit.
If you want more sweet, you can add a little sugar to the mixture.
If you do not have a mold, you can pour the mixture in a normal source, let it rest in the fridge and, after resting time, cut the hearts with the help of a knife.
If you have any questions, you can leave it to us in the comments. And if you dare and want to show your creations to the world, do not hesitate to label us, we will love to see them through the networks!
Do you join us on social networks? You will find us on Facebook, Twitter, Instagram and Pinterest!