Sometimes we see recipes that call our attention, but it is thinking in a concrete version when we activate our taste buds, making us salivate.
This is the case of this recipe, because although the original was not only with plant ingredients (for a small, but important detail), we saw that it had the potential to be improved.
And so, with a small variation, we can enjoy a very healthy dish with small explosions of flavor thanks to the touch so alive and particular that they give you the dried tomatoes, which you will already know by the pate of dried tomatoes and almonds .
On the other hand, the main ingredients of this dish provide us: carbohydrates that we load energy, vitamin A , vitamin C , vitamins B group ( B1 , B2 and B3 ), calcium , iron , potassium , phosphorus , magnesium , sodium , fiber , lycopene , tryptophan and beta-carotene .
Below we show you the ingredients and steps to follow so that in 1 hour, or even less (depending on the cooking time required by the rice), you have your timbale ready 🙂
| | | |
| --- | --- | --- |
| Difficulty level | Preparation time | Rations |
| Easy | 1 h. | For 2 people |
Ingredients
6 dried tomatoes
1 medium eggplant
1 red pepper
1/2 Leek
1/2 onion
80 gr. brown rice
1 pinch of salt
1 pinch of pepper
3 tablespoons extra virgin olive oil
1 teaspoon crunchy onion
1 teaspoon poppy seeds
Instructions
We put a saucepan with enough water and a little salt and, when it starts to boil, we toss the rice, allowing it to cook the time specified by the manufacturer. Once boiled, put it in a colander or a colander, we go through cold water and reserve.
In a large pan, put the oil, sauté all the vegetables cut small and pochamos until they are soft. Then, we cut the dried tomatoes in the same way, add them to the rest of the vegetables, season them with the pepper and a little salt mixing everything well and extinguish the fire.
To put on a plate, we take a flat dish and a plating ring and, in the background, we put half the rice, followed by half the vegetables. Next, add the rest of the rice and, finally, the rest of the vegetables and press a little so that it is firm and the drum is not removed when the ring is removed.
To finish, remove the hoop, sprinkle a little crunchy onion and a handful of poppy seeds and we will have our kettledrum ready.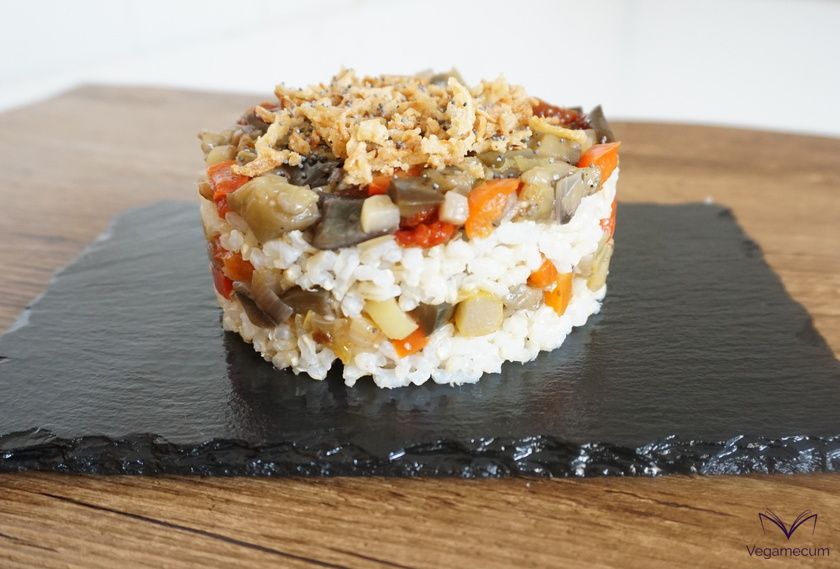 Notes
Remember that dried tomatoes, due to their high level of sodium, are not recommended for people with hypertension problems.
For the topping, you can innovate and add what you like best: sesame seeds, sunflower seeds, pumpkin seeds, caramelized onions, or whatever you can think of.
If you have any questions, you can leave it to us in the comments. And if you dare and want to show your creations to the world, do not hesitate to label us, we will love to see them through the networks!
Do you join us on social networks? You will find us on Facebook, Twitter, Instagram and Pinterest!