For those who are not very fond of broccoli, but know its wonderful properties and want to introduce it in their day to day, we recommend these savory broccoli muffins with quinoa .
Being made with a tasty sauce, we can benefit from the nutrients of broccoli in a delicious way. And is that broccoli is very rich in vitamins A and C , folic acid (so it is highly recommended during pregnancy), fiber and minerals such as phosphorus , potassium and, especially, magnesium , calcium and the iron
Its consumption is also recommended in cases of obesity, cholesterol and hypertension, and its richness in beta-carotene and vitamin C has placed it as the vegetable with greater anticancer properties, according to studies carried out by the National Cancer Institute of the United States.
On the other hand, and as we discussed in the entrance of quinoa timbale with pumpkin , quinoa provides complete proteins by containing all essential amino acids and completes the dish with complex carbohydrates , omega 3 , B vitamins (such as B1). , B2 and B3 ), vitamin E , calcium and zinc .
These salted muffins are very easy to make, they taste very nice and as you can see, they are very nutritious.
Below you can see what ingredients you need and what steps you have to follow to be able to make them.
| | | |
| --- | --- | --- |
| Difficulty level | Preparation time | Rations |
| Easy | 1 h. | For 2 people |
Ingredients
150 gr. broccoli bouquet
100 gr. quinoa
1/2 onion
2 garlic
1 teaspoon salt
1 teaspoon pepper
1 teaspoon turmeric
4 tablespoons extra virgin olive oil
1 tablespoon breadcrumbs
2 tablespoons chickpea flour
1 tablespoon lemon juice
Instructions
We wash the quinoa well until the water comes out clean, we strain it, put it in a pot with twice as much water as its volume and cook it for about 15 minutes. Drain and reserve.
We cook the steamed broccoli for 5 or 7 minutes and we reserve it too.
We preheat the oven to 175º. While in a pan put 3 tablespoons of oil and when it is warm, we toss the chopped garlic and then we toss the onion cut in the same way.
When the onion is transparent, we toss the cream, the pepper, the turmeric and the salt. We give a few laps and add the broccoli, stirring so that it is falling apart. We throw the quinoa and we stir everything well with care.
Next we add the chickpea flour and the lemon juice and we give some laps so that they mix well with the dough.
In a mold suitable for muffins, anoint with a little oil and sprinkle some bread crumbs to prevent the dough from sticking, fill it with it and introduce it in the oven for 20 minutes.
After this time, we take it out and let it cool down so we can demold it.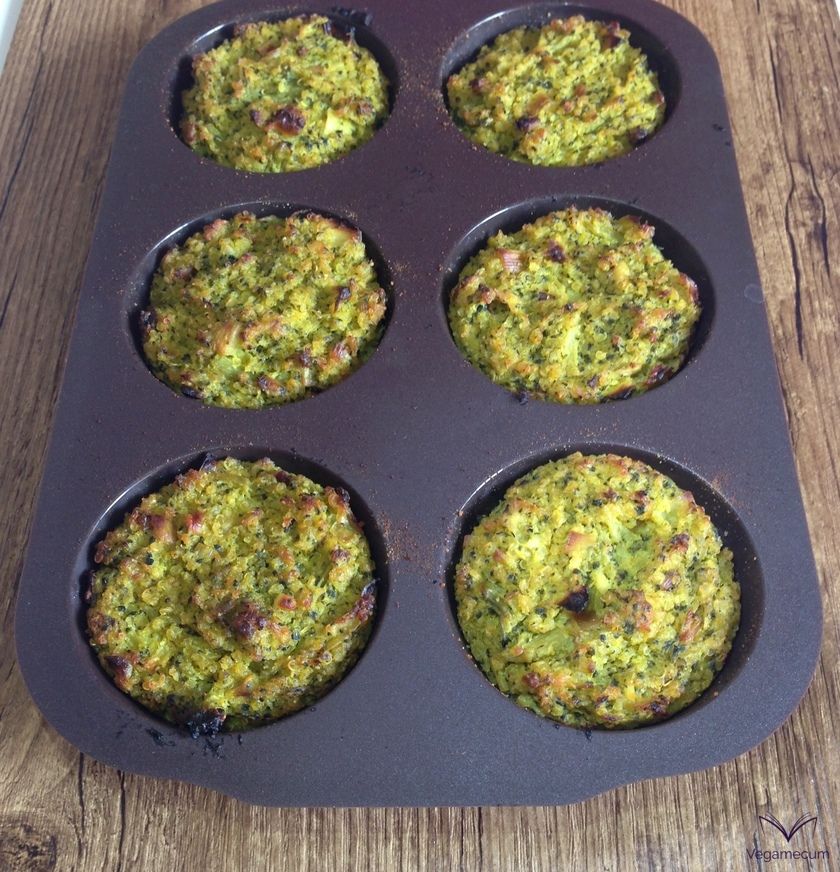 Notes
When it comes to making broccoli, it can also be boiled, but steamed keeps the nutrients better and is more tasty.
Our recommendation is that the mold is silicone (of good quality), since they are hygienic, resist high temperatures and are very non-stick.
If you have any questions, you can leave it to us in the comments. And if you dare and want to show your creations to the world, do not hesitate to label us, we will love to see them through the networks!
Do you join us on social networks? You will find us on Facebook, Twitter, Instagram and Pinterest!